ABOUT
DEDICATED TO ARTISTS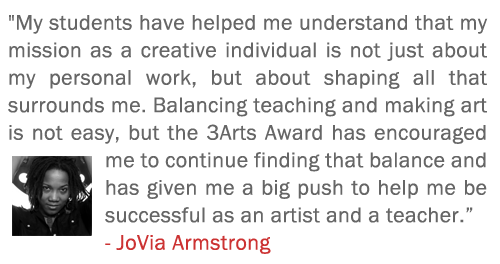 Nothing of significance can be accomplished without imagination, without stretching and flexing our minds, without dreaming.
We consider it our civic duty and a privilege to champion local artists and invest in the essential creative process that drives their art forth and touches all of us, in every corner of our community. That creative energy is the foundation on which the future will be built.
3Arts works to sustain and promote Chicago artists. Our focus on women artists, artists of color, and artists with disabilities stems from the need for a diversity of voices and visions to be supported if our city is to prosper and inspire.
Our programs are designed to support artists in multiple and tiered ways—through validation, promotion, residencies, project support, and unrestricted cash grants that let them know their risk-taking and determination are deeply valued.