About the project
My husband Dan Sullivan and I recently completed a project titled "the Franklin". It is an outdoor exhibition space currently installed at NEIU Gallery for a show we titled "Living By Example". The exhibition space was designed by us and fabricated by Navillus WoodWorks (www.navilluswoodworks.com), then transported and installed in the gallery. When the show finishes we will deconstruct the Franklin and move it to our backyard where it will be permanently installed.
The title of the NEIU show, "Living By Example", is in direct reference to Chicago's alternative galleries and domestic spaces. We hope to contribute to this vibrant scene in the same way that it has served us, fostering art in a non-commercial setting. We believe the Franklin's parameters--outdoors, semi-exposed to the elements--will be an inspiration for new site-specific work. Hosting shows in our backyard will allow us to exhibit work from our growing permanent collection inside our home which has been built mainly through trading and purchases at fund raising auctions.

NEIU generously provided funding which helped pay for materials, but in order to complete the project we need to purchase additional materials for the roof, deck, and footings. The roofing material is translucent corrugated fiberglass, the decking material is a composite material made from recycled materials, and the footings will be post cement poured in sonotubes with post brackets.
To achieve our goal, we need to raise $2,150 to cover these costs. Fortunately for us, 3Arts will match a third of our funding goal to ensure our success. So, with your help if we can raise at least two thirds of our goal 3Arts will cover the rest.
Please help us provide a permanent home for the Franklin. Thank you for your support!
The Franklin on the press:
Gapers Block: http://gapersblock.com/ac/2012/03/02/the-franklin-backyard-art-at-its-best/
Chicago Tribune: http://www.chicagotribune.com/entertainment/art/ct-ent-0301-living-by-design-review-20120229,0,5681949.story
Flavorpill: http://flavorpill.com/chicago/events/2012/2/14/living-by-example-edra-soto-and-dan-sullivan
TimeOut Chicago: http://timeoutchicago.com/arts-culture/art-design/15147936/edra-soto-and-dan-sullivan-living-by-example-at-neiu
UPDATE 1: Site Prep Work!
---
POSTED on March 14, 2012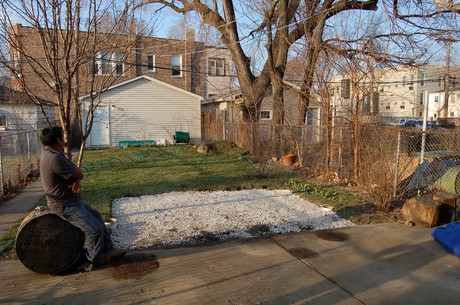 Corinne Halbert
---
Candace Briceno
---
Holly Cahill
---
Bill Talsma
---
Brandy Breaux Simkins
---
Karen Yarbrough
---
Ryan Richey
---
Jane Dickie
---
Norah Hooper
---
Carolyn Russ
---
Red and Louise Sullivan
---
Rafael E. Vera
---
Jonathan Hooper
---
Angela West
---
Deborah Boardman
---
Laura Paradis
---
Melissa Oresky
---
jeroen Nelemans
---
Sarah Mosk
---
marina kostina
---
Derek Chan
---
Dudley Colley
---
Irene Pérez
---
Yaseen Payments
Edra Soto Fernandez's project was funded on April 13, 2012
3ARTS MATCH
24


SUPPORTERs



$2,437
RAISED
33%
MATCHED
---
SHARE THIS PROJECT
REWARDS
Contribute any amount or chose from the reward levels below.
$100 - A limited edition woodcut print
$250 - An original tooling metal art
$500 - A gouache painting
$1000 - A furnisher (end table courtesy of Navillus Woodworks)
Edra Soto (b. Puerto Rico) is a Chicago based artist. In 1995 Edra received the Alfonso Arana Fellowship to work in Paris for one year. She attended The School of ...
VIEW PROFILE