SUPPORT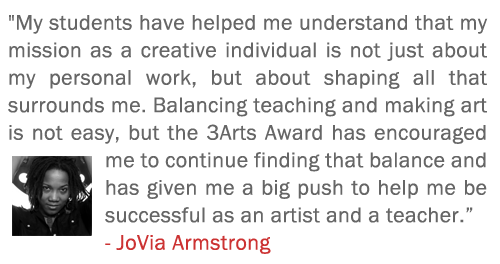 3Arts is a non-profit grantmaking organization. We consider it our duty and privilege to champion local artists and invest in the creative process that drives art forth and touches people in every corner of our community. Since 2008 we have distributed more than $1,000,000 to Chicago's women artists, artists of color, and artists with disabilities through our awards, residency fellowship, and project support programs.
With the help of organizations and individuals like you who recognize the pressing need for creativity and boundary-breaking human expression in our city, we have expanded and deepened our programs every year.
In 2009 we doubled the number of annual $15,000 awards from six to twelve. In 2010 we added Teaching Artists to our awards program. In 2011 we launched 3AP to support artists' projects. In 2012 we added dance to our awards program. In 2013 we expanded our residency fellowships to include a national network of artist communities.
We don't want to stop there. 3Arts presents a rare opportunity for donors to support our city's artists directly and with confidence. We hope that you are encouraged by our work and motivated to join our efforts. Please know that every dollar donated to 3Arts—100% of your tax-deductible contribution—goes directly to a Chicago artist.