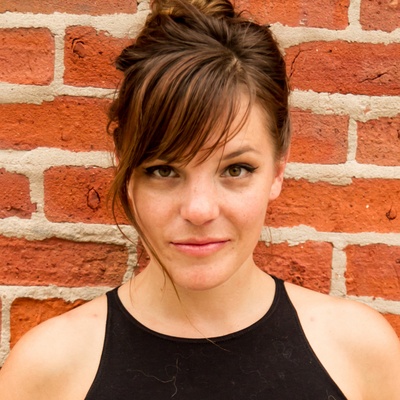 Erin Kilmurray
Performer, Choreographer, Teaching Artist
3Arts / Make a Wave Artist
Erin Kilmurray is a performer, choreographer, and teaching artist whose work is strongly influenced by dance and performance places acting as creative and social centers. Drawing upon a contemporary dance practice, space-making, and a long-standing relationship with theater and nightlife culture, she creates energetic, thoughtful, live performance exchanges that intentionally shift between immersive and proscenium formats, resonating in concert dance spaces, lo-fi galleries, music venues, parties, and film. Consequently, Kilmurray's choreography has been presented by the Museum of Contemporary Art Chicago, The Dance Center of Columbia College, Links Hall, Pivot Arts Festival, Metro Chicago, Empty Bottle Presents, Chicago Reader, Thalia Hall, and Salonathon.
Kilmurray is the creator/director of The Fly Honey Show, now in its 10th season. She has set movement for theater productions at Court Theater, Chicago Shakespeare Theater, About Face Theater, and The Inconvenience, where she was a founding company member.
She is a grateful recipient of a 3Arts Make A Wave award, is a Chicago Dancemakers Forum Greenhouse Grantee, and has been supported through residencies with High Concept Labs, Links Hall's Co-MISSIONS Festival of New Works, and The University of Chicago's Performance Lab.
As a performer, Kilmurray has been a collaborated with The Cambrians, Alice Klock, Kate Corby & Dancers, Rebecca Lemme, and Jessie Young, Same Planet Different World, among others.
Erin Kilmurray has crowd-funded a project with 3AP
$6,445 raised of $5,000 goal
0 Days 0:00:00 LEFT

3Arts matched
129% funded

For the past two years I have been collaborating with a group of women and queer artists to develop SEARCH PARTY, a live dance work that challenges and reconstructs the boundaries we face by exploring agency, freedom, and expectation. …

Read more about Search Party