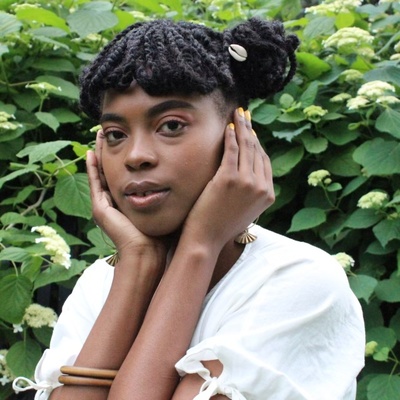 Simone Reynolds
Community Arts Educator & Interdisciplinary Artist
3Arts / Chandler Family Awardee
Simone Reynolds is a Black, queer Chicago South Sider, interdisciplinary artist, community art educator, and arts worker. Through the transportive mediums of music, theater, writing, and media, they lure the magic in the mundane of an everyday marginalized life and people. Simone challenges the carceral framework of education by creating learning spaces and curriculum that centers imagination. Her commitment to liberatory art practices and community is an expression of the will to be whole and free.
She has performed, facilitated, and curated creative learning experiences across the City of Chicago since teenhood. Simone spent many evenings and summers breaking bread with other youth artists and educators. Her love for community led her to participate in arts programs like the Community Actors Program, Teen Arts Council, Street Level Youth Media, and CoCre8. These rich experiences taught her about valuing the mechanics of an artistic process and collaboration. She has been afforded many opportunities to organize community arts events that invite those who are disregarded to be centered through their own creativity, including through Chicago Amplify's Youth Showcases, Sandbox Symphony, and Mobilize Creative Collaborative.
In the summer of 2020, Simone initiated at-home youth art kits that included snacks, art supplies, and prompts channeling Black radical thought and artistry. Since then, with communal support, they have distributed more than 300 art kits by delivery and through various art pop-ups with "Mobilize! Creative Blocks, Collective Dreams." She has also taught numerous workshops focusing on storytelling through visual art, movement, language, and sound. Simone has extended compassion to Chicago's community art scene by exploring ways to build and practice care that sustains folks beyond events and workshops. She wants people to leave spaces nourished, literally and figuratively, in their minds, bodies, and spirits.
Simone studied Theatre Arts and Women, Gender, and Sexuality Studies at Eastern Illinois University. While there she engaged with art and political theory, on and off stage. They have trained with the Black Art Institute and Artists as Citizen. Simone's performance credits include Rewriting the Declaration, for colored girls who have considered suicide/ when the rainbow is enuf, In the Next Room, 9 to 5: The Musical, and Lollapalooza 2020. She also writes and performs with Rebirth Poetry Ensemble and SOL Collective.
With deep curiosity, Simone is passionate about weaving the arts and political education into a web of embodied liberation. She stems from the artistic lineages of the Black church, Black Chicago, and the creative technologies of her ancestors. As they continue to grow as an arts practitioner and educator, Simone is in ceaseless meditation about practicing art sovereignty through an anti-capitalist lens.