2019 Artist Projects on 3AP
published: Feb. 13, 2019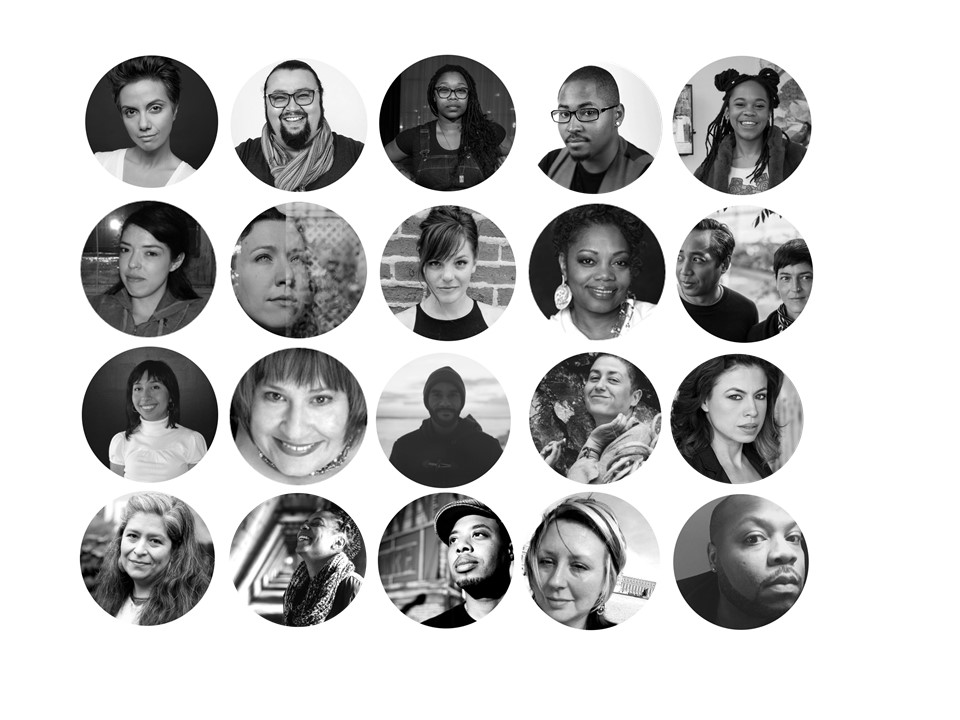 In 2019, new artworks by 20 Chicago artists will be supported on 3AP (3Arts Projects).
3AP is a unique online crowdfunding platform that has a built-in match to help Chicago artists finance new creative work. In addition to matching 1/3 of each project goal, 3Arts charges no fees to artists, produces the project videos, and provides coaching before, during, and after each campaign
Entering its eighth year, 3AP has maintained a 100% success rate with 111 projects funded by more than 5,000 contributions from across the city and beyond. Our most recent 3AP Impact Study (as of January 2019) reports that projects have touched 41,000 audience members in 40 zip codes in Chicago and 6 in adjacent suburbs. Eighteen projects engaged an additional 42,000 audience members in 22 U.S. cities and 17 countries.
The primary goals of 3AP are to fuel the development of new work that may otherwise not see the light of day, to help artists gain traction in their careers, and to connect audiences to artists and their work.
In 2019, 3AP is open to artists who have received a 3Arts Award (2008-2018), a 3Arts Fellowship (2008-2018), and/or a 3Arts Make a Wave grant in 2017.
JANUARY
Fawzia Mirza, Five Times a Day. $5,000 to produce a short fictional film about the first romantic night together for two women, told through five intimate moments, from Fajr to Isha, of the Muslim call to prayer (Feb 15 – March 17).
MARCH
APRIL
Elgin Bokari T. Smith, Pocket Con. $5,000 to produce a free, public comic book convention that celebrates characters and creators of color and other marginalized identities (April 5– May 20).
Rae Chardonnay Taylor, Order of Service. $5,000 to design and construct a sound installation booth that presents a new sonic work inspired by her ancestral grandmother and other black women as models for strength and resilience (April 9– May 24).
Maria Vergara, Rhinestones. $2,000 to produce a series of large artworks that feature rhinestones as the primary inspiration and medium (April 9 – May 24).
MAY
Deidre Huckabay, Spiderf*rt Press. $5,000 to support the launch of an experimental publishing venture that will produce new works at the intersection of performance & literature (May 3 – June 17).
JUNE
Reveca Torres, Tres Fridas. $4,700 to support an exhibition of photographs that recreate iconic cultural images in which people with disabilities replace the original figures (June 12 – July 27).
Tekki Lomnicki, Always Greener. $5,000 to support a workshop and development of a full-length musical based on the disability experience (June 12 – Aug 11).
Luftwerk, Requiem: A White Wanderer. $5,000 to collaborate with composer Katherine Young on a musical score based on seismic data from calving icebergs for a live concert about climate change (June 18– July 18).
JULY
AUGUST
Sandra Delgado, The Sandra Delgado Experience. $5,000 to compose and produce a cabaret show of Colombian folkloric songs and new originals drawn from those traditions (August 2 - October 1).
Erin Kilmurray, Search Party. $5,000 to support a live dance work that focuses on ideas of agency, freedom, and societal expectations for women and femme-identified people (August 2 – Sept 16).
Nicole Marroquin, Raising an Invisible Monument. $5,000 to produce a teaching project using augmented reality via a mobile app that allows middle school students to re-experience and engage with student organizers of the 1968 Chicago Public School walkouts (August 5 – Sept 20).
Brittany ("BrittanE") Edwards, 20 Something Live. $5,000 to produce a live concert with enhanced audio/visual production in support of her debut album (August 7 – Oct 6).
OCTOBER
NOVEMBER
Lional "Brother El" Freeman, Feeling First: A Recipe for Inspiration. $4,000 to create a hybrid cookbook and sound recording that offers recipes for vegan cooking and beat-making (Nov 1 – Dec 16).
J'Sun Howard, aMoratorium. $5,000 to support the stage design and choreography for an evening-length dance performance about black male identity (Nov 1 – Dec 16).