April Artist News
published: March 29, 2022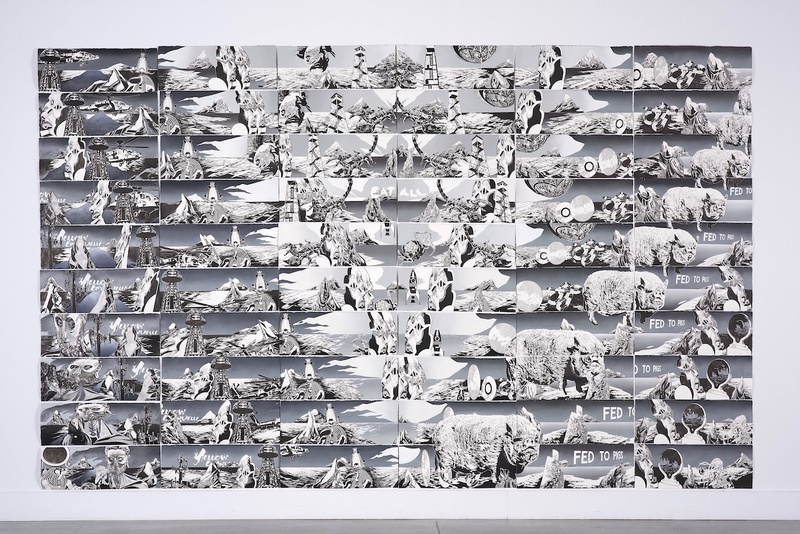 DAMON LOCKS (2019 3Arts/Reva & David Logan Foundation Awardee)
Damon is among several artists and artist-collectives exhibiting work in Remaking the Exceptional: Tea, Torture, and Reparations | Chicago to Guantanamo on view at the DePaul Art Museum now through August 7. The exhibition "marks 20 years since the opening of the United States' extralegal prison in Guantánamo Bay, Cuba by examining the local and international ramifications of state violence."
SYDNEY LYNNE THOMAS (2020 3Arts/HMS Fund Awardee) and ERICKA RATCLIFF (2017 3Arts/Make a Wave Artist)
What to Send Up When It Goes Down, a joint presentation by Congo Square Theater and Rebuild Foundation is running March 31 – April 16 at Gray Chicago (2044 W Carroll) and April 21 – May 1 at Stony Island Arts Bank. The intimate, interactive show is directed by Ericka and features Sydney as the Set and Props Designer.
WILL LIVERMAN (2017 3Arts/Stan Lipkin & Evelyn Appell Lipkin Awardee)
Will's album "Dreams of a New Day- Songs by Black Composers" with pianist Paul Sanchez is nominated for a 2022 Grammy Award for Best Classical Solo Vocal Album. Tune into the 64th Annual Grammy Awards on April 3 for the results.
SHANTA NURULLAH (2021 3Arts/SIF Fund at The Chicago Community Foundation Awardee)
On April 4, Shanta is performing in the First Monday Jazz series at the Green Line Performing Arts Center (329 E Garfield Blvd). The performance is live and in-person and proof of vaccination or a negative COVID test is required to attend.
ANDREA CARLSON (2020 3Arts/Make a Wave Artist)
On April 5, Andrea will be in conversation with Assistant Curator Gibran Villalobos at the Museum of Contemporary Art Chicago for the annual Sara Albrecht Artist Talk. Andrea will discuss her 2014 work Ink Babel, recent and upcoming projects, and the founding of the Center for Native Futures. This event is virtual and requires registration to attend.
CHERYL LYNN BRUCE (2010 3Arts Awardee)
"Yemandja: A Story of Africa", a new musical theatre work by and starring vocal legend Angélique Kidjo will be presented at the Board Stage in Santa Monica, CA from April 14-16. The show is directed by Cheryl with production design by artist Kerry James Marshall.
ARAM HAN SIFUENTES (2021 Next Level/Spare Room Awardee)
From April 14-September 4, Aram's solo exhibition Talking Back to Power: Projects by Aram Han Sifuentes will be at the Skirball Cultural Center in Los Angeles. The exhibition explores "ideas of identity, power, and belonging in the United States [and] presents garments, banners, samplers, quilts, and sculptures that highlight American immigrant experiences."
MABEL KWAN (2017 3Arts/RH, Restoration Hardware Awardee)
On April 16, Mabel performs with her new experimental group, Honestly Same, in the Side Yard Sounds performance series at Compound Yellow. Honestly Same is described as "an amplified acoustic and synthetic quintet that improvises patient and contemplative music." Concerts are performed outdoors in the Compound Yellow yard space.
LARRY LEE (2010 3Arts/Chandler Family Awardee)
On view now through April 29, a new Spotlight Series curated by Larry is being presented at the Chinese American Museum of Chicago. The current show features Laura Lynn Hsieh: Mahjong and Dumplings, with ceramics and video work.
DEE ALEXANDER (2012 3Arts/Southwest Airlines Awardee)
On April 22, Dee performs with the Alexander/McLean Project at Studio5 in Evanston. She's joined by acclaimed guitarist/lyricist John McLean along with a small ensemble to perform original compositions.
RIVA LEHRER (2008 3Arts/Chandler Family Awardee)
The Smithsonian's National Portrait Gallery has announced the finalists in its sixth triennial Outwin Boochever Portrait Competition. Their work will be presented in "The Outwin 2022: American Portraiture Today," a major exhibition premiering at the National Portrait Gallery from April 30 through Feb. 26, 2023, before traveling to other cities in the United States. A press preview will be held on April 29 at 10 a.m.
download PDF ↓