April Artist Events
published: March 30, 2020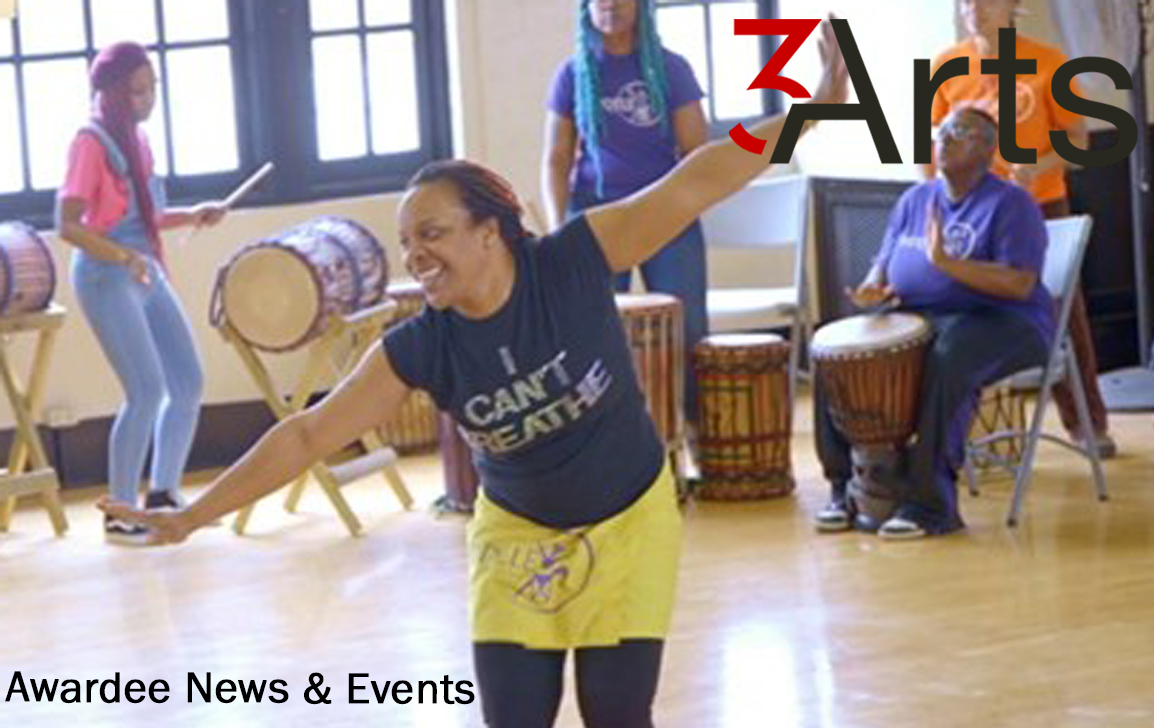 NEWS:
VIRTUAL EVENTS:
DEE ALEXANDER – 2012 3Arts Awardee (jazz vocalist)
Sunday Jazz with Dee Alexander
Every Sunday from 8pm to 10pm, Dee hosts a radio broadcast show on 90.9 FM/WDCB.
https://wdcb.org/program/sunday-jazz-dee-alexander
Baba Fred
Dee posted this recording of Baba Fred, an original composition created as a tribute to legendary Chicago jazz saxophonist and community leader, Fred Anderson.
https://www.facebook.com/lauren.deutsch.5/videos/10156802220915925/
T. AYO ALSTON – 2018 3Arts/Southwest Airlines Awardee (dancer & drummer)
2020 Visionaries: Celebrating Chicago Women
Ayo is one of the subjects of this special ABC-7 production celebrating Chicago women. Ayo's segment begins at 2:03 minutes.
https://abc7chicago.com/6036847/
LURRIE BELL – 2009 3Arts Awardee (blues guitarist)
The Secret History of Lurrie Bell
Chicago Reader and WGN-Radio posted a story profiling Lurrie Bell as part of the Reader's "The Secret History of Chicago Music" series by Steve Krakow. At 29:00, listen to music and an interview with Krakow about Lurrie on WGN-Radio. View Krakow's original sketch and listen to more tracks by Lurrie in the Chicago Reader.
SANDRA DELGADO – 2019 3Arts/Community Awardee (playwright/actor/director)
Carmentea
As a founding ensemble member of Collaboraction, Sandra shared this two-minute video of her performing "Carmentea," a song about joy, love, and connection from the Book of Peace production at Millennium Park in 2019.
https://www.facebook.com/collaboraction/videos/460007987937489/UzpfSTM5NjY5NzIzMDg3OjEwMTU4MTMxOTUyNjM4MDg4/
Blink
Sandra co-stars in this 8-minute excerpt of a scene from Collaboraction's 15th and Final Sketchbook, produced at the Chopin Theatre in 2016.
https://www.facebook.com/collaboraction/videos/10154161084113088/UzpfSTM5NjY5NzIzMDg3OjEwMTU4MTI0MzYwMTk4MDg4/
JESS GODWIN – 2016 3Arts/RH, Restoration Hardware Awardee (singer/songwriter)
The Major Lift | Online Songwriting Workshops
As the founder of the nonprofit, The Major Lift, Jess and collaborators lead songwriting workshops and demos for adults and teens. Their website features a 3-minute video about the organization. Follow their Instagram channel (@findthelift) for other new videos and offerings.
https://www.themajorlift.org/
CANDACE HUNTER – 2016 3Arts Awardee (visual artist)
Photo Transfer Demos
Candace has recorded three online videos that guide viewers through the photo transfer process.
https://www.facebook.com/chleeart/videos/10220986245061023/
MAGGIE POPADIAK – 2016 3Arts/Reva & David Logan Foundation Awardee (director)
Ofrenda: "The Conjuring"
As Associate Director of Albany Park Theater Project, Maggie and the ensemble shared a 5-minute excerpt from their production Ofrenda (written by Make a Wave artist Isaac Gomez and directed by Make a Wave artist Stephanie Paul), a play about creating home in turbulent times.
https://vimeo.com/279871420
JAMES SANDERS – 2017 3Arts Make a Wave Artist (violinist/composer)
Dr. Love
James shared a new original composition and video collage that he created with drummer Sarah Allen.
https://drive.google.com/file/d/19Yfk2cPpLRdpvFdTGDl0qdpA_w84yIDy/view?usp=sharing
MICHAEL PATRICK THORNTON – 2009 3Arts Awardee (actor/director)
Title and Deed
In this 2-minute video, Michael performs a scene from Lookingglass Theatre's production of Pulitzer Prize-finalist Will Eno's Title and Deed from 2012.
https://www.air.tv/watch?v=NhlM7ZvMS5CU8RX9ArAPUA&c=chicago_local_news
download PDF ↓