December Artist News
published: Nov. 23, 2021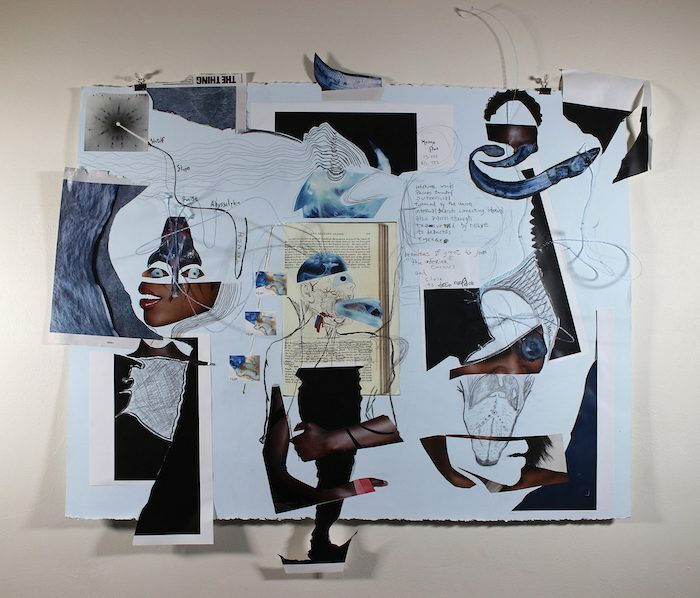 KAREEM BANDEALY (2011 3Arts Awardee) and BETHANY THOMAS (2019 3Arts/RH, Restoration Hardware Awardee)
Now through December 31, Kareem and Bethany are featured cast members in Charles Dickens' A Christmas Carol at Goodman Theater. In the production, Kareem plays Jacob Marley and Bethany is the Ghost of Christmas Present. Purchase tickets through the Goodman Theater website.
CHERYL LYNN BRUCE (2010 3Arts Awardee)
Available now for online listening, Cheryl directed two podcast episodes of Court Theatre's Spotlight Reading Series, which features staged readings from BIPOC playwrights. Cheryl's episodes focus on "The Poet: Phyllis Wheatley" and "The Investigator: Ida B. Wells." Additional episodes in the series are directed by 2021 Make a Wave artist Ron OJ Parson ("The Diarist: Alice Moore Dunbar-Nelson" and "The Afro-Futurist: Pauline Hopkins.")
AJ MCCLENON (3Arts/Gary & Denise Gardner Fund Awardee)
On view now through January 22, AJ presents a solo exhibition, Notes from VEGA, at the Hyde Park Art Center. This is part of an evolving series that imagines "an aqueous Black future, parallel universes, and an escape route fleeing from anti-Blackness, climate change, and the destructive forces of capitalism and systemic racism. When the earth is no longer able to sustain their livelihoods and options are limited, they return to water—the source of life."
CAULEEN SMITH (3Arts/Lydia Yun Lee & Lisa Yun Lee Awardee)
Available now, Cauleen directed an accompanying music video for a new track called "Suffolk," on guitarist Jeff Parker's latest solo album, Forfolks, available through International Anthem and Nonesuch Records (to be released December 10). The video can be viewed on Nonesuch's website, and the track is available for instant download before the album's release.
JO CATTELL (3Arts/Perkins Coie Awardee)
From December 3–6, Jo is directing a special event production of a new work, Hummingbird, in partnership with Goodman Theatre and the Electronic Visualization Laboratory at the University of Illinois Chicago. Described as "a live, immersive adventure that transforms theatrical storytelling utilizing cutting-edge, virtual reality," Hummingbird allows audience members to directly interact with the story or witness it as an observer. Purchase tickets to this in-person event via the Goodman Theatre's website.
DAVID RHEE (3Arts/Reva & David Logan Foundation Awardee)
On December 3 and 12, David's new play, the feet of God, will be featured in Timeline Theatre Company's FIRST DRAFT: Playwrights Collective Festival 2021, an incubator program for emerging and established writers. Directed by recent Make a Wave artist Lavina Jadhwani, the feet of God chronicles an Asian American theatre company that is forced to confront the history of Asians in America when they put on a controversial play. This event is in-person with limited seating available.
CANDACE HUNTER (2021 3Arts Next Level/Spare Room Awardee and 2016 3Arts/Chandler Family Awardee)
On December 5, Candace will be showcasing a "first look" at where her Brown Limbed Girls are moving to next as a performative piece. See this work additionally from Dec 12- Jan 12, at Look Back & Forward, a solo show of Candace's work at Faie Afrikan Art Gallery, Chicago.
MICHAEL PATRICK THORNTON (2009 3Arts Awardee)
On December 6th, join the Gift Theatre and cofounder Michael in celebrating their 20th Birthday Party at the Copernicus Center. Tickets to this in-person event are available via the Gift Theatre's website.
TATSU AOKI (2010 3Arts Awardee)
On December 19, Tatsu will perform in the Taiko Legacy 18th Anniversary Concert at the Museum of Contemporary Art Chicago. This in-person program will feature both youth and adult community members and tickets can be purchased online via Brown Paper Tickets.
download PDF ↓