Fo Wilson – Re-presenting historic narratives
published: Oct. 25, 2015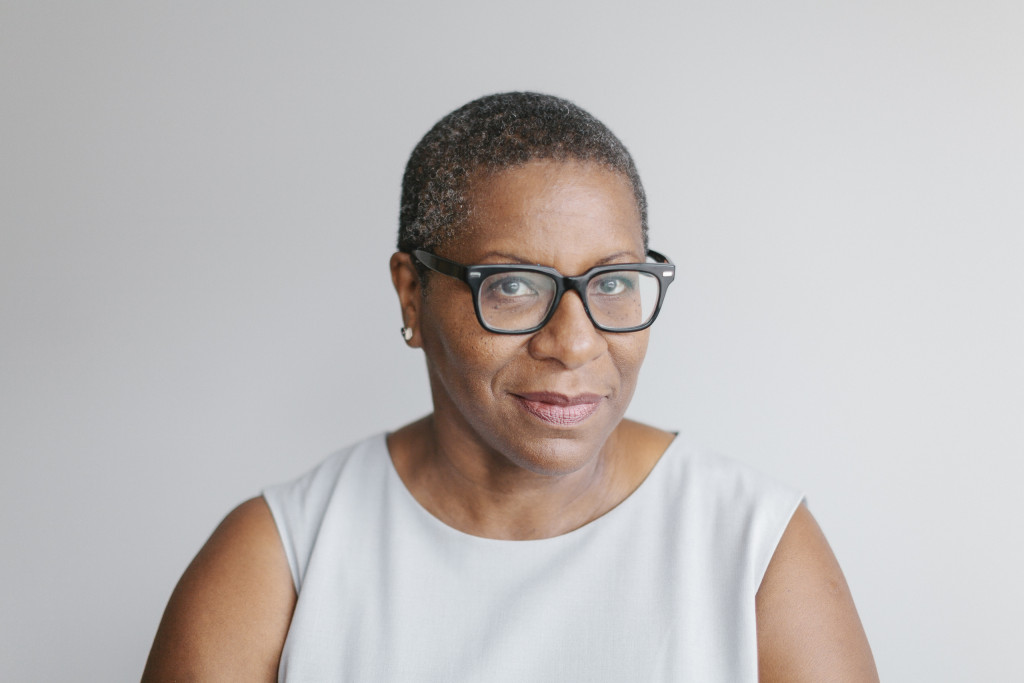 Fo Wilson is an artist/designer, educator, independent curator, and writer. Her current studio work uses constructed space and furniture forms to create experiences that reposition historical objects and/or aesthetics in a contemporary context and offers audiences new ways of thinking about and interacting with history. Wilson earned a MFA from the Rhode Island School of Design Furniture Design Department and is an Associate Professor at Columbia College Chicago. She has been a grant recipient of the National Endowment for the Arts, Creative Time, and the Propeller Fund, and is a 2015 3Arts Awardee. She lectures about art, design, and craft to international audiences, her writing and reviews have appeared in NKA, Journal of Contemporary African Art, the International Review of African American Arts, AIGA Journal, Communication Arts, and her design work is included in the collection of The Cooper Hewitt National Museum of Design. Prior to her graduate studies, she founded and ran Studio W, Inc, a design consultancy with offices in New York and the San Francisco Bay area. She has been on the national board of the AIGA and included in the exhibitions: Women Designers in the U.S.A., Diversity and Difference, 1900-2000, and Mixing Messages: Graphic Design in Contemporary Culture, (1996).
GDW: You've moved away from graphic design per se and toward a different passion of furniture making. However, it seems that your furniture is extremely communicative and thought provoking. How did this transition come about and do you see an overlap between the two ways of designing?
FW: At this point in my practice, different modes and processes of making are somewhat integrated into one wholistic process. Although I have moved away from graphic design as a way that I make my living, I am never far away from that training, point of view, experience, or process. I doubt I could divorce myself from it if I tried. It almost feels like a part of my creative DNA. What was difficult for me at first, was imagining myself as a "client." I was so used to being motivated by a need outside of myself as defined by my client-collaborators. I loved my work in the field, but at a certain point I felt like I had outgrown the desire to express ideas graphically. I wanted to revisit the type of making that was more present when I started in the field – before the advent of the mac transformed the material process of design and print media. I learned how to draw straight lines with a ruling pen, to make duplicates of images with a stat machine, and to spec type with a certain precision that computer software nowadays calculates for you. I loved the precision and technical aspects of that work, the smells and the tactility from methods and technologies that are that are no longer in common use. I am not a Luddite by any means. technology is cool, but instead of romanticizing the past, I decided to move forward in a different area of design where the hand was privileged in certain communities in furniture making. I feel like that impulse was a bit ahead of its time as there is an entire generation (re)embracing elemental methods of making in a variety of professions. when I first started studying furniture in my program at RISD, I thought I wanted to go in the direction of limited production, but I did a concentration in art history, theory & criticism and that gave me the ability to be more critical of form and the confidence to be more conceptual with my work.
GDW: Do you have any thoughts specifically about women and making a differnece through creative arts?
FW: We have always made a difference in the diverse, collective and individual ways that people do that. Participating in design is making a difference in itself (or can be). The difference has little to do with gender really. The issue is having our contributions recognized and included in the various canons of design. The same issue exists for designers of color. Just like you can see one female token on a panel with a lot of guys, you can also see one women of color among a panel of female designers too.
There remains a lot of work to do! Thank you for your efforts.
GDW: Will you talk about your work with SYLIVA HARRIS on the ACLU identity program ?
FW: I was contacted by the ACLU just as I was transitioning into graduate school. I invited Sylvia to be a part of the team because of her experience with large civic design projects, and another colleaque – Michael Hirshhorn– because of his experience with non-profits. You have to imagine what it is like to work with an organization made up of 50 chapters of very smart lawyers from all around the country. Michael was very instrumental in helping us to understand the culture of non-profits, and the ACLU in particular; and Sylvia with all her grace and warmth, could be tough and charming all at the same time. She was very smart and disarming without being intimating, and never threw off a lot of ego that is sometimes common theatre in graphic design "performances" with clients. With this very efficient core team that included Lena Williams, we ultimately got buy-in from 48 of the 50 chapters to adopt the new identity! A great success by any measure given that the chapters had operated independently with regard to their individual identities for all of the over 80 years of the organization's existence. This was their first formal identity. They have been loyal to it and have used it in inventive ways.
GDW: As a woman of color, do you feel your work readily reveals elements of your heritage?
FW: I'll leave that up to the viewer to determine. I think the work speaks for itself.
GDW: Will you tell us a little about your 2013 book The Baartman Diaries?
FW: Using furniture-based work that includes writings and mixed media, I imagine the voice of Sara Baartman, the South African Khoikhoi woman who became known as the "Hottentot Venus" in early 19th-century Europe. Baartman is represented by fictional diary entries that cross time and space and speak to other historical and contemporary figures such as Charles Darwin, the famous 19th-century French naturalist George Cuvier, Josephine Baker and Lil' Kim. This work seeks to bring to light the ensuing complexity and complicity in the objectification of Black female bodies and the fetishizing of Black female sexuality. Baartman was the curiosity of famed French naturalist Georges Cuvier, who upon her death unceremoniously dissected her body, put her brain and genitals in bell jars and used them to support his theories of "Hottentots" as the missing evolutionary link between animals and humans. This piece includes a representation of Cuvier's famous 1817 treatise: Extrait d'observations faites sur le cadavre d'une femme connue a Paris et a Londres sous le nom de Venus Hottentote. According to some accounts, Baartman was said to have performed for European audience on a stage and in a cage.
The Baartman Diaries are an artistic testimony to Sara Baartman, known in 19th-century Europe as the ""Hottentot Venus." Artist/maker, Fo Wilson, fashions handmade furniture forms, other objects and media in homage to Baartman, celebrating her bodacious proportions as beautiful and normative representations of black female embodiment. Her work turns the tables on a historically hegemonic European viewpoint by asserting a black womanist gaze on Western history and the book includes a foreword by Carla Williams that gives an insightful historical perspective.
You can go here to see, read or order the book: The Baartman Diaries
Fo Wilson's Writings: Books and Chapters
The Evidence of Things Not Seen, in The New New Corpse, Chicago: Green Lantern Press, 2015
Roundtable discussion in The Handbook of Textile Culture, edited by Janis Jefferies, Diana Wood Conroy and Hazel Clark, London: Bloomsbury, 2015.
The Baartman Diaries, foreword by Carla Williams, essay by Fo Wilson, Chicago: Studio W Editions, 2013
"Seeing Black and the Color of Form and Domestic Bodies," in Diasporic Women's Writings of the Black Atlantic: (En)Gendering Literature and Performance. Emilia María Durán-Almarza and Esther Álvarez-López, editors, New York: Routledge, 2013.
100 Assignments: The Future of the Foundation Course in Art and Design, Paris France: Paris College of Art Press (PCA), 2013
Selected published exhibition essays & reviews
It's All Wrong Tom, Tom Loeser: It Could Have Been Kindling, West Bend, WI: Museum of Wisconsin Art, 2015.
"A 'Remix' of Diva Cool at 331/2 RPM," International Review of African American Art, Vol. 24, No.2., 2013
"Seeing Black and the Color of Representation," NKA: Journal of Contemporary African Art, Vol. 2011, No. 29, Fall/Winter 2011.
"The Changing Face of Craft," International Review of African American Art, Vol. 22, No.2, 2009
"On Walls and the Walkers," International Review of African American Art, Vol. 20, No.3, 2006
"The Maker as Evidence," The Maker's Hand: American Studio Furniture, 1940-1990, Studio 3, The Furniture Society, October 2005
"The Dissolution of 'Black Art?, An Exhibition and Book," International Review of African American Art, Vol. 19, No.2, 2003
"The Short Century: Independence and Liberation Movements in Africa, 1945-1994," P.S.1 Contemporary Art Center and MOMA, International Review of African American Art, Vol. 18, No.4, 2002
"Looking for Miles Davis: The Search to Articulate an African American Design Aesthetic," Communication Arts, Photography Annual, 2002