May Artist Events
published: April 30, 2021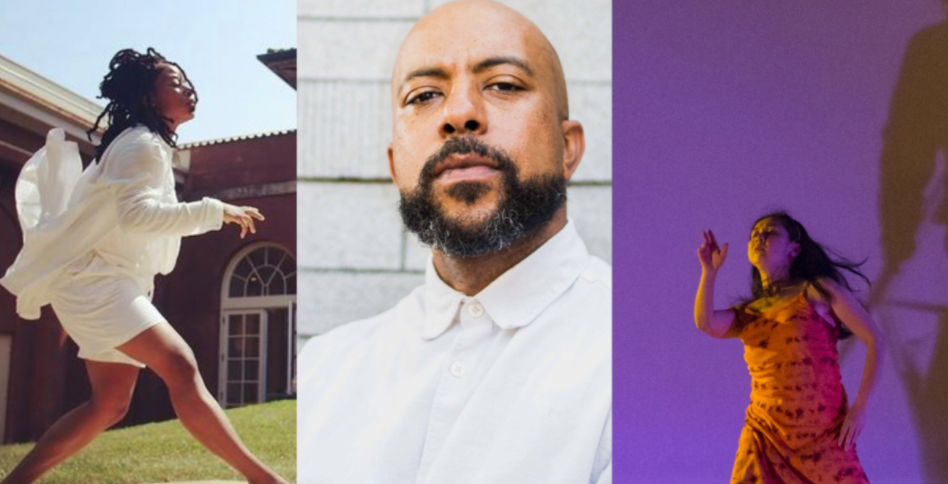 T. AYO ALSTON (2018 3Arts/Southwest Airlines Awardee)
As the founding executive and artistic director of Ayodele Drum & Dance, Ayo and the ensemble are presenting a Mother's Day Dance Marathon on May 8. "Save the date for a day of in-person and virtual dancing from the soul."
REGINA HARRIS BAIOCCHI (2011 3Arts Awardee)
Regina is a featured guest on Reno Lovison's podcast through the Chicago Broadcasting Network. He talks with Regina about her work as a composer, about the 6Degrees women's composer collective, and the annual Haiku Festival.
MATT BODETT (2017 3Arts/UIC Residency Fellow)
From May 8 – June 26, Matt presents DIS-, an exhibition highlighting the advocacy work of artists with disabilities, at the Chicago Printmakers Collaborative. Serving as curator, Matt organized this show featuring work by Bri Beck, Justin Cooper, Timotheus "TJ" Gordon Jr., Riva Lehrer, Katie O'Neill, Reveca Torres, and Sandie Yi. The Chicago Printmakers Collaborative will host an opening on May 8th (12-5pm) with limited in-person space and will stream a live reception via instagram (@chicagoprintmakers) with information from the curator.
BEN LAMAR GAY (2018 3Arts/Stan Lipkin & Evelyn Appell Lipkin Awardee) and AYAKO KATO (2016 3Arts/Reva & David Logan Foundation Awardee)
On May 19, Ben and Ayako are on a double bill at Constellation, performing interdisciplinary duets with collaborators. Ben is paired with 3Arts Make a Wave grantee and dancer, Keisha Jenae for a piece called Fire "Scapes." Ayako dances a duet with improvising musician, Jason Roebke, in a work called Eclipse.
STEPHANIE MARTINEZ (2015 3Arts/RH, Restoration Hardware Awardee)
On May 21-23, Stephanie's new contemporary ballet repertory company, Para.Mar, presents THAWEN, featuring a re-imagining of her own work, kiss, and world premieres by Jennifer Archibald and Lucas Crandall.
HUONG NGO (2020 3Arts Next Level/Spare Room Awardee and 2018 3Arts/Reva & David Logan Foundation Awardee)
Now through May 22, Huong and numerous other artists in the Asian and Pacific Islander community are presenting an online auction to support Asian Americans Advancing Justice Chicago, a group dedicated to counteracting anti-Asian violence and promoting intersectional solidarity and organizing.
VERSHAWN SANDERS WARD (2013 3Arts Awardee)
On May 22, Vershawn and Red Clay Dance Company present the Visions & Voices Virtual Performance featuring three world premieres. As founding artistic director, Vershawn is debuting "Reckonings," a new work that traverses the landscape of democracy and unearths the fall of the American illusion.
CAULEEN SMITH (2013 3Arts/Lydia Yun Lee & Lisa Yun Lee Awardee)
Four of Cauleen's short films are being screened online by the San Francisco Cinematheque now through May 23. Entitled "Proximities," this series is being presented in association with San Francisco Museum of Modern Art and the concurrent exhibition on view there called Future Histories: Theaster Gates and Cauleen Smith.
JUMAANE TAYLOR (2019 3Arts/Stan Lipkin & Evelyn Appell Lipkin Awardee)
Jumaane is paired with saxophonist Greg Ward in a livestreamed performance curated by the Hyde Park Jazz Festival for "Chicago Takes 10." Watch the premiere on May 13, at 6:00pm or anytime afterward on the series website. On May 28, Jumaane and a collection of artistic family members known as Teaching Empowering Strengthening (TES) present the Jazz Hoofing Quartet. Jumaane will "dance rhythms with other musicians and take you on a journey of improvised sets." Free to watch online via their Facebook channel.
NORMAN TEAGUE (2019 3Arts/Denise & Gary Gardner Awardee)
Norman was recently announced as among the contributing designers for the 2021 edition of the Chicago Architecture Biennial (CAB). The fourth year of CAB is led by David Brown and entitled "The Available City." Norman is collaborating with three other designers under the moniker Project HOOD (Helping Others Obtain Destiny), including Pastor Corey B. Brooks, Ebere Agwuncha, and Negin Moayer.
AMANDA WILLIAMS (2020 3Arts Next Level/Spare Room Awardee & 2014 3Arts/Stan Lipkin & Evelyn Appell Lipkin Awardee)
Beginning this month and continuing for a full year, Amanda presents an outdoor public installation of her series, What Black Is This, You Say? on the façade of the Storefront for Art & Architecture in Manhattan. In addition to live, in-person events, the project includes a virtual event with Amanda in conversation with fellow 3Arts awardee and visual artist Cauleen Smith on June 1, plus an expanding digital program of writings, works, and other events released each month starting in June 2021.
download PDF ↓