Nonprofit Helps Fund Chicago Jazz Singer's New Album
published: Oct. 1, 2014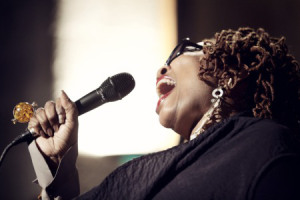 Chicago vocalist, Dee Alexander, has been singing jazz since she was a little girl and with the help of a local nonprofit, she has recorded another album.
Songs My Mother Loves pays tribute to Alexander's mother. The CD has many tracks of classic jazz that her mother listened to.
"My mother was a great influence in that she played the great classical musical in the home when I was a child," said Alexander. She remembers waking up to legends like Sarah Vaughan and Ella Fitzgerald playing throughout the house.
Alexander isn't new to the music scene. In fact, a tribute to Nina Simone and Dinah Washington in 2007 at the Pritzker Pavilion in Chicago exposed her talent to a large audience. She has toured in places like Africa, France, Finland, Italy, Switzerland, Germany and Poland for her impeccable talent of voice improvising. The singer/songwriter performs for two bands, the Dee Alexander Quartet and the Evolution Ensemble. Alexander has received recognition over the past few years. In 2008 the Chicago Tribune named her "Chicagoan of the Year." The Chicago Music Awards called her "Jazz Entertainer of the Year." She performed at the Newport Jazz Festival last year and the New York Times named her performance one of the best jazz concerts of 2013, and that's not even half of what she has accomplished.
With all of her hard work, someone noticed, which is why she was nominated by judges volunteering for 3Arts. The organization aims to assist women artists, artists of color and artists with disabilities who work in the performing, teaching and visual arts. The organization gives those artists cash awards and helps with project funding. They even offer residency fellowships and professional development.
"We're sort of a mom and pop shop; our M.O is to custom our services to what our artists need," said 3Arts Executive Director Esther Grimm.
In the past, the organization could only award six artists a year, but now Grimm said they can give out $15,000, unrestricted awards to 10 artists.
"We started modestly, but we've grown," said Grimm.
The no-strings-attached money can be used however the artist chooses to.
"If they want to create a work of art with it, they can, if want to travel or pay off debt or student loans they can, they can do anything they want," said Grimm. " Our theory behind that is to do whatever helps an artist feel more secure."
Alexander was one of the fortunate few who got selected for project funding assistance in 2012. What makes 3Arts unique is that local artists aren't allowed to apply, but instead they must be nominated. A board of 35 anonymous national artists are responsible for nominating other artists who they believe are making strides in their field, but need more recognition, as well as funding.
The organization not only gave Alexander the $15,000 3Arts Award, but she also received help from an online crowd funding campaign, in which she raised more than $6,000.
She calls it a "blessing."
"I am forever indebted to 3Arts," said Alexander. "I am grateful to them for providing the funding."
Keep up with Dee Alexander by visiting her website at www.deealexander.net and Like her on Facebook.
article source