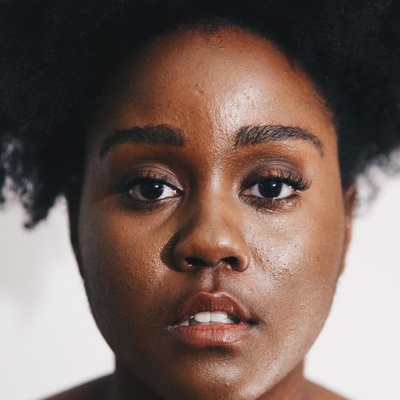 Akenya
Vocalist, Pianist, Composer, & Arranger
3Arts / Walder Foundation Awardee
Akenya is a multi-genre vocalist, pianist, composer, and arranger. Her music is an eclectic synthesis of jazz, hip-hop, soul, pop, classical, and world music. A proud Chicago native, Akenya has performed and recorded with some of the city's leading artists such as Smino, Saba, and Chance the Rapper.
In 2016, Akenya joined forces with rapper Noname, appearing on her critically acclaimed debut album Telefone and touring as her musical director, keyboardist, background vocalist, and opening act. During this time, they opened for Hannibal Buress, Anderson .Paak, and Ms. Lauryn Hill, played events such as MTV's Rec Fest and Gilles Peterson's Worldwide Awards, and performed throughout Europe, the Middle East, and North America. After appearing with Noname on her Tiny Desk Concert, Akenya was asked to contribute vocals to Chicago legend Mavis Staples's 2017 album, If All I Was Was Black. Produced and written by Jeff Tweedy of Wilco, the album received a Grammy® nomination.
In the jazz world, Akenya has worked with a variety of stars and legends. A graduate of the New England Conservatory of Music, Akenya has collaborated with and performed for the likes of Esperanza Spalding, Fred Hersch, Vijay Iyer, Jason Moran, and Dave Holland to name just a few. In 2018, she joined experimental jazz super group, Resavoir, led by Will Miller of indie-band Whitney. She is the group's only vocalist, as well as its primary keyboardist. The band's self titled debut project garnered much praise, receiving an 8.2 from Pitchfork, leading to Akenya being heralded as a "multi-faceted genius" by the Chicago Tribune. The band was dubbed 2019's "Best Jazz Band" by the Chicago Reader. In January 2019, Akenya made her New York City performance debut at the 15th annual Winter Jazz Fest performing her own set of original music, as well as a set with Resavoir. In 2020, Akenya was also featured on London based, jazz saxophonist Nubya Garcia's highly acclaimed debut album, Source.
In early 2020, pop/rock sensation Hayley Williams, who first rose to stardom with band Paramore, prepared to launch a world tour for her debut solo project, Petals for Armor. For this, she recruited Akenya as a vocalist and keyboardist. Akenya accompanied Hayley on BBC Radio for her debut solo performance. Although the tour was ultimately cancelled due to the Covid-19 pandemic, Williams has continuously praised Akenya's talents, stating during an interview with Okayplayer that "Akenya is one of the best singers I've heard in my whole life."
As a composer, Akenya made her chamber-orchestral debut in 2019 when Portland, Maine based group, Palaver Strings, commissioned her to write a piece for the 13-string ensemble's "Lifesongs" concert in Boston. Akenya's 3-movement piece entitled "Fear the Lamb" is a tribute to the life of Emmett Till. Palaver loved the piece so much they continued performing it, ultimately deciding to include it on their 2022 debut album Ready or Not. "Fear the Lamb" has received praise from The Guardian, The Arts Desk, and the 2nd movement. "Gorgeous and Gallant/Gory and Galvanizing" was featured in Apple Music's "Classical Music You Must Hear" playlist in May 2022.
As a solo artist, Akenya's unique sound and versatile musicianship has garnered the attention of top tier publications such as the Chicago Tribune, The Fader, and Afropunk. She has performed her original music across the country and abroad. She has opened for artists such as Saul Williams, AlunaGeorge, and Moonchild. In her hometown, Akenya has played nearly every major venue, often as the headliner, including Thalia Hall, Lincoln Hall, Metro, Steppenwolf Theatre Company, and the Promontory. In the fall of 2017, she made her solo festival debut with a stellar set at North Coast Musical Festival. In 2021, she headlined and musically directed a group of 17 musicians for Millennium Park's Summer Series kickoff concert dubbed "Divas through the Decades." Billed as "Akenya and Friends," this show celebrated the past 50 years of pop divas who have been staples in the LGBTQIA+ community. Presented in partnership with SloMo, the show was ranked "Top Ten in Pop Music of 2021" by the Chicago Tribune.
Akenya is currently working on her highly anticipated, debut LP, Moon in the 4th. Her latest single, "Decay," is out now and can be streamed, downloaded, and purchased anywhere music is available.
Profile image by: Samantha Fuehring