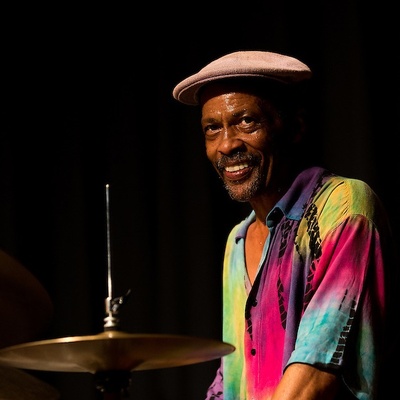 Avreeayl Ra
Creative Being
3Arts / Stan Lipkin & Evelyn Appell Lipkin Award
Avreeayl Ra Amen (he/him), born Arthur L. O'Neil in Chicago on May 21, 1947, has become a local legend in the rich, progressive Chicago avant-garde jazz scene, with a career spanning more than half a century. John Kelman of IndieJazz.com described his solos as "part Tony Williams, part Evan Jones, and all RA." The Association for the Advancement of Creative Musicians (AACM) describes him as a "master drummer" and claims him as a longtime member. Ra represents one of Illinois's most treasured cultural exports as a home-grown jazz musician; he has played in various African nations, Austria, Canada, China, England, France, Germany, Italy, Japan, The Netherlands, Portugal, Spain, and Sweden.
In the 1950's and 1960's Ra apprenticed with his father, Arthur "Swinglee" O'Neil, a tenor saxophonist who was mentor to many young Chicago musicians, including John Gilmore, Henry Threadgill, and Ed Wilkerson, who have remained significant figures in his life. His decades long relationship with the AACM began under the mentorship of its co-founder, trumpeter and mentor, Kelan Phil Cohran. "Cohran, one of the great, unheralded figures of the explosion of African American artistic ingenuity, gave me the lesson of intention. This was amplified by a simultaneous involvement with Henry Rucker's Psychic Research Foundation, a major influence on my work."
Ra then spent a period in New Orleans with Henry Byrd, aka "Professor Long Hair" aka "The Father of Rock n Roll," Earl Turbington, Kid Jordan, Henry Butler, and the Golden Eagles Indian Tribe, led by June Dalcof, before becoming a full-time member of the AACM. He began working with Ari Brown, Malachi Favors, Malachi Thompson, and Jack McDuff, as well as with Jessie Jackson on weekly radio broadcasts with Operation PUSH (People United to Save Humanity). Ra played in Sun Ra Arkestra in the 1980's, which was voted "#1 Big Band" by Down Beat Jazz Critics Poll in 1985. Other key ensembles in Ra's musical life include The Arts Ensemble of Chicago; Black Earth Ensemble, with Nicole Mitchell; Luke Stewards Exposure Ensemble; Dave Rempis Quintet; Muntu Dance Company; and Mwata Bowden's Sound Spectrum. His extensive discography continues to grow.
Over the past five decades, has been a frequent performer at Chicago venues such as South Loop cultural hubs, HotHouse and the Jazz Showcase; the South Side treasures, Velvet Lounge and The Apartment Lounge, hosted by Von Freeman; The Green Mill; Constellation; Experimental Sound Studio; Museum of Contemporary Art Chicago; Mayne Stage; and Elastic Arts. He has performed in many Chicago Jazz Festivals, as well as the Hyde Park Jazz Festival since its inception in 2007. In 2018 Ra was honored with the inaugural Elastic Arts Award and feted by the jazz, experimental, and performing arts communities from across the city. In 2021 he was honored by the Robert D. Bielecki Foundation, who supported a series of interdisciplinary post-COVID healing and music workshops, again at Elastic Arts.
"I have always been in some way trying to fuse the two together, the music and the healing." (Avreeayl Ra)
Profile image by: Jack B. Seigel