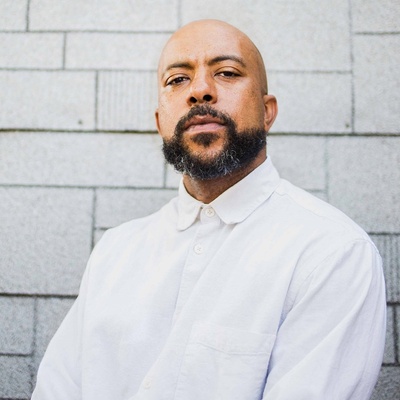 Ben LaMar Gay
Musician & Storyteller
3Arts / Stan Lipkin & Evelyn Appell Lipkin Awardee
Ben LaMar Gay is a composer and cornetist who moves sound, color, and space through folkloric filters to produce electro-acoustic collages. His unification of various styles is always in service of the narrative and never solely a display of technique. A Chicago native, Ben's true technique is giving life to an idea while exploring and expanding on the term "Americana."
By being active in Chicago's experimental music scene and having spent a three-year residency in Brazil, Ben has collaborated with several influential figures in the world of music, including Joshua Abrams, the Association of the Advancement of Creative Musicians, Bixiga 70, Black Monks of Mississippi, Celso Fonseca, George Lewis, Nicole Mitchell, Jeff Parker, Theo Parrish, Mike Reed, Tomeka Reid, and Itibere Zwarg.
Ben received his Bachelor of Arts in Music Education from Northeastern Illinois University. He has served as a music instructor in Chicago Public Schools, a guest lecturer at the School of the Art Institute of Chicago, and a facilitator with the Chicago Park District's Inferno Mobile Recording Studio for six years. The latter helped set the tone for a core philosophy that fuels his musicianship, a fundamental component of which explores the lineage of an idea passed from one generation to another. He aims for his work to have the same functionality as most folktales, which is to create variations on timeless themes to help people make sense of their existence and place in the world.
With the celebrated release of his debut album, Downtown Castles Can Never Block the Sun (International Anthem, 2018) and multiple commissions, Ben is establishing his unique place and voice in the creative ecosystem. He has received artist residencies from Edgar Miller Legacy Glasner Studios and the Red Bull Music Academy. His range of performances and creative projects span from his hometown in Chicago's very own Symphony Center and across the globe to places such as Brazil, France, Germany, Italy, Nigeria, Poland, and the Netherlands.
Ben's musical influences derive from his collection of experiences in all of the Americas and the gathered data channeled by technology and its amplifying accessibility. The fact that the world is closer via technology and that everyone has access to the possibility of exploring different ideas makes his avant-garde version of "Americana" very global. Embracing global vision while remaining true to his roots, Ben aligns his creative output with the honest notion that he only knows how to be a man from the South Side of Chicago.