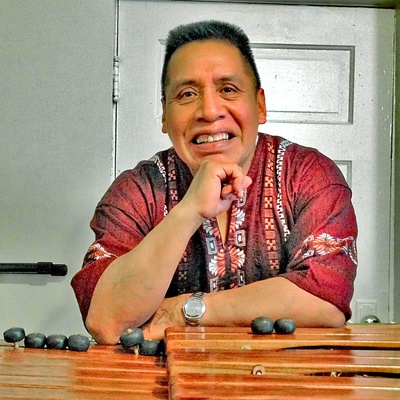 Carlos Mejia
Instrumentalist
Carlos Mejía is a 2014 3Arts Awardee, a master musician, a mentor of young musicians, and a cultural activist specializing in Mayan culture, the Guatemalan marimba, and other instruments. He was born in the Maya K'iche' (or Quiche) community of Guatemala.
At the age of 12, Carlos joined a professional marimba ensemble at the Hotel Mayan Inn. While in high school, he enrolled in the music conservatory of Quetzaltenango, Guatemala and finished his studies in 1978. That same year, he joined Union Ideal, one of the most popular marimba orchestras in Guatemala. He traveled in Central America and Mexico.
In the 1980s, as Carlos was gaining more notoriety as a Mayan musician in the region, he was suddenly caught in the middle of a civil war in Guatemala. During this time, he experienced unspeakable acts of brutality, the death of loved ones, and physical and psychological torture. This broke his spirit and forced him to leave his home country. He found asylum in the United States in 1987, where he has since slowly tried to rebuild his life through his art and community service.
According to Carlos, teaching marimba music and culture to young people is what he desires most. He does not have a political agenda. He simply believes in the transformative power of music and wishes to transmit it to others. He currently works as a part-time janitor to make ends meet and devotes all his spare time to playing and teaching the Guatemalan marimba.