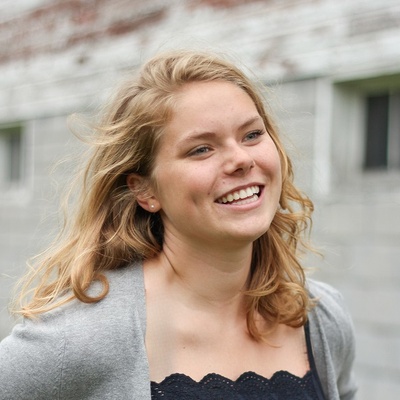 Charlotte "Chuck" Gruman
Accessibility Consultant, Designer, Advocate
3Arts / Walder Foundation Award
Charlotte "Chuck" Gruman (she/her) is an accessibility consultant engaged in bridging the gap between performance and cultural spaces and the communities that wish to experience them. She is a graduate of the Theatrical Technical Design & Production program at Interlochen Arts Academy and holds a degree in International Arts Management from Columbia College Chicago.
Charlotte uses the skills learned through her own life experience to create accessible programming within the formal cultural settings of museums, theaters, libraries, festivals, and other venues where invisible social barriers often exist for those who receive and process art differently from mainstream expectations. "Art by its nature is created to provoke feelings, yet for many of us sitting still, remaining silent, and keeping to ourselves while engaging in different art mediums and performances can be challenging," she says. Charlotte creates accessible performance protocols in sensory-friendly spaces where audience members can process the experience in ways comfortable to them, without the social stigmas. She works with venues to create social narratives and welcome guides for visitors to lay the groundwork for stimulating yet comfortable audience experiences.
As a person on the spectrum, with sensory processing disorder and ADHD, Charlotte feels she is in a unique position to advocate for others like her, especially those who struggle to advocate for themselves. Growing up in Singapore in an expatriate family, she was identified at a young age as being neurodivergent and was given additional attention and resources, from social experiences to occupational therapy, handwriting therapy, and special hearing aids. "My parents and family worked to make accommodations to help me achieve the most balanced life they could provide. They never shamed me for the way that my brain worked; on the contrary, they supported my differences and worked hard to make me feel balanced, and celebrated the things that made me different."
As Charlotte became increasingly aware of the glaring disadvantages she faced in educational and cultural settings, she countered these by building tactile representations of theaters, performance spaces, and museums, smaller versions of theater sets that visitors could touch, and other materials and protocols that sensory-challenged people find useful in their experience. She uses 3D printing technology in her work, creating braille and large print versions of written materials as well as captioning and American Sign Language (ASL) accommodations. She also sews weighted blankets and toys that can offer a calming feeling to visitors, as well as designing quiet or sensory-friendly spaces.
Often leading educational training for students, staff, and volunteers, she has designed touch tours and led audio-described and sensory-friendly performances at Steppenwolf Theatre Company, Goodman Theatre, Second City, Art Institute of Chicago, Columbia College Chicago, Chicago Children's Museum, Museum of Contemporary Art Chicago, and with Aspire and Disney for The Lion King at Cadillac Palace Theatre.
"Most people on the Autism Spectrum have a special interest that they dedicate a lot of their time thinking and talking about," she says. "Mine is the importance of cultural accessibility."