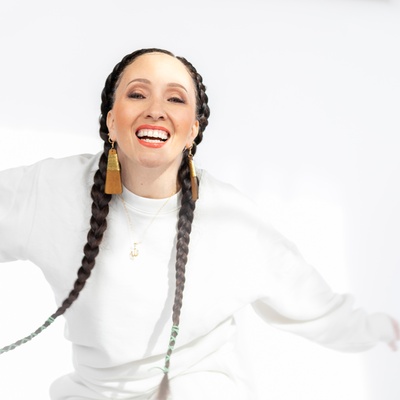 Jacinda Bullie
Creative Instigator
3Arts / Community Award
As a sage burning Muslim mom of three athletes, and partner to Chicago Public School math teacher and Hip-Hop lyricist, I know the importance of having access to healthy expression. These co-conspirator relations challenge toxic norms and encourage me to facilitate creative remedies that instigate art making. My medicines are performing, hosting, writing, producing, moving, sharing stories, collaging colorful visuals, supporting birth work, and engaging in radical love play.
Chicago is the place I pray, reflect, imagine with others, and co-create. My passion is in curating creative, loving, and critically-questioning spaces. I have been a critic of circumstance since I can remember. Interrogating the world through my fragmented First Nations-Appalachian, Uptown upbringing comes naturally. Like the wombs before me, I am dedicated to amplifying all that is sweet. I can sometimes be a bit too raw. In 1996 my fierce inquiry of the world anchored me in Kuumba Lynx (KL). For 27 years, alongside my founding KL partners, I have coached award-winning youth poetry slam teams; written, staged, and produced full-length Hip-Hop theater productions; curated nationally recognized installations and gallery exhibits; constructed soundtracks; and contributed to a multitude of writing and performance projects.
I facilitate classes everywhere and in-between, from the Juvenile Detention Center to Oak Park High School. Alongside Jaquanda Saulter, Monica Trinidad, and Stef Skills, I co-made "Put Some Respect On It," a poetry/coloring book for adults who hold space with youth. In collaboration with Flint, Michigan artist, liza garza, I conceived "Al Wadud a DNA Joy," a bigger-than-life art installation honoring ancestral wisdoms, indigenous patterns, childhood, and the 99 attributes of Allah.
My poems and collaborative practices have been featured in Fly Paper, Chitown Low Down, Bettina Love's Punished for Dreaming, Jeff Chang's Freedom Moves, Muslim Cool by Sa'ud Abdul Khabeer, Word Beats & Life's Global Journal of Hip Hop, and The Breakbeat Poets Vol 3: Halal If You Hear Me, a collection of poems edited by Safia Elhillo and Fatimah Asghar, dispelling the notion that there is one correct way to be a Muslim.
I have presented around the world with Kuumba Lynx, Muslim Writers Collective, Al Haqqani Poets, and Inner-City Muslim Action Network(IMAN)'s Artist Roster, at places including The Kennedy Center, Universal Hip-Hop Museum, Hip-Hop Education Think Tank III: Legacy Building, Global Cipher from the Streets to the Classroom, Sampled: Beats of Muslim Life (an ethnographic installation presented by the American Anthropological Association), and Chicago's Millenium Park. My art can be viewed at First Nations Gallery, University of Chicago Divinity School, Da Lynx, Taleef Collective, and IMAN's inaugural exhibit, The People Made This (2023). I am currently a 2022-2023 IMAN "Sacred Cypher" resident artist, working at the intersection of culture, social justice, and community. On the horizon and in collaboration with Muslim Writers Collective, I will perform with "American People," a Faith Ringgold exhibit at the Museum of Contemporary Art Chicago, featuring "Intersectionality: Muslim American People." Most recently, I am a recipient of a 2024 Links Hall Co-MISSION Artist Fellowship, which will provide space for me and Jaquanda Saulter to develop new works inside the organization's incubator studio. (jah/she/her)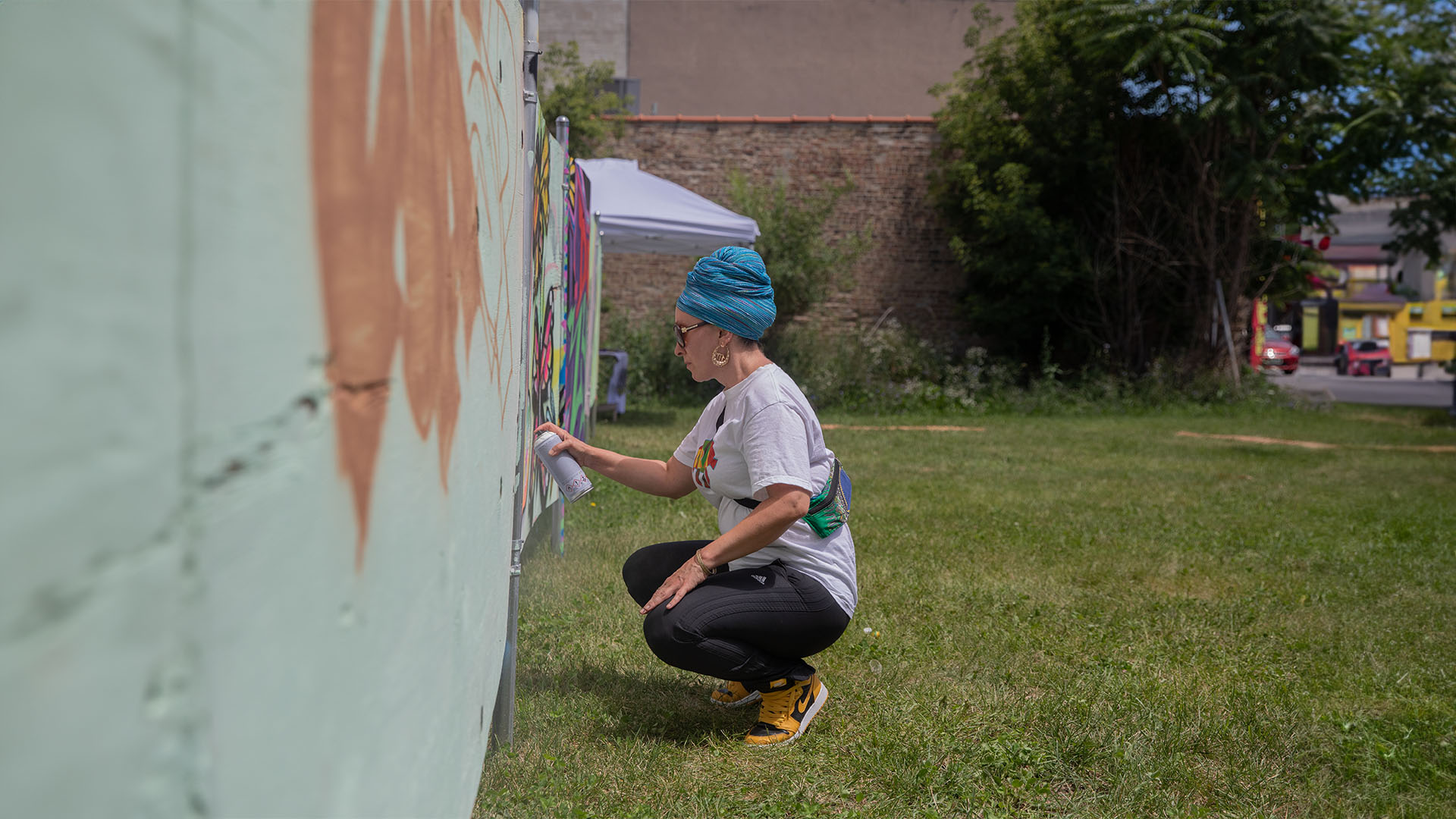 Featured Artworks
DNA JOY

Sacred Cipher: DOORKNOCKAZ