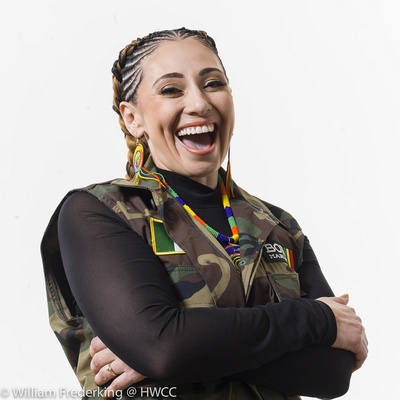 Leyda "Lady Sol" Garcia
Teaching Artist & Mentor
3Arts / RH, Restoration Hardware Awardee
Leyda "Lady Sol" Garcia is a proud Mexican-American street dance professional, mother, and wife from Chicago who is globally recognized as a teaching artist, creative director, manager, producer, and cultural ambassador. She has worked with major media networks including BET, MTV, NBC, and TBS, and alongside super-stars Busta Rhymes, Cedric the Entertainer, Cham, Dancehall Queen Patra, Ellen DeGeneres, Elephant Man, Lauryn Hill, Wyclef Jean, Damian Marley, and Mr.Vegas.
Lady Sol is responsible for bringing Chicago's Footwork/Juke culture to global stages via King Charles and the FootworKINGz who have performed with Chicago Sinfonietta, IBM, Madonna, Missy Elliott, Nike, Red Bull, and Will.I.Am. She has produced and choreographed FootworKINGz dance theater shows at New York City's Apollo Theater and Lincoln Center, as well as The John F. Kennedy Center for the Performing Arts in Washington, D.C.
She is a co-founder of Kuumba Lynx, an internationally-recognized arts organization that empowers young people through the cultivation of hip-hop arts and social activism. She is a teaching artist with Urban Gateways and a professional development trainer with Everybody Dance Now! based in Chicago. Lady Sol is also a self-proclaimed Professor of Practice who has taught fusions of Afro-Caribbean movement workshops at Columbia College Chicago, Northwestern University, Stanford University, and University of Chicago. In 2015, she partnered with Jessica "Phoenix" Brundidge and co-founded FIYAH Fit USA, an Afro-Caribbean music and dance fitness experience that celebrates women.
Her newest work in development, Lady Sol's Dance Diary, is an autobiographical solo theater show self-coined as a "dance-dramedy." She humorously explores music industry politics, cross-cultural identity, and the growing pains of uncovering self-love. Her evolving studies include independent research and teaching workshops specific to Jamaican reggae/dancehall culture encompassing connections to American hip-hop. She travels annually to Jamaica with Jessica Phoenix learning from and through conversations with local residents and world-renowned dance practitioners and teachers, including Orville "The Professor" Hall, Chad "Global Bob" Torrington, and Shelly-Ann Callum.
Lady Sol's immense gratitude is endowed to her mother Maria Garcia, Kuumba Lynx co-founders Jaquanda and Jacinda, and her lifelong mentor Cheryl "Efe" McWorter, all of whom have granted Lady Sol wisdom and purpose as a teaching artist. In her own words, "I intend to continue preserving urban culture by promoting, teaching, and presenting it locally and globally."