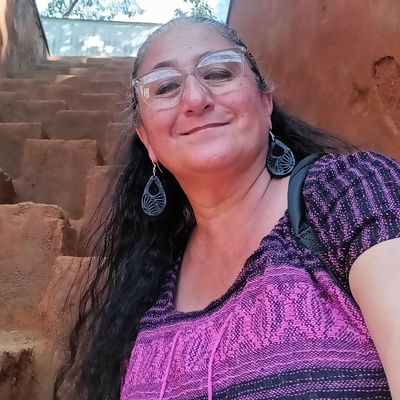 Laura Crotte
Actor, Director, Musician
3Arts / Make a Wave Artist
Laura Crotte, a native from Mexico City with a decade in Veracruz and residency in Chicago for over 20 years, is a solo performer, theater actress, stage director, and deviser of multidisciplinary experiences in workshop, training, lecture, or performance formats. Her work with children, parents, and youngsters in arts, culture, and education has reached numerous neighborhood schools, libraries, and community centers in the Chicago area and beyond.
She has promoted, planned, and coordinated international cultural exchange programs between Chicago and seven states in Mexico. Theater, music, dance, and Mexican culture are intertwined with myths, legends, stories, masks, and costumes that she creates with textures, fabrics, materials, and colors inspired in the ancient and current native civilizations of Mexico.
As a union theater actor, Laura has worked with Goodman Theatre, Steppenwolf Theatre Company, 16th Street Theatre, Teatrovista, Chicago Children's Theater, Silk Road Rising, Chicago Dramatists, People´s Light, The Old Globe, Denver Center for the Performing Arts, and Victory Gardens Theatre in full productions and staged readings. She has been featured as a vocalist at the House of Blues, Chicago Symphony Orchestra Hall, Hot House, and the Old Town School of Folk Music. The 2008 Latino Festival at Goodman Theatre produced her own adaptation, direction, costume, and movement design for Federico Garcia Lorca's Blood Wedding.