Hyde Park resident and visual artist Dianna Frid receives prestigious 3Arts Award
published: Oct. 24, 2018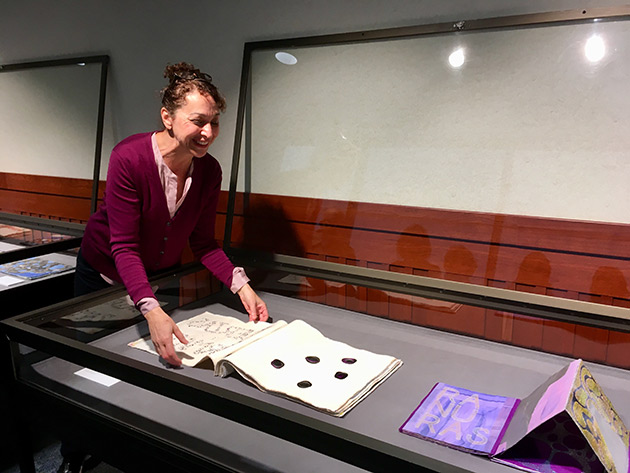 By GABRIELLA CRUZ-MARTÍNEZ
Contributing Writer
Hyde Park resident and visual artist Dianna Frid is one of the winners of the 3Arts Chandler Family Award.
Frid will be honored at this year's 11th Annual 3Arts Awards ceremony on Nov. 5 at the Museum of Contemporary Art; 3Arts is a nonprofit grantmaking organization based in Chicago.
Each year, 3Arts honors ten women artists, artists of color, and artists with disabilities working in the performing, teaching, and visual arts sectors. As an awardee, the Mexican-born Frid will receive a $25,000 unrestricted grant. With the award, artists can take risks, experiment, and build momentum in their careers.
Frid, an Associate Professor at the College of Architecture, Design and the Arts at the University of Illinois at Chicago, is an artist working with the intersections of material, text, and textile. She makes artist books, drawings, and sculptures using her creations as both corporeal and philosophical reflections on the ways in which materials – physical and lexical – produce aesthetic and contemplative experiences that shape our sense of reality.
"When I got the news that I had been nominated for the award, I was overwhelmed with emotion," said Frid. "I put a lot of effort into my application, thinking about the things that have mattered to me as an artist, the projects that I would like to continue doing and the unforeseen situations that would lead me to do something new in my work.
"I applied to the award with the humility of knowing there are many people who deserve these awards and many times you have to apply repeatedly until you get it. This was great news, but keeping in mind the rejections I've had in the past, the honor to receive this award was a lesson of perseverance."
In her work, embroidery is a prominent vehicle for exploring the relationships between writing and drawing, and between transcription, composition, and ineffability. Either explicitly or in nuance, Frid engages themes of time, process, death, and the transformation of matter.
"Currently, I'm working on a series of large installations in which several sentences are both revealed and hidden," said Frid. "I like to think that reading can be very slow. By savoring that slowness of a word, the reader can access one of its multiple and vast meanings alongside its sensual presence. For me, textiles have that."
One of Frid's pieces from that series is currently on display at Alan Koppel Gallery, 806 N. Dearborn St.
"The piece on display at the Alan Koppel Gallery is titled 'Overflow'," said Frid. "In Spanish, overflow is translated to the word 'desbordar' – hidden within the word is another word, 'bordar' which translates to 'embroidery' in English. I like to examine the relationship of words inside of words."
Similar to the series that Frid has been revisiting since 2011, titled "It Takes Time,"Frid encounters the cycle of life and death, and the passage of time through words taken from The New York Times obituary section.
"I'm currently working on taking obituaries from Cuban people for an installation I'm planning to participate in Havana, Cuba in the future."
Though her plans for the award are not set, Frid is excited to use this grant to cultivate her art and be able to do more research on other projects.
"I am thankful to the 3Arts committee, and honored to have been nominated for the award," said Frid.
Frid has exhibited her work nationally and internationally in institutions such as PS1-MOMA and the Drawing Center, in New York; The Museum of Contemporary Art, Chicago; the Neues Kunstforum, Cologne; and the Alpineum, Lucerne, Switzerland.
"Championing Chicago artists is a privilege like no other," said Esther Grisham Grimm, Executive Director of 3Arts. "We are thrilled to present our awardees with opportunities that they profoundly deserve. Last year's launch of Make a Wave made it abundantly clear that there is nothing quite as exciting as witnessing artists offering support to other artists by paying it forward and encouraging them to dream big."
In addition to Frid, the 2018 recipients of $25,000 3Arts Awards are:
Dancers and dance educators T. Ayo Alston ad Anna Martine Whitehead; musicians Brittany "BrittanyE" Edwards and Ben LaMar Gay; teaching artists Leida "Lady Sol" Garcia and Elgin Bokari T. Smith; playwrite and actor Sandra Delgado and costume designer Christine Pascual; and visual artists Hương Ngô.
This year's event will feature performances by past awardees including wheelchair dancer Kris Lenzo and operatic baritone Will Liverman. The event is led by co-chair Erryn Cobb, 3Arts Board of Directors and CEO of Fetch Integrated Marketing Communications; Remberto Del Real, 3Arts Board of Directors and Managing Director of Personal and Business Banking Marketing for BMO Harris Bank; and Jess Godwin, singer/songwriter and 2016 3Arts Award recipient.
To view Dianna Frid's work, visit: http://www.diannafrid.net/.
article source