3Arts announces new artist residencies at UIC
EXTRA
published: Sept. 3, 2014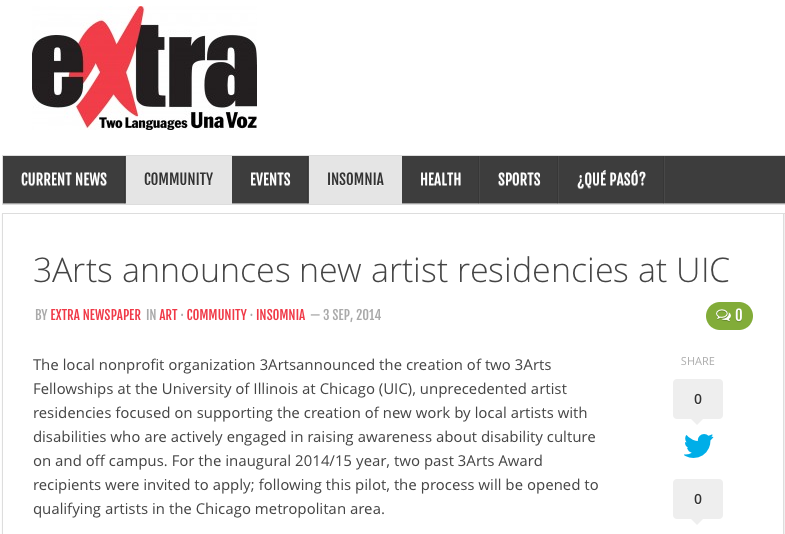 The local nonprofit organization 3Artsannounced the creation of two 3Arts Fellowships at the University of Illinois at Chicago (UIC), unprecedented artist residencies focused on supporting the creation of new work by local artists with disabilities who are actively engaged in raising awareness about disability culture on and off campus. For the inaugural 2014/15 year, two past 3Arts Award recipients were invited to apply; following this pilot, the process will be opened to qualifying artists in the Chicago metropolitan area.
The inaugural fellowship recipients, 3Arts Awardees Robert Schleifer (theater and performing arts) and Riva Lehrer (visual arts), will be given full access to the resources available on the UIC campus, support in making new work, and paid opportunities to engage with students and faculty, and through public programming in organized critiques, studio visits, public forums, and workshops. Schleifer is currently working to translate Yasmina Reza's play entitled "Art"completely into American Sign Language, involving the UIC community in workshops this fall. The new play will be titled "Art in ASL." Lehrer's fellowship, beginning in February 2015, will explore issues of portraiture and power in a series of collaborative portraits.
"It has been so satisfying to find an institutional partner in UIC that is anything but institutional—one that is visionary, flexible and open to the needs of individual artists, while serving as an anchor and making profound connections to people on and off campus," said 3Arts Executive Director Esther Grimm
UIC plans to utilize the fellowships to create space for more interdisciplinary artistic approaches to art, and study of the intersection of research methods and artistic processes—such as the connection between the medical humanities and art.
article source