Arts for Illinois Relief Fund
published: March 30, 2020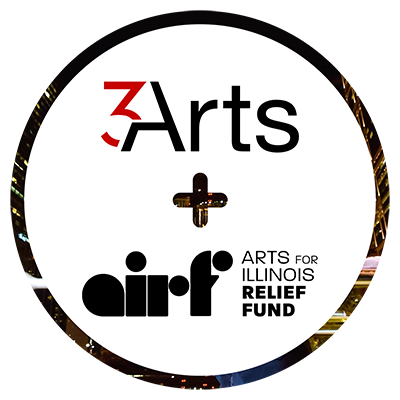 Hello! If you are a practicing artist, an Illinois resident, and experiencing financial loss or hardship as a result of the COVID-19 pandemic, you are in the right place.
[Update as of 7/30/20]: Because we are still fundraising to refuel the Arts for Illinois Relief Fund, the Round Three selection process will take place through July and into August. We anticipate that all applicants can expect to hear from us by the middle of August. We are not re-opening the application portal, but we continue to focus funding on any eligible artists who applied and did not receive funding in the first two rounds.
3Arts is a partner in the Arts for Illinois Relief Fund (AIRF), a statewide effort that provides financial relief to artists and arts organizations with urgent need due to the impact of the COVID-19 pandemic. The fund is a public-private partnership between the City of Chicago, the State of Illinois, the broader philanthropic community, and the residents of Illinois. The fund is managed by Arts Alliance Illinois and implemented by partnering organizations 3Arts and Arts Work Fund.
3Arts is managing the distribution of funds to Illinois artists based on an open application process. (Emergency support for arts organizations is being managed by Arts Work Fund, using a separate application. Learn about that opportunity here.)
Through AIRF, 3Arts will issue $1,500 unrestricted, one-time grants to as many eligible artists as possible, given the total funding available. Please read our FAQ page for details on eligibility, the application and selection process, and grant distribution. Artists will be required to submit a W9 form in order to receive payment. There are multiple ways to provide us with that form. Please consult our FAQ page for options.
Because of the magnitude of this crisis, we anticipate more requests for funding than there are funds to distribute. Following equitable practices, the grants will be available and distributed in phases to allow time for internal processing as well as communication to reach as many artists as possible, especially those who may not have immediate access to technology or other resources to complete an application quickly. We will update this page with application time frames, and, during temporary closures while we wait to receive additional funding, invite artists to be notified personally when a new cycle opens.
Grant selections will be based on a lottery system. Any applications not selected in one round will automatically be re-entered into subsequent cycles for consideration.
Due to our limited response capacity, please refer to the FAQ and the application itself which will have further instructions. Should you have any obstacles or questions when completing your application that the FAQ page does not answer, you can reach us at: contact@3arts.org.
If you would like to contribute to this statewide effort, please visit Arts for Illinois.