Announcing 2018 3Arts Awards
published: Nov. 5, 2018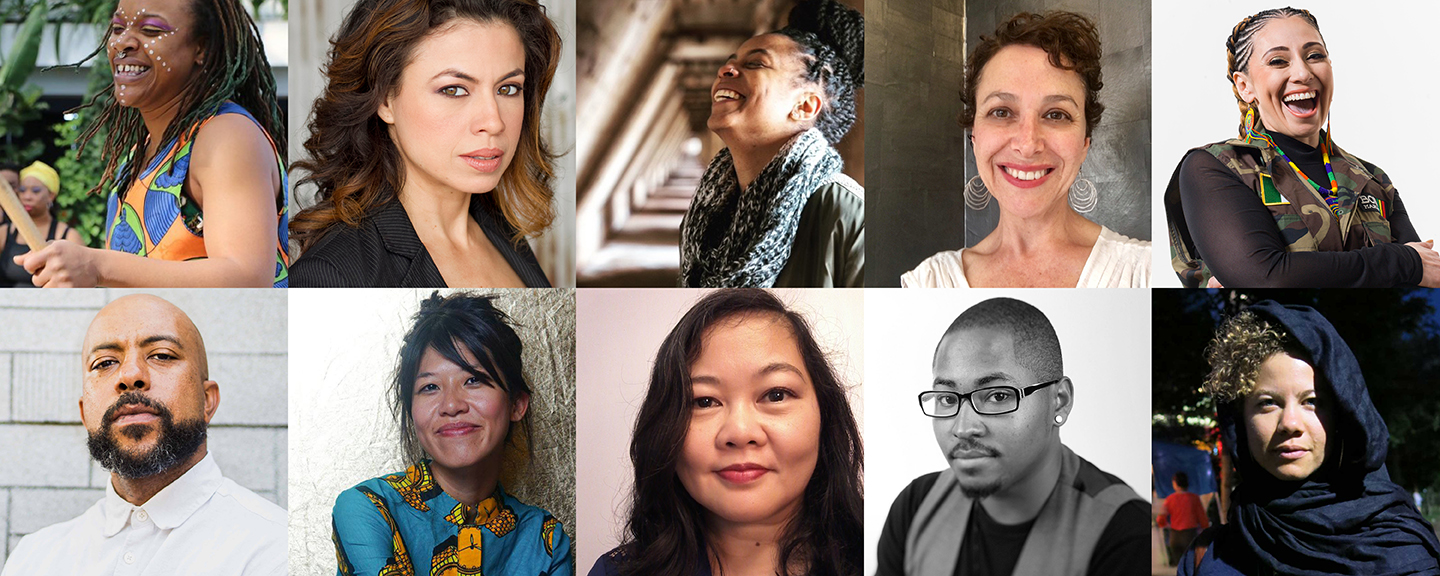 3Arts Awards 20 Chicago artists of color, artists with disabilities,
and women in the arts with unrestricted cash grants
Annual celebration honors 10 artists with $25,000 cash grants along with $1,000 awards given to 10 artists as part of a peer-to-peer giving program, Make A Wave
CHICAGO, IL (November 5, 2018)–3Arts, the Chicago-based nonprofit grantmaking organization, is honored to award 20 Chicago artists with unrestricted grants at the 11th annual 3Arts Awards Celebration, taking place tonight, November 5 at the Museum of Contemporary Art. The celebration will recognize the ten annual 3Arts Awards recipients along with ten recipients of Make a Wave—an unprecedented artist-to-artist giving initiative.
The 3Arts Awards celebration honors ten artists with $25,000 cash grants and ten additional artists with $1,000 grants as part of the peer-to-peer giving program, Make A Wave. 3Arts has distributed more than $3 million in total funding to more than 600 Chicago artists over the past eleven years and will award $260,000 tonight alone.
"Championing Chicago artists is a privilege like no other. We are thrilled to present our awardees with opportunities that they profoundly deserve," said Esther Grisham Grimm, Executive Director of 3Arts. "Last year's launch of Make a Wave made it abundantly clear that there is nothing quite as exciting as witnessing artists offering support to other artists by paying it forward and encouraging them to dream big."
The 2018 recipients of $25,000 3Arts Awards are:
Dancers and dance educators T. Ayo Alston and Anna Martine Whitehead; musicians Brittany "BrittanE" Edwards and Ben LaMar Gay; teaching artists Leida "Lady Sol" Garcia and Elgin Bokari T. Smith; playwright and actor Sandra Delgado and costume designer Christine Pascual; and visual artists Dianna Frid and Hương Ngô.
3Arts will additionally celebrate the recipients of Make a Wave, a groundbreaking artist-to-artist grant program in which the previous year's 3Arts Awards recipients select another ten Chicago artists to receive surprise $1,000 awards, in effect sending a wave of support through our city's brilliant creative core. The recipients of this year's Make a Wave grants were selected by 2017 3Arts awardees.
The 2018 recipients of $1,000 Make a Wave grants are:
Nura Aly (violinist, educator, and dancer); Silvia Inés Gonzalez (interdisciplinary artist and educator); Krystal Grover-Webb (visual artist and educator); Jo de Presser, aka Marlon Billups (DJ); Joelle Lamarre (soprano, teacher, and playwright); Jenna M. Lyle (experimental musician and performer); Krystel V. McNeil (actor); Gonzalo Escobar Mora (visual artist and experimental filmmaker); Carolyn O'Brien (composer); and Ana Santos (actor).
This year's 3Arts Awards Celebration will feature performances by past awardees including wheelchair dancer Kris Lenzo and operatic baritone Will Liverman. The event is led by co-chairs Erryn Cobb (3Arts Board of Directors and CEO of Fetch Integrated Marketing Communications), Remberto Del Real (3Arts Board of Directors and Managing Director of Personal and Business Banking Marketing for BMO Harris Bank), and Jess Godwin (singer/songwriters and 2016 3Arts Award recipient).
About 3Arts
3Arts is a nonprofit organization that advocates for Chicago's women artists, artists of color, and artists with disabilities who work in the performing, teaching, and visual arts. By providing cash awards, project funding, residency fellowships, professional development, and promotion, 3Arts helps artists take risks, experiment, and build momentum in their careers.
3Arts extends a special thanks to its 2018 Award Partners: The Chandler Family; Denise & Gary Gardner; Lakeside Bank; Stan Lipkin & Evelyn Appell Lipkin; O'Neill & Williams Family; The Reva & David Logan Foundation; RH, Restoration Hardware; The SIF Fund at the Chicago Community Foundation (in honor of Samuel G. Roberson Jr.); Southwest Airlines; and donors to the 2018 3Arts Community Award. One of the ten 3Arts Awards, designated as the 3Arts Community Award, is named in honor of the Chicago community. Earlier this spring the award was supported by 112 donors who contributed to a board-led crowdfunding campaign that also included a one-third match from 3Arts. This year's 3Arts Community Award recipient is Sandra Delgado, a playwright and actor well-known in Chicago and deeply committed to creating spaces in local and national theater for Latinx artists and stories.
3Arts also gratefully acknowledges the generous support of the following: Make a Wave Partner: the Siragusa Family Foundation; Presenting Sponsors: Allstate and BMO Harris Bank; Lead Sponsors: Blue Cross Blue Shield of Illinois, Kimpton Gray Hotel, Merrill Lynch Wealth Management, Perkins Coie LLP, and Wolfgang Puck Catering; Corporate Friends: Comcast, Northern Trust, and William Blair; and After-Party Sponsor: Fetch Integrated Marketing Communications.
download PDF ↓