Highland Park actor translates play into sign language
published: Sept. 25, 2014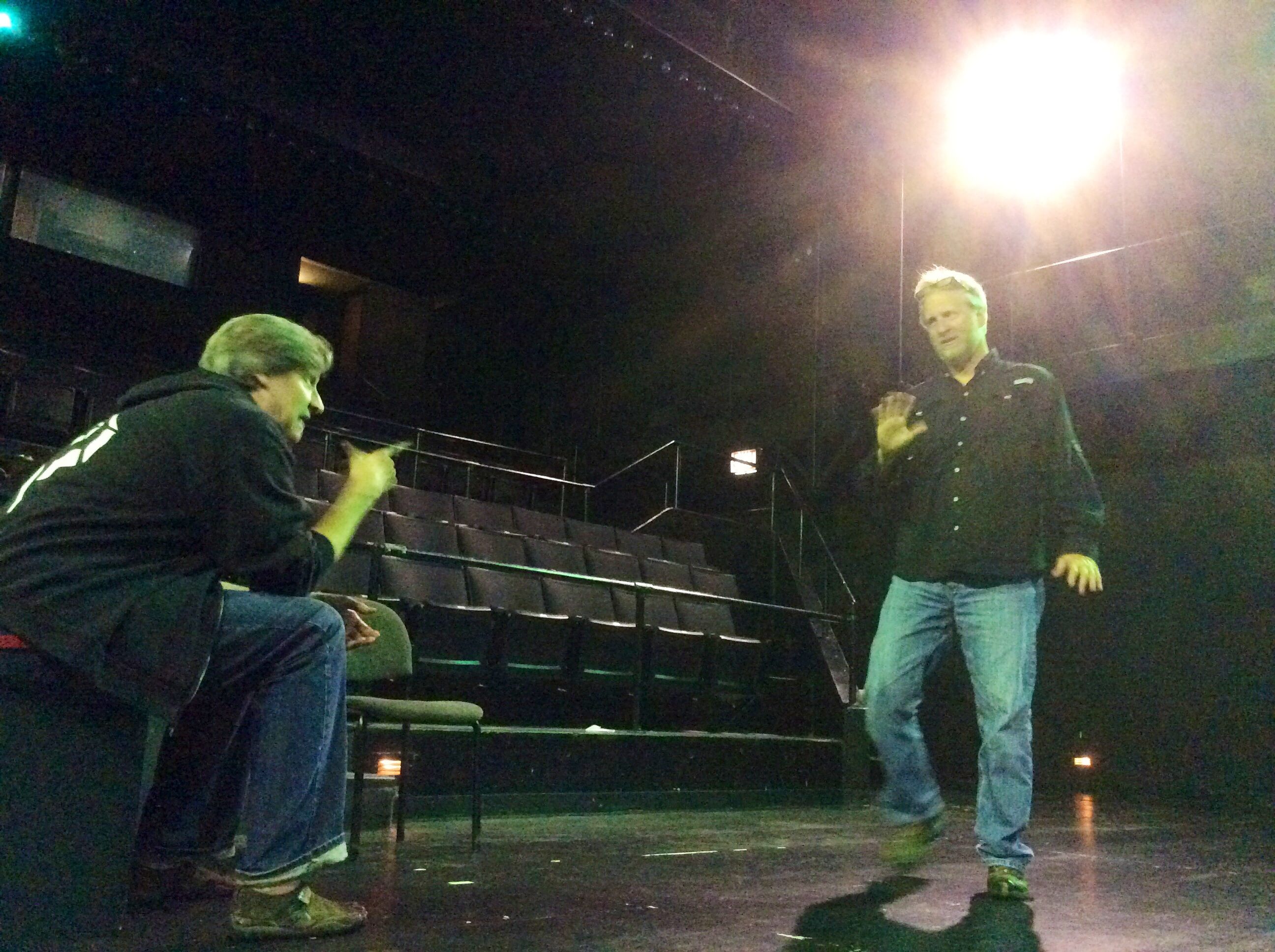 Actions can speak louder than words. That's what actor, teacher and photographer Robert Schleifer, who is deaf, demonstrates to his many acting and singing students. It's also something that the Highland Park resident plans to show through his translation of Yasmina Reza's play "Art" into American Sign Language (ASL).
He said he has wanted to translate the play ever since he saw it at Steppenwolf Theatre several years ago.
"It's not about deafness at all. It's about friendship through art," he said. "And I'm also an artist myself. I've always loved art. The word 'art' inspires me and perfectly encapsulates what I'm trying to accomplish here."
Schleifer's translation project has been given a major boost through a 3Arts fellowship he won this year, which allows him access to the resources of the University of Illinois at Chicago (UIC).
The nonprofit 3Arts organization offers cash awards, project funding, residency fellowships and professional development opportunities to performing, teaching and visual women artists, artists of color and artists with disabilities. Executive Director Esther Grimm said they chose Schleifer for and one other artist for their fellowship program, which launched this year, because they were looking for artists who were accomplished, already had a project in mind and could benefit from UIC's support.
Schleifer's translation project stood out, Grimm said, because, "It is not about people who are deaf and yet he wants to translate it into ASL so it becomes accessible to everyone. That's a really interesting concept."
Visual artist Riva Lehrer was the other recipient of the new fellowship program.
Originally written in French, "Art" debuted in 1994 and tells the story of three friends who disagree over one friend's purchase of an expensive modern painting. The play won a Tony Award in 1998.
"Now, years later, with this award and fellowship with UIC, I had the opportunity to work on the script, translating it into American Sign Language — that is my language," Schleifer said. "I was able to incorporate literary effects as well as deaf culture using visual grammar that comes from face and body language, which are aspects of American Sign Language."
Schleifer said that, as a result of his translation, "Art" has been become a much more three-dimensional performance.
"It made it very visual," he said. "Time and space are all things that are controlled in American Sign Language to create the message."
The translation process was arduous, with Schleifer carefully studying each sentence of the script and deciding how best to translate it into American Sign Language.
"There are a number of creative signs that you'd be able to use," he explained. "Once we did that, of course, we also had to have actors who'd be able to interpret back into English so that the play would be accessible to anyone."
As part of the fellowship, two UIC theater majors have been working closely with Schleifer since the summer.
"When they started, they didn't know any sign language at all," he said. "Once they did get involved, they became fascinated and dove into the language. They've been exposed to and learned a lot about deaf culture."
In the near future, Schleifer said, he will most likely present workshops and teach master classes at UIC as part of his fellowship.
Future plans for "Art" include hosting a staged reading open to the public. Schleifer plans to play one of the characters, but will need to locate two other deaf actors for the three-character play. He is hoping that the playwright will come and share her thoughts about the work, too.
"Hopefully, that will lead into a full production," he said.
Schleifer's acting career includes performances in "The Heart is a Lonely Hunter," "The Diary of Anne Frank" and "Endgame" at Steppenwolf Theatre; seven seasons in "A Christmas Carol" at Goodman Theatre; "Our Town" at Bailiwick Repertory; regional performances at Milwaukee Shakespeare Company and Amaryllis Theatre in Pennsylvania; and the Broadway national tour of the Deaf West production of "Big River." He is a member of Actors' Equity Association.
As a teacher, Schleifer has developed a series of classes to train actors and singers in physical expression and character development. He has presented classes and workshops at Purdue University, the University of Wisconsin, Northwestern University, the University of Chicago and many other institutions as well as at opera programs in Austria and Italy.
Prior to being awarded the 2014 3Arts fellowship, Schleifer received a 2013 Teaching Artist Award from that organization. Despite his many achievements, he said the honor astounded him.
"I've never won anything," he said. "I was surprised that people were watching my work over the years."
Thanks to the 3Arts 2014 fellowship, many more people will be keeping an eye on Schleifer.
PHOTO: via Highland Park News
article source