How Sandra Delgado Became a Latina Staple in Chicago Theater
published: Nov. 9, 2018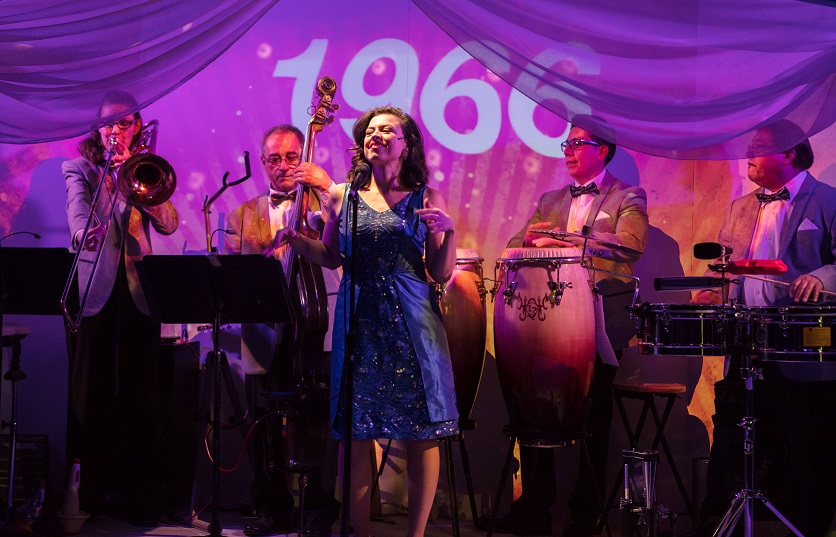 By Gabriela Garcia, Editor-in-Chief
It was a long road, but Sandra Delgado has become a bona fide staple in Chicago theater, and she's just now hitting her stride. Don't' believe us? Her face is painted on a mural at the Chicago Cultural Center next to Oprah and Sandra Cisneros. "I see stories everywhere. My brain has become unlocked," says Delgado, an actress, playwright, producer, and all around chingona.
As an actress, Delgado has proven herself in the theater scene, forming strong relationships with Collaboraction (in which she's a founding ensemble member), Steppenwolf, and the Goodman. It was while she was working on a show for the Goodman ("2666") that she became inspired to write her very first staged play, a documentary of sorts called "La Havana Madrid," a Teatro Vista production at both the Goodman Theatre and Steppenwolf Theatre in 2017.
"La Havana Madrid was a nightclub that used to exist on the corner of Belmont and Sheffield in the 60s and 70s. My parents went there to listen to music and dance. I thought, what a cool setting for a play! I would always hear about this place from my father, who had immigrated from Colombia in 1965."
The show was a huge success, uniting people from various backgrounds through a shared experience and into the world of La Havana Madrid. The Chicago Tribune describes Delgado as, "A big talent who has really found something here, she needs to stay in the spotlight of the fascinating story she has written about our shared hometown." It was acclaimed as one of the best plays of 2017 by Time Out Chicago.
An actress by trade, Delgado's turn as a playwright has illuminated her unique voice and her innate understanding of what Latinx audiences want. "I want to illuminate Latinas beyond what others see in the media. We are so used to seeing black and brown bodies in pain. It's the thing I hate the most, but also what gives me fuel. I want to broaden the immigration narrative."
Her newest play, "Hundreds and Hundreds of Stars" was inspired from an Obama speech which touched upon the struggles immigrants face when coming into this country. It prompted her to tell the fictional story of a young mom who has lived in the U.S. for the majority of her life but was sent back to her native country due to a polarizing circumstance.
Delgado's creative growth struck the attention of 3Arts, a nonprofit organization that advocates for Chicago's women artists, artists of color, and artists with disabilities who work in the performing, teaching, and visual arts. The organization awards $25,000 unrestricted dollars to "ten artists every year to support new work, pay off debt, purchase equipment, travel, or start a savings account -- or however they wish." Applications are by invitation only as it's a highly competitive award to win. Delgado was elated when she learned that – after five nominations over the last eight years – she finally won the elusive award.
"The award is such a huge deal for me and I'm so fortunate that my growth as an artist was recognized," says Delgado. She's no stranger to accolades. Delgado is also the recipient of a Joyce Award, a two-time Individual Artist Program grantee from the Chicago Department of Cultural Affairs and Special Events, and the 2017 Latina Professional of the Year award from the Chicago Latino Network.
What does the future hold for Delgado? "There is this amazing wave of Latina representation in charge of telling our narrative. Tanya Saracho and Gloria Calderon are becoming household names, and they are unapologetically Latina. There is no white-washing in their storytelling, and it inspires me in my work." Saracho, a former Chicago playwright and Teatro Vista playwright, has found huge success in writing for ABC's "How to Get Away With Murder" and is the head writer for "Vida" on Starz. Saracho was also a 3Arts award recipient, an distinction that certainly helped in her journey. Her success in television has definitely inspired Delgado to think beyond the stage.
"To see actors bring your words to life is so amazing. I love writing. It fills a big part of me, but I will always be an actor as well - it's in my blood."
article source