PRESS RELEASE: 2023 3Arts Awards
published: Oct. 3, 2023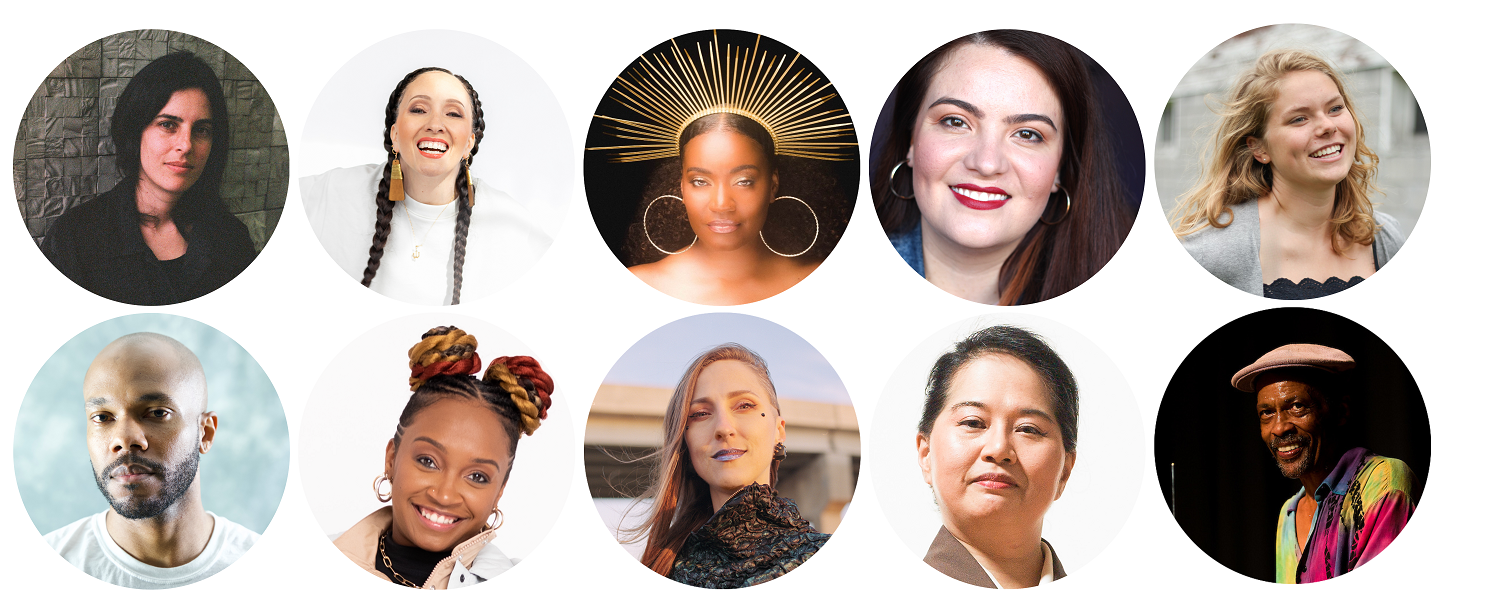 3Arts announces ten artists each receiving $30,000 unrestricted grants at annual 3Arts Awards Celebration
Acclaimed local artists & past 3Arts Awards recipients performing at the For the Love of Artists themed celebration include grammy award-winning opera singer Will Liverman and Chicago poet laureate avery r. young, at the Harris Theater for Music and Dance, Monday, November 13
CHICAGO, IL (OCTOBER 3, 2023)– 3Arts, the Chicago-based nonprofit grantmaking organization, announces the recipients of this year's 3Arts Awards, with over half a million dollars distributed to local artists. The 2023 recipients of the unrestricted $30,000 grants are dance artists Donnetta "LilBit" Jackson and Rika Lin; musicians Rashada Dawan and Avreeayl Ra; teaching artists Jacinda Bullie and Eric Hotchkiss; theater artists Nancy García Loza and Charlotte "Chuck" Gruman; and visual artists Selva Aparicio and Jenny Kendler. The organization will honor the ten new recipients at its first in-person celebration since 2019 on Monday, November 13 at 5:30pm at the Harris Theater for Music and Dance, 205 E Randolph Street. 3Arts Awards Celebration: For the Love of Artists tickets include a pre-program cocktail reception, awards presentation, performances, and an after-party with a bountiful buffet and music by DJ Sadie Woods. Tickets cost $130-$300 and are available at 3arts.org/tickets.
The awards ceremony will bring together energy-filled performances by Grammy Award-winning opera singer Will Liverman (on break from his starring role in X: The Life and Times of Malcolm X currently running at The Metropolitan Opera); a dance excerpt from Gentle, Into That Good Night by critically acclaimed choreographer Stephanie Martinez (founder of PARA.MAR Dance Theatre); and a grand finale led by Chicago's inaugural poet laureate avery r. young joined by an "all-star band" of past 3Arts awardees JoVia Armstrong, Meagan McNeal, Bethany Thomas, Caitlin Edwards, Sam Thousand, and more. The awards are hosted by 3Arts Executive Director and arts leader Esther Grimm with event co-chairs Juana Guzman, Will Liverman, Nalani McClendon, and Jason Quiara.
"It is going to feel so good to be back together again!" notes Esther Grimm. "In addition to celebrating the extraordinary 2023 3Arts Awards recipients, we are going to announce some big—next-level—news during the event that I think everyone in Chicago will be happy about. I hope the seats will fill with people from all over metro Chicago so together we can send the loudest applause possible to the artists who add meaning and connection to our lives—and who persevered during the last three years of the pandemic. We need to let them know what they mean to us; in fact, that's why we called this event, For the Love of Artists."
Learn more about the new 2023 3Arts Awardees here.
NEXT LEVEL AWARDS AND MAKE A WAVE AWARDS
The nearly $600,000 to be distributed at the celebration includes five $50,000 Next Level Awards, along with ten $2,000 Make a Wave Awards selected by last year's 3Arts awardees, all to be announced at the For the Love of Artists event on November 13.
Next Level Awards are $50,000 unrestricted cash awards given to past 3Arts awardees to help fuel the next stages of their careers. Make a Wave is a groundbreaking artist-to-artist grant program in which past 3Arts Awards recipients select another ten Chicago artists to receive surprise cash awards, sending a "wave" of support through Chicago's cultural communities. Make a Wave artists receive $2,000 each, thanks to the generous partnership of the Siragusa Family Foundation.
About 3Arts
Founded in 1912, with a history centered on women artists, 3Arts is a nonprofit organization that supports artists working in the performing, teaching, and visual arts in the Chicago metropolitan area, including women artists, artists of color, and Deaf and disabled artists. By providing unrestricted awards, project funding, residencies, professional development, and promotion, 3Arts helps artists take risks, experiment, and build momentum in their careers over time.
3Arts extends special thanks to the 2023 Award Partners: The Chandler Family, The Walder Foundation, The HMS Fund, Stan Lipkin & Evelyn Appell Lipkin, The Reva & David Logan Foundation, and The SIF Fund at the Chicago Community Foundation.
One of the ten 3Arts Awards, the 2023 Community Award, is named in honor of the 152 community donors who contributed to a crowdfunding campaign to fund the award. 3Arts also recognizes support for the Next Level Awards from an anonymous donor at The Chicago Community Foundation and Good Chaos, as well as Make a Wave Partner: The Siragusa Family Foundation. 3Arts gratefully acknowledges the generous support of our sponsors. Presenting Partner Sponsors: Allstate Insurance Company and MSUFCU; Presenting Partner: Xfinity; Lead Sponsors: Blue Cross & Blue Shield of Illinois and Center for Advanced Emotional Intelligence; and Media Sponsor: Chicago Magazine.
For more information about 3Arts, please visit www.3arts.org.
# # #
Contact:
Katy O'Malley/Alannah Spencer
The Silverman Group, Inc.
847.814.1940
katy@silvermangroupchicago.com
download PDF ↓