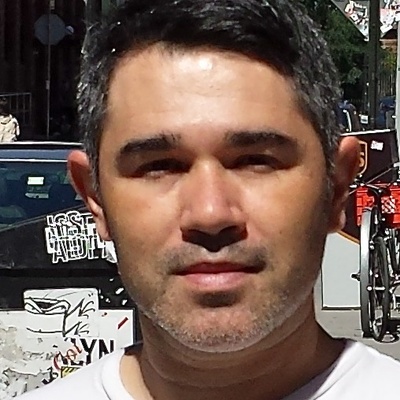 Juan-Carlos Perez
Interdisciplinary Artist & Educator
3Arts / Chandler Family Awardee
Juan-Carlos Perez is a visual artist who was born in Juarez, Chihuahua, Mexico and immigrated to Los Angeles, California at an early age. He later moved to Chicago to pursue a degree in Fine Arts at the School of the Art Institute of Chicago.
Through the use of 2D, 3D, and installation work, Juan-Carlos creates intense landscape spaces where visual and complex relationships revolving around the themes of politics, immigration, violence, racism, and religion are interwoven with current histories. These spaces create a context where different perspectives, ideals, and concepts confront and challenge one another. Juan-Carlos is part of The Chicago Act Collective, a group of socially and politically engaged artists who create many forms of resistance through art that promotes collaboration and dialogue across communities.
As an independent teaching artist, Juan-Carlos partners with arts organizations such as Chicago Arts Partnerships in Education (CAPE), Chicago Public Schools, the Chicago Park District, community centers, and more. Through a variety of visual arts media and rigorous arts education integration, he teaches modern arts, cultural arts, public art, and mural making. His role as an arts educator has given him the opportunity to work with many diverse communities within the city of Chicago as well as Detroit and West Africa.
His method of teaching allows students to pay attention to their art processes and ways of thinking so that they can create an honest, artistic interpretation of themselves or their community. Just like in his own art making practice, Juan-Carlos sees the importance of how personal histories affect the creative art making process. When it comes to working with individuals who have no experience with the visual arts, students need to investigate within themselves in order to find their voice.
It is important that each community Juan-Carlos works with produces artwork that has a substance, meat, and a fury that will engage the viewer. That no matter the art medium, its authenticity comes across as intense, powerful, subtle, honest, and genuine.