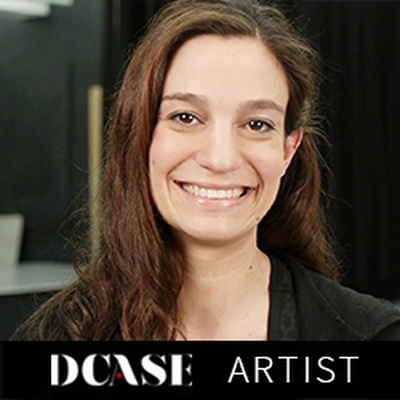 Andrea Cerniglia
DCASE Artist
Andrea Cerniglia began dancing at an early age while growing up in the suburbs of Boston, Massachusetts. Dance has always been a large part of her life and her training ultimately led to a BFA in Dance from the University of Illinois at Urbana-Champaign. Much of Ms. Cerniglia's exposure to modern dance came during her collegiate years; she quickly fell in love with the form for its endless freedom and ability to give an audience such a powerful and visceral experience.
Currently a contemporary artist based in Chicago, IL, she is a performer, choreographer and seasoned educator. Ms. Cerniglia produces as dropshift dance; her work has been shown internationally in Vancouver, BC as well as locally at Links Hall, The Hairpin Arts Center, I AM Logan Square Gallery, The Milwaukee Avenue Arts Festival, Produce Music and Dance Festival, Hamlin Park and Holstein Park, Chicago, IL. She is a long time collaborator and performer with Zephyr Dance with whom she has worked since 2004. Ms. Cerniglia has also performed at such Chicago venues as the Museum of Contemporary Art, the Dance Center of Columbia College, Harold Washington Library Theater, the Athenaeum Theater, and the Ruth Page Center for the Performing Arts. She has also performed in New York City at the Ailey Citigroup Theater, Dance Space, the Cunningham Studio Theater, Mulberry Street Theater, Triskelion Arts, and The Ailey Cititgroup Theater. Ms. Cerniglia is currently pursuing her Masters Certificate within the Graduate Laban Certificate Analysis Program at Columbia College Chicago, from which she will graduate in the Summer of 2015.

Ms. Cerniglia has been a part of residency and master class work within the elementary grade levels, as well as at such colleges as Columbia College Chicago and Illinois Wesleyan University. She has also taught and designed arts integrated curriculum in the Chicago Public schools through Zephyr's arts integrated education programs uniting classroom curriculum with dance. In the spring of 2009, she was named Artistic Director of the Dance Foundation Youth Company Chicago, a dance group providing opportunity and scholarship to Chicago's underserved youth founded at Fisher Dance Center, now R&B Dance, where she continues to support dance education and appreciation.
Andrea Cerniglia has crowd-funded a project with 3AP
$3,857 raised of $3,500 goal
0 Days 0:00:00 LEFT

3Arts matched
110% funded