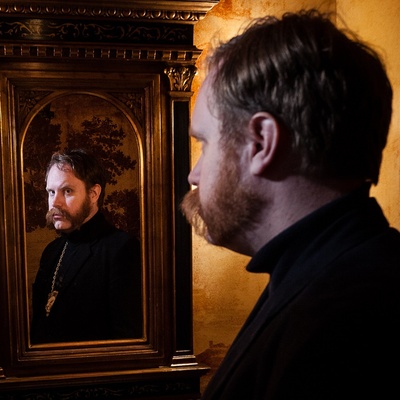 Andy Slater
Andy Slater is a blind sound artist, performer, musician, and disability advocate. He is the founder of the Society Of Visually Impaired Sound Artists and is the director of the "Sound As Sight" field recording project. In 2018 he received a 3Arts/University of Illinois at Chicago residency fellowship. During the fellowship he designed a sound installation called "A Space For The Overactive Ear." The piece is a mobile, multi-channel listening room created for the practice of active listening. The audio piece was created from field recordings of nature, industrial, urban, rural, and subterranean sounds from over a dozen different environments: a haunted jail near Melbourne, the satellite array at the SETI Institute near San Francisco inside a cave in Northern California, an echo locating the streets of Los Angeles, waves smashing a seawall, weird sounding doors in New Haven, the soothing sounds of public transportation in Chicago, and the nerve-racking experience of Universal Studios in Orlando. Many of these recordings are of Andy banging his white cane against any manner of surfaces and disrupting each sonic space that he occupied. It is a lively study of how one blind man's hearing interprets the world around him.
Andy has exhibited and performed at the Museum of Contemporary Art Chicago, the Contemporary Jewish Museum in San Francisco, Ian Potter Museum of Art in Melbourne, EXPO Chicago, Constellation, High Concept Labs, Quimby's Bookstore, Artlands Australia, the Empty Bottle, Gallery 400, Chicago Disability Culture Conference, Intuit Gallery of Outsider and Intuitive Art, Access Living, Sonophilia Festival UK, Defibrillator, Co-Prosperity Sphere, Collaboraction Theatre Company, Links Hall, Elastic Arts, School of The Art Institute Of Chicago, Art Space New Haven, and the Hideout.
Andy and his work have appeared in the Chicago Reader, VICE, High Times, Classic Rock Magazine UK, The Onion's Clickhole, Chicago Magazine, Chicago Tribune, Death+Taxes, The Vinyl District, Chic-A-Go Go, WFMU's Free Music Archive, WLS/ABC 7, WXRT, WTTW/PBS's Check, Please!, Showtime's Shameless, YouTube Premium's Wayne, and Vinyl: The Movie.