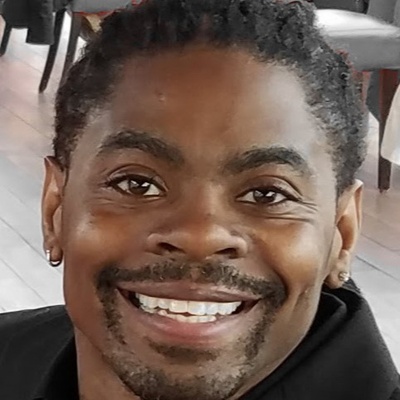 Antonio Davis
Antonio "Tone" Davis (b. 1975, Chicago) is an award winning visual artist, videographer, an activist whose passion has always been art. He loved drawing and painting from youth and studied graphic design at Prosser Vocational High School in Chicago. In 1994, he sustained a gunshot wound to the chest that left him quadriplegic. During his recovery at the Rehabilitation Institute of Chicago (RIC) he was introduced to mouth painting. In 1996 Antonio moved to a nursing home facility to further his rehabilitation, physical therapy, and occupational therapy. He was encouraged by a RIC therapist to start drawing again, this time by holding the pen in his mouth.
In 1997 he began to focus his artistic talents by immersing himself in all mediums, including attending the Illinois Institute of Art where he learned life drawing, color theory, and 3D modeling. After years of study, in 2006 he was granted a scholarship from MFPA (an association of mouth and foot painting artists) to further develop his talent.
Antonio's paintings have received worldwide recognition and the MFPA has reproduced many of his artworks. He has been profiled on CBS News, NBC, the Steve Harvey Show, WGN, WTTW Chicago Tonight, and other national televised channels. Now with nearly fifteen years of developing is craft, Antonio is a professional mouth painting artist, motivational speaker, peer mentor, and trailblazer for the disabled community.
Antonio's artwork has been exhibited in many galleries and shows nationally and internationally, including "Harlem Fine Art Show" in both Chicago and New York, the ADA 25th Anniversary at the Illinois State Building, Richard J. Daley College, Brookfield Art Show, and Highland Park Art Focus week. One of His most notable exhibits has been at American Embassy in Yerevan, Armenia, where he received a handwritten letter from the ambassador in recognition of his artistic achievements. In 2017 the African American Art Alliance of Chicago presented him with the Special Recognition Visual Arts Black Excellence Award. He was also featured in the Obama Foundation "Active Citizen" series. Antonio also works with The Shirley Ryan AbilityLab's "Art in Motion" program as a peer mentor, motivational speaker, and all-around brand ambassador.
Featured Artworks
Blue Velvet

Statues of the Great Lakes

Violet Horizon

Madonna and Child

Grand Canal

Marca Bristo