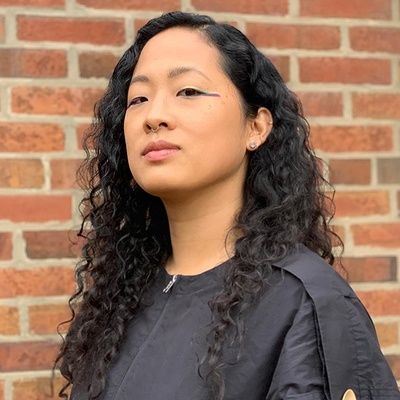 Aram Han Sifuentes
Fiber Artist
3Arts / Stan Lipkin & Evelyn Appell Lipkin Awardee
2021 Next Level / Spare Room Awards / 2016 3Arts Awards
Visual Arts
Aram Han Sifuentes (she/they) is a fiber and social practice artist, writer, and educator who works to claim spaces for immigrant and disenfranchised communities. Her work often revolves around skill sharing, specifically sewing techniques, to create multiethnic and intergenerational sewing circles, which become a place for empowerment, subversion, and protest.
Han Sifuentes earned her B.A. in Art and Latin American Studies from the University of California, Berkeley, and her M.F.A. in Fiber and Material Studies from the School of the Art Institute of Chicago. She has been a recipient of a Smithsonian Artist Research Fellowship, Map Fund, Asian Cultural Council's Individual Fellowship, and 3Arts Award. Her project Protest Banner Lending Library was a finalist for the Beazley Design Awards at the Design Museum in London in 2016.
Solo exhibitions of her work have been shown at the Pulitzer Arts Foundation, Chicago Cultural Center, Jane Addams Hull-House Museum, and Hyde Park Art Center. Her upcoming solo exhibitions include Talking Back to Power: Projects by Aram Han Sifuentes (2022) at the Skirball Cultural Center in Los Angeles and Messages to Authorities (2022) at the Museum of Contemporary Art, Cleveland, where she is currently the inaugural Getting to Know Artist in Residence. Han Sifuentes has facilitated workshops for her projects internationally including at the Whitney Museum of American Art, Art Institute of Chicago, and Museum of Fine Arts. Han Sifuentes's artworks are included in various public collections including the Renwick Gallery of Smithsonian American Art Museum, Denver Art Museum, Herbert Johnson Museum of Art, DePaul Art Museum, and Wing Luke Museum of Asian Pacific American Experience. Recent commissions include a public art project for Mural Arts Philadelphia premiering in fall 2021.
She lectures and presents artist talks to international audiences. She also publishes writings and texts including "How Internalized White Supremacy Manifest for My BIPOC Students in Art School," for the summer issue of Art Journal (2021), and the chapter "A Mother's Work: A Mother/Daughter/Seamstress/Fiber Artist's Merging Practice and Politics," in Maternal in Creative Work: Intergenerational Discussions on Motherhood and Art edited Elena Marcevska and Velerie Walkerdine (2019). Her monograph, We Are Never Never Other, will be published in 2021 by University Galleries at Illinois State University. She was the 2020-2021 Artist-in-Residence at Loyola University, Chicago, and is currently an Associate Professor, Adjunct at the School of the Art Institute of Chicago.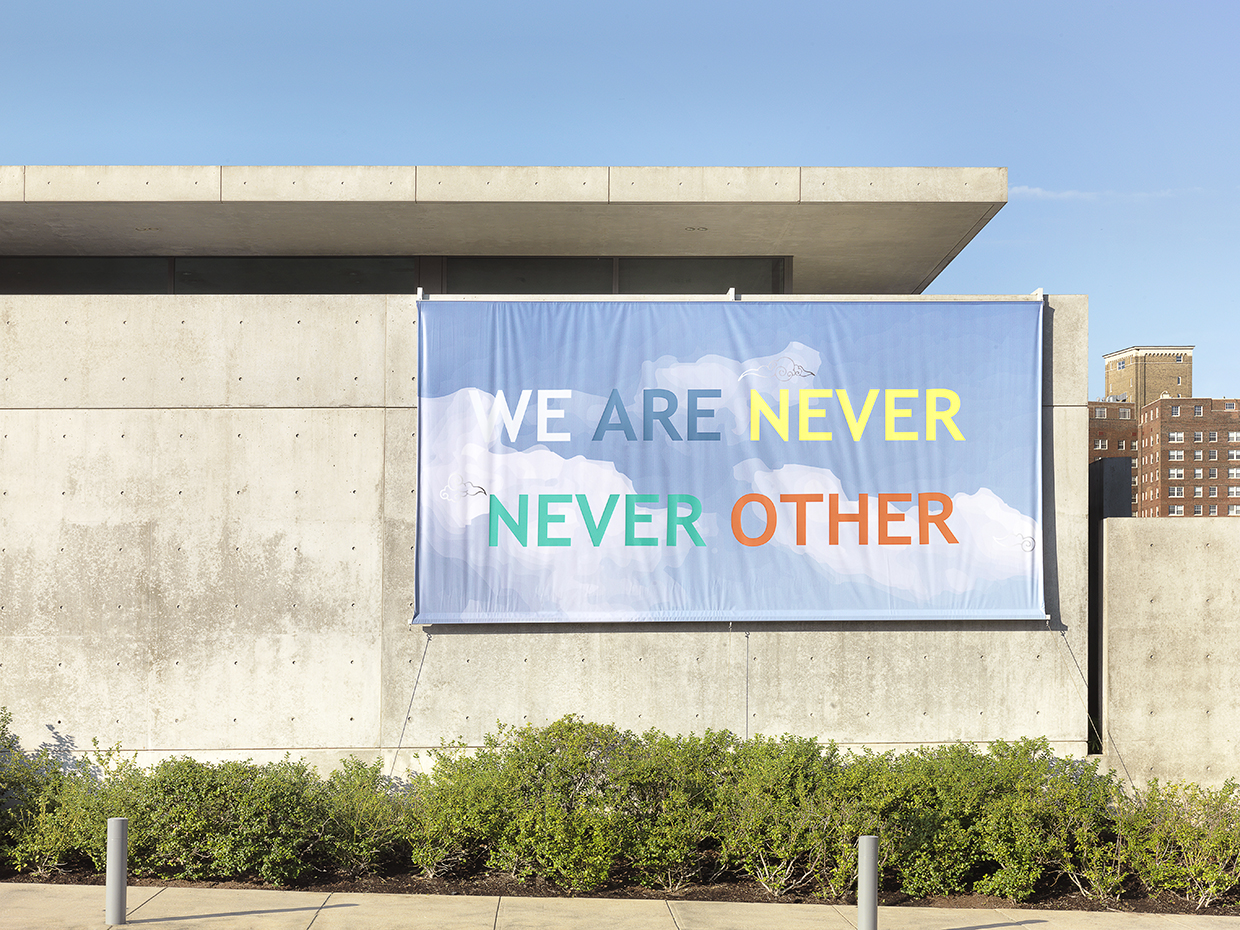 Featured Artworks
We Are Never Never Other

Photo: Alise O'Brien

Installed in the summer of 2018 on the façade of the Pulitzer Arts Foundation in St. Louis.

Protest Banner Lending Library

Photo: eedahahm

Protest Banner Lending Library is a workspace to make protest banners and a lending library of protest banners for people to check out, use, and return. Installation view at Chicago Cultural Center.

Protest Banner Lending Library

Photo: eedahahm

Protest Banner Lending Library is a workspace to make protest banners and a lending library of protest banners for people to check out, use, and return. Installation view at Chicago Cultural Center.

U.S. Citizenship Test Samplers (Made by non-citizens who live and work in the U.S.)

Photo: Jessica Bingham

Currently there are over 120 samplers each made by a non-citizen. Each of these are on sale for the cost of applying for citizenship - $725. If sold, the full amount goes to the maker of the sampler.

U.S. Citizenship Test Sampler

Photo: Jayson Cheung

Many of these are made in workshops at non-profit organizations, community centers, and schools all over the U.S. where communities of non-citizen immigrants come together to learn the citizenship test material through the act of sewing. The sampler workshops organically become grassroots round table discussions addressing immigrant rights, labor politics, and everyday concerns of intergenerational and multiethnic people.

Official Unofficial Voting Station: Voting for All Who Legally Can't

Photo: Brandon Bullard

For OUVS 2016, I collaborated with over 15 artists, organizations, activists, and students to create more than 25 different voting stations for the disenfranchised all over the United States and in Mexico. Some were sculptural public installations, others were performative guerilla actions, and some were used as pedagogical tools to engage students to create their own voting stations open to all.

Voting Kits for the Disenfranchised

Photo: Thaib Wahab

All 50 were sent out internationally to create over 60 voting stations. Kits included: OUVS candidate and issues ballots, ballot box, Voting for All Sticker Sheets and Who Can't Legally Vote? infographic posters by Cute Rage Press, If We Could Vote, We Would! Wristbands by Undocumented Projects, Party as Protest U.S.B. or vinyl record compilation by D.J. Sadie Woods, Actions to Expand Voting Rights flyers by Erin Delaney and Aram Han Sifuentes, Vote for our Futures screen print posters by William Estrada, and Let Us Vote! banners by Protest Banner Lending Library.

Moto Voto + OUVS

Photo: Carol Zou

Artist and community organizer, Carol Zou, drove around with a 'ballot box' attached to the back of her motorcycle and collected symbolic votes and distributed information about voter suppression and disenfranchisement in Los Angeles. http://motovoto.org/

OfficialUnofficial.vote

OfficialUnofficial.vote is an online voting platform, where anyone can participate in this project and vote in eight different languages. The website houses and shares artist projects, resources, and pedagogical tools. It displays all the tallies for the votes and answers to "I am voting here because…"

Official Unofficial Voting Station: Voting for All Who Legally Can't

Photo: Nash Baker

Photo by Virginia Harold
Aram Han Sifuentes has crowd-funded a project with 3AP
$5,319 raised of $5,000 goal
0 Days 0:00:00 LEFT

3Arts matched
106% funded

This is an urgent moment of crisis in our country. Protests are erupting every day across the United States against hatred, bigotry, xenophobia, misogyny, and in favor of human rights. Last year, as an act of creative resistance and solidarity, …

Read more about Protest Banner Lending Library

$3,512 raised of $3,500 goal
0 Days 0:00:00 LEFT

3Arts matched
100% funded

For the 2020 U.S. Presidential election season, I am planning to create Voting Kits for the Disenfranchised, a series of toolkits for artists, activists, educators, students, and others to produce imaginative voting stations that will bring attention to voting …

Read more about Voting Kits for the Disenfranchised