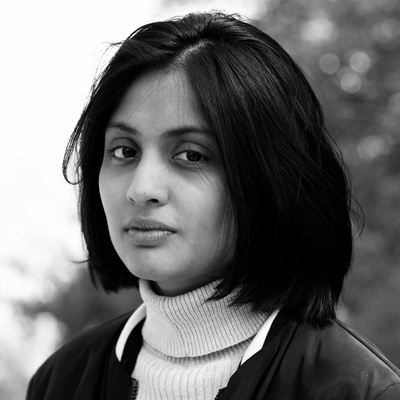 Ashwaty Chennat
Movement Artist and Educator
3Arts / Make a Wave Artist
Ashwaty Chennat is a movement artist and educator whose interdisciplinary and cultural exchange work sows seeds for empathy-building experiences. She has directed and choreographed contemporary dance rooted in South Asian forms with Mandala South Asian Performing Arts, where she collaborated with some of her favorite Chicago souls. Ashwaty's work has been presented at Chicago Symphony Center, Art Institute of Chicago, Music Box Theatre, Logan Center for the Arts, Chopin Theater and at venues in Ann Arbor, MI, her hometown. She has been a resident artist with High Concept Labs, Ragdale Foundation and Pivot Arts.
Her work is interdisciplinary and often merges sound, cinematic arts and movement. One of her favorite collaborations is with with jazz percussionist and composer, Alvin Cobb, Jr., to create a dance suite based in Black American and Carnatic music traditions. Their project centers mental health and its role in their childhood homes through non-verbal expression.
Featured Artworks
"Firebird"

"Mandala Arts Makers Festival"
Ashwaty Chennat has crowd-funded a project with 3AP
$5,088 raised of $5,000 goal
0 Days 0:00:00 LEFT

3Arts matched
102% funded

Alight is a performance piece that tells a story of an isolated artist seeking inspiration to create. The work meditates on finding comfort in ourselves and our place in the universe, particularly from an Asian American perspective. I am assembling …

Read more about Alight