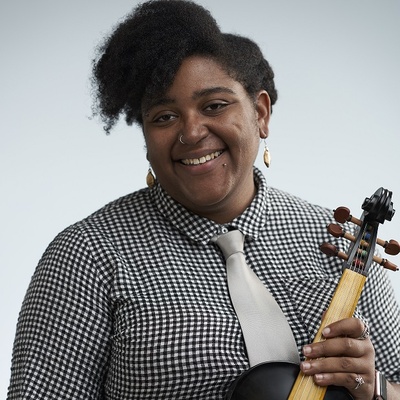 Ayriole Frost
Musician & Educator
3Arts / Samuel G. Roberson Jr. Awardee
Ayriole Frost is an active composer, performer, and teacher. She co-founded and currently serves as the Executive Director of Shift: Englewood Youth Orchestra, an El Sistema-inspired youth development program on Chicago's Southwest Side. She is a sought-after workshop leader for creative music projects around the country, including a program of Baltimore Symphony Orchestra called OrchKids. Her history of working with music programs focused on social justice, including The People's Music School Youth Orchestras and Chicago Metamorphosis Orchestra Project as well as her own program in Englewood, led her to join North Park University's faculty as part of their Certificate in Music for Social Change and Human Values. She serves as an advisory board member for Ball State University's School of Music and has served on two collective impact panels of Ingenuity, a national leader in arts advocacy in Chicago.
Ayriole received her Bachelor of Music from Ball State University, where she studied composition with Eleanor Trawick, Jody Nagel, Keith Kothman, Derek Johnson, and Andrew Estel; viola with Philip Tietze; and voice with Yoko Shimazaki-Kilburn. She also studied composition with Reza Vali at Carnegie Mellon University, where she completed her Master of Music in Composition and teaching certification in May 2012. Because of her interest in social justice through music, Ayriole became part of the fifth class of Sistema Fellows at New England Conservatory, where she received training in leadership, finance, and curriculum for social change, and completed a month-long residency in Venezuela. She completed the Sistema Fellows Program at New England Conservatory in 2014. Her writing on social justice can be read on her blog, on the New England Conservatory website, and in the international El Sistema inspired publication The Ensemble.
Ayriole is a member of the Society for Composers, Inc., Society for Music Theory, National Guild for Community Arts Education, Teaching Artists Guild, and Sigma Alpha Iota music fraternity for women. In her spare time, she sings and plays viola in her alternative rock band Moon Rabbit, performs with the DePaul Community Chorus, and serves as assistant to the minister of music at Holy Trinity Lutheran Church, where she plays viola and sings solo and as part of the choir.