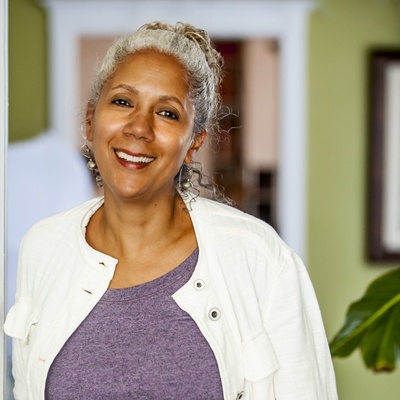 Dorian Sylvain
Muralist & Teaching Artist
3Arts / Southwest Airlines Community Awardee
Dorian Sylvain is a painter whose color and texture explore ornamentation, pattern, and design as identifiers of cultural and historical foundations. She is a studio painter and muralist, as well as an art educator, curator, and community planner. Much of her public work addresses issues of beautification inspired by color palettes and patterns found throughout the African diaspora, particularly in architecture. Core to her practice is collaborating with children and communities to elevate neighborhood aesthetics and foster shared understanding.
In addition to commissioned studio and mural work, Sylvain has led public art projects over the past four decades that empower communities and expose children to art making. She has partnered with and been commissioned by organizations such as the South Side Community Art Center, Hyde Park Art Center, National Museum of Mexican Art, DuSable Museum, Chicago Park District, and the Chicago Public Art Group, she has devoted her work to building the next generation of "cultural keepers."
Sylvain began to explore the larger creative community four decades ago on the South Side of Chicago, where she was raised and received much of her artistic training, as well raised her three sons. She received her first grant at age 21 to create a free art program at the local library. Many years later she was awarded an "Arts & Culture: Connecting Communities to the Arts" award from the University of Chicago and the South East Commission, recognizing her outstanding work and commitment to bringing arts to young people.
Sylvain was influenced by the thriving community of Black artists around her as a young artist, including Black theater where she gained her foundation as a designer and artistic collaborator. As a scenic designer, she worked with the leading Black playwrights and a variety of artistic members of the Black Arts Movement. This exposure shaped her understanding of "artist as citizen," inspiring a life committed to connecting community to the arts. Much of her early artistic experiences helped her develop a proficient level of skill in carpentry, drafting, model making, and decorative painting. These skills were later adapted to painting in private homes during the school years of her three boys.
Currently her three sons work by her side as designers, managers, photographers, and painters on large scale public projects.
Together they founded "Mural Moves," a campaign designed to train and connect young artists to public-arts opportunities through fellowships and internships. Inspired by the diversity of creative talent throughout Chicago, the hope is to see a wave of art activism that reimagines the South Side's aesthetic landscape. Believing in the collective and shared understanding that Public Art, in its many forms, impacts our sense of well-being!
Profile image by: Image: Tim Seed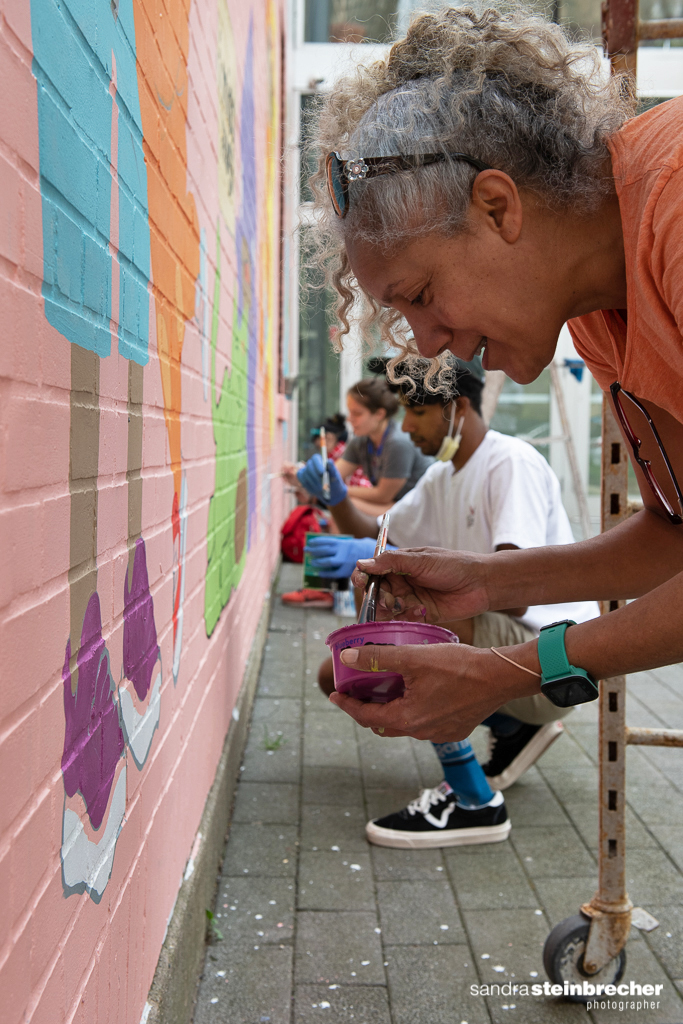 Photo by Sandra Steinbrecher
Featured Artworks
Dyett High School

Photo: Sandra Steinbrecher

Photo: Sandra Steinbrecher

"The Talk_BLM", 2020 MacArthur Foundation, South Side Community Art Center

Photo: Sandra Steinbrecher

Seeds in My Pocket, 2021, Chicago Art Department, co-curated with Pablo Serano

Photo: Sandra Steinbrecher

Logo Towers, Black Wall Street Journey, Rick Lowe, Toward Common Cause, Smart Museum of Art, University of Chicago

Photo: Sandra Steinbrecher

"The Red Lining of Barbara Ann", 2021, paint/photo collage on wood, 28 x 26 in
Dorian Sylvain has crowd-funded a project with 3AP
$5,380 raised of $5,000 goal
0 Days 0:00:00 LEFT

3Arts matched
108% funded

As a public artist, I am dedicated to the well-being of my neighborhood on the South Side of Chicago. During the summer of 2020's wave of peaceful protests and rallies for racial justice, I both participated in and witnessed the …

Read more about Resilient Voices