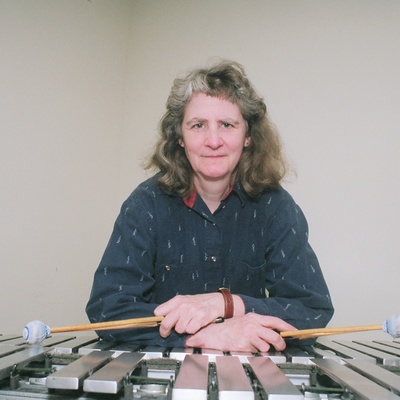 Kathy Kelly
Kathy Kelly is a Chicago based jazz musician and composer. Her original jazz compositions showcase the vibes and lend a distinctive sound to small jazz ensembles. Influences from Jazz artists (Thelonious Monk, Eddie Harris, Gary Burton) as well as World Music (African, Braszilian, Latin, Indonesian, and Middle Eastern) can be heard in her varied compositions.
As founder and artistic director of the Chicago Jazz Composers Collective Kelly has sponsored monthly concerts at the Green Mill jazz club in Chicago since 2001. Each monthly concert features two Chicago based jazz composers performing original work and Kelly is often a featured composer.
She performs in the Chicago area with the group Tudo de Bom and writes much of the music for the ensemble. The group consists of Kelly on vibes along with fellow composers Juli Wood on saxophone and Jeff Beer on trumpet, with bassist Dan DeLorenzo and drummer Andre Beasley rounding out the ensemble. She has performed and recorded with the Kathy Kelly Quartet. Her CD, A Different Vibe, features 12 original jazz compositions performed by guitarist John McLean, bassist Dan DeLorenzo, drummer Jim Widlowski, with Kelly playing vibes.
Kelly has performed her original compositions at various clubs and festivals including the Chicago Jazz Festival, the International Jazz Club in Banff, Canada, the Chicago Cultural Center and the Jazz Composers series at Old Town School of Folk Music. She has also performed regularly at the Green Mill, Katerinas, and the Ethiopian Diamond Restaurant. She can be heard with Jim Cooper's Mallet Madness and on Steve Hashimoto's Mothra album Tradewind (Chicago Sessions label).