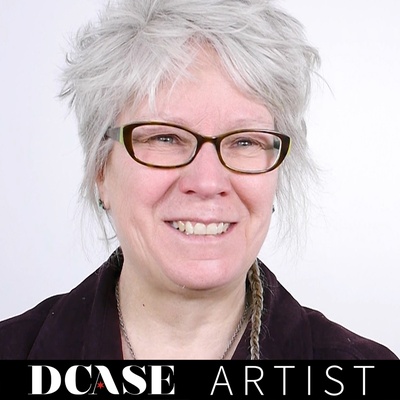 Marjorie Woodruff
DCASE Artist
Marjorie Woodruff is a Chicago-based artist and teacher. Her work aims to confront viewers with unsettling content while playing with the notions of traditional decorative or craft forms, in order to construct visually appealing objects that may portray difficult, timely political and economic concerns.
She received her MA and MFA degrees in ceramics from Northern Illinois University, specializing in functional and sculptural work. She moved to Chicago in 1989 to complete an artist residency through the Illinois Arts Council in the West Town neighborhood, where she continues to live. For many years she has worked as a teaching artist with diverse economic and cultural communities in Chicago, conducting short-term and long-term ceramic workshops for both youth and adults. In addition, Marjorie has been an adjunct ceramics professor at Moraine Valley Community College and Harold Washington College, as well as an instructor at the Lillstreet Art Center.
Marjorie has produced several mixed media public-art installations in her neighborhood, including Installation on Division (1991-92), a nearly year-long public artwork in two vacant lots on Division Street; and SPIRAL: The Life of Lucy E. Parsons in Chicago, 1873-1942 (1995-2004) in Wicker Park. In her public art projects, she has strived to engage and spur interactions among diverse groups of people regarding issues like class and ethnic (racial) divisions.
Among other exhibitions, Marjorie was awarded a solo show after winning First Place in a group show at Woman Made Gallery (2009); and won Second Place in the "Ways of Making" exhibition at Governors State University (2012) for a ceramic sculpture that responded to destructive corporate farming practices.
Marjorie Woodruff has crowd-funded a project with 3AP
$1,911 raised of $1,800 goal
0 Days 0:00:00 LEFT

3Arts matched
106% funded

For as long as I can remember, I have drawn inspiration from the beauty and magnificence of the natural world. With my Ghost Trees project, I have an opportunity to make and exhibit a series of new ceramic, sculptural, and …

Read more about Ghost Trees Project