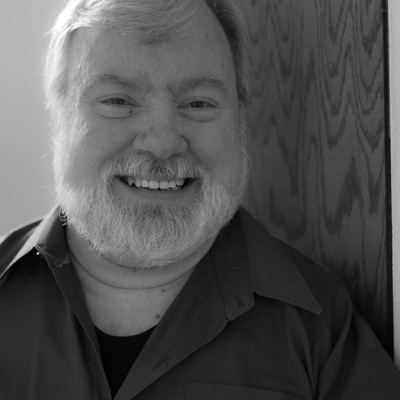 Michael Herzovi
Michael Herzovi is a writer, performer, storyteller, audiobook producer, volunteer, and activist who uses a wheelchair. His work is focused around the issue of challenging assumptions about disability one character at a time.
In 1996, as part of the Access Project at Victory Gardens, he began writing plays. Performing his work as a monologist, Michael uses an inciting incident as a starting point to critically examine how the similarities between the non-able and able (or, as he calls it, "average") worlds are stronger than the differences. In Confined, he turned the idea of being "stuck" in a wheelchair on its head. In The March, he explored the social activism of pub crawlers in wheelchairs on Rush Street. His lifelong admiration of motorcycles led to Harley Story, where he relates how the fantasy of the open road contrasted sharply with his getting a driver's license. Sometimes the work is fanciful, even hypothetical. In Spy Story, he answered the much-asked "What happened to you?" with a noir story of international espionage. The Interview reveals the dangers of denying your true self. In an ongoing project, The Seven, he explores how the Seven Deadly Sins manifest in the life of someone with a disability. In all his work he tries to show "there's more than meets the eye to living with a disability."
He has performed in the ensemble for Bodies of Work: The Chicago Festival of Disability Arts and Culture, Chicago's first-ever festival focusing on work created by and about artists with disabilities, featuring performances, visual art, film and video, lectures, and workshops presented throughout the city. He is also an ensemble member, mentor, writer, and solo performer with Tellin' Tales Theatre since 2006, a theater company devoted to bringing together children and adults with and without disabilities. He has performed in the Six Stories Up series, DiverCity, Filet of Solo, and others. In 2016 he was in the original ensemble for FREEDOM: Out of Order, produced with the Chicago Voices project of the Lyric Opera.
He is a founding member of Small Fish Radio Theatre, showcasing new work from emerging artists as a voice actor in their stage shows and their 20 Minute Variety Hour podcast. Small Fish Radio Theatre has featured the work of more than 50 artists and has followers worldwide. In 2013, he told a very personal story. A woman from the audience told him she liked it. The story of how he met his girlfriend – now his wife – aired on NPR as part of their StoryCorps series.
His autobiographical narrative work focuses on the concept that, though living with a disability has its own special challenges, we all face the common challenges of living. He's performed his material at venues including: Anytime/Anywhere; Here, Chicago; This Much is True; You're Being Ridiculous; CRIP SLAM: Write Club Takeover; FEED: a celebration of outsider art, and On the Cusp, both with NONopera; Noche de Poetas at the UIC Latino Cultural Center; and in 2019 will make his debut with Is This a Thing? Michael is a voiceover artist and audiobook narrator. Whether performing original monologues, podcasting, or through his on-stage ensemble performances, his work says, "Welcome to my world."