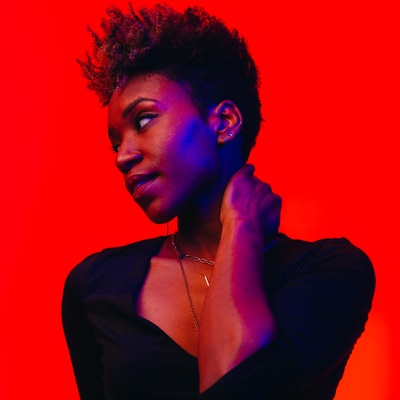 Nashon Holloway
Musician, Vocalist, & Daughter of Griots
3Arts / BMO Harris Bank Community Awardee
With a name meaning "oracle," Nashon Holloway was born to sing healing. National Public Radio refers to the Kalamazoo-born, Chicago-bred singer's sound as "crisp and colorful" and her soulful jazz-tinged voice and guitar-playing as being where Jill Scott meets Lianne La Havas. You will often hear Nashon saying "harmony is a lifestyle."
Having composed original music for symphony orchestra, she is now recording with producer Narada Michael Walden, who wrote Whitney Houston's first seven Billboard charting hits including "How Will I Know." Nashon has been seen on The Oprah Winfrey Show with David Foster, Live with Hans Zimmer (composer for such films as The Lion King, The Dark Knight, and Inception), with Chicago Symphony Orchestra, Tank and the Bangas, with LiV Warfield of Prince's New Power Generation, Bobby McFerrin, Kelly Rowland, Uniting Voices Chicago (formerly Chicago Children's Choir), Jennifer Hudson, Paulo Szot, Nobuo Uematsu, Drake, and many more—but Nashon is also an artist in her own right.
She calls herself a "daughter of griots" as a borrowed term from West African poets, musicians, and artists who maintain the oral histories of their people through their art. As a featured musician in exhibition at The National Jazz Museum in Harlem, New York, she tours around the globe performing songs from her debut album, The Palace & the Hut, with hopes of connecting many generations and human beings from all walks of life. She has also composed for independent films such as Chasing After You and has new music set for release in the fall of 2022.
Having studied poetry, philosophy, and vocal jazz (under Dr. Steve Zegree), Nashon combines various art forms (including visual elements) for immersive and holistic concerts. Listeners and audience-goers can find her touring under her own name with her gospel and funk-influenced band of celebrated musicians.
Nashon is currently a mentor with The Light (A Collaboraction Young Artists Initiative), a program designed to offer resources to young people pursuing music and music business with the interest of cultivating social change.
Profile image by: Chollette