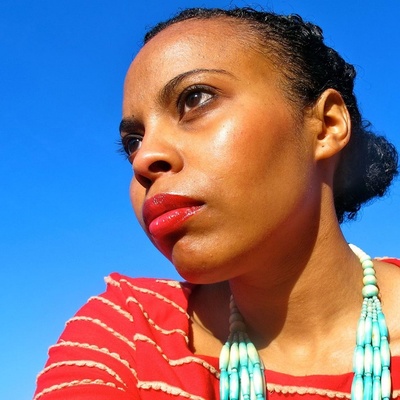 Scheherazade Tillet
Named after the famous feminist storyteller of the "Arabian Nights," Scheherazade Tillet is a Trinidadian and African American who is a photographer, art therapist, and community organizer. As a curator and social documentary photographer, Scheherazade use site-specific work to explore the themes of gendered vulnerability, racial invisibility, pleasure, and play. In 2003, she co-founded A Long Walk Home (ALWH), a Chicago-based national nonprofit, that uses art to empower young people and end violence against girls and women. She is also the Artistic Director of the award-winning multimedia performance, "Story of a Rape Survivor (SOARS)" which documents her sister, Salamishah's 20 year healing from being rape twice in college and her journey to become a renowned feminist activist and sexual assault survivor.
As Executive Director of A Long Walk Home, Scheherazade inaugurated the Girl/Friends Leadership Institute, a yearlong artist-activist program that empowers girls and young women in Chicago to be social justice leaders in their schools, communities, and Chicago at large. Girl/Friends has been at the forefront of Chicago's recent protests against community, gender, and police violence and is currently designing the Rekia Boyd memorial project, as part of their larger public arts program, "The Visibility Project."
In Spring 2016, she was awarded the School of Art Institute of Chicago's first artist-in-residence in Homan Square, School of the Art Institute of Chicago. In 2016, she curated a national photography exhibition "Picturing Black Girlhood" at Columbia University, the first national exhibition to feature the works of African American women and girl photographers exploring the theme of girlhood in one show. Scheherazade later featured images in the exhibit, "Black Girl Culture" in St. Louis as well as at the Nathan Cummings and New York University joint-show, "Reimagining Safe Spaces" which was curated by Deborah Willis as well as the NoVo Foundation convening on #MeToo. Currently, Scheherazade is 3Arts artist working on photography project a "Prom Send Off: The Rites of Passage for Chicago's Girls" and the 2018-2019 artist-in-residence at Shine Portrait Studio and New Arts, Newark, NJ on larger collection of work on Black Girlhood.
In 2014, Gloria Steinem nominated her for the Chicago Foundation for Women's Impact Award. Along with her sister, Salamishah, she was a finalist for Glamour's "Woman of the Year Award" was named Chicago's 100 Women of Inspiration by Today's Chicago Woman Magazine. In 2013, she was chosen as one of twenty Movement Makers by the NoVo Foundation's Move to End Violence.
Scheherazade earned a Masters of Art Therapy from the School of the Art Institute of Chicago, and a B.A. from Tufts University and the School of the Museum of Fine Arts in Boston. She studied at Rutgers University's Mason School of Fine Arts under the tutelage of veteran photojournalist Steve Hart. Her work has been featured in Gagosian Journal, Marie Claire, Teen Vogue, The Chicago Tribune, and MSNBC.
Scheherazade Tillet has crowd-funded a project with 3AP
$4,150 raised of $4,000 goal
0 Days 0:00:00 LEFT

3Arts matched
104% funded