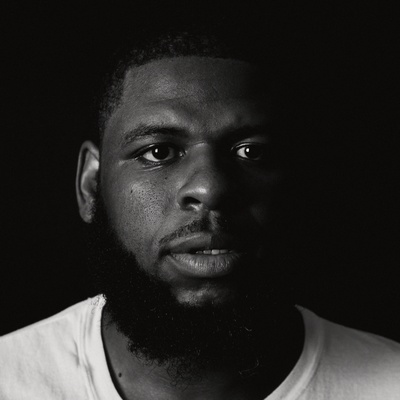 Sulyiman Stokes
Interdisciplinary Artist
3Arts / Make a Wave Artist
Sulyiman is a dynamic interdisciplinary artist hailing from Chicago's South Side. While he is self-taught in many aspects of his artistry, Sulyiman's introduction to music as a multidimensional medium for expression came early and has continued to shape much of his reality. With a mother who sang professionally and a dub artist turned international rockstar as a father, Sulyiman has always known that both creativity and sound are inevitable parts of his journey.
Participating in the band while attending Scott Joplin Elementary School gave Sulyiman his first experience with live instrumentation. He started out with a clarinet before making a shift to trumpet in sixth grade. Sulyiman vividly recalls the feeling of generating melody and how powerful it felt, to be able to spin sound into existence. Where he had already loved music, he was falling in love with composition.
In high school, he was given the baritone/euphonium. It was more of an assignment than a choice, but met with absolute appreciation for the opportunity to conquer another element of the band's collective sound. This instrument in particular would solidify what had been brewing beneath the surface for years prior. Things started to align internally, and Sulyiman was prompted to get serious about his music. During his high school concert band tenure, Sulyiman went on to also master the french horn, tuba, and joined the drumline as well, alternating between instruments with both concert and marching band.
Though he was not in the jazz band, Sulyiman would rehearse and travel with the group to deepen his knowledge and increase his playing time. During his final year, he began composing for the band and started dreaming of being a band director at a historically Black collect or university (HBCU), a dream that he still holds space for.
As a young adult, Sulyiman's command of various instruments and ability to orchestrate unique melodies shifted his sound to a blend of genres that he has adopted from Nina Simone: "Black Classical." Intentional study of Nina Simone's catalog, artistry, and activism also informed the sound he wanted to deliver. Sulyiman found her ability to fold Jazz, Blues, and Classical music into each other to be equal parts inspired and enchanting. He wanted his work to embody fluidity in that way without ever being diluted or compromising the core elements of the genres he drew from.
In 2020, Sulyiman shifted his artistic identity to that of an interdisciplinary artist, considering all aspects of his output to be in service of telling Black folks' stories. His work began to stretch beyond music to include whatever medium would allow him to maximize expression in this way, including painting, photography, and videography. While music remains at the forefront, nothing is off limits.
In 2021, Sulyiman released demos. drive(vol. 1), which was a collection of groove based demos completed in 2020 while quarantined. This was also his first official release and served as a springboard for him to push himself harder and further into this realm as both a composer and a recording artist.
Sulyiman is currently working on a full-length album that represents the culmination of all of his years and findings as a composer. He is excited to see what happens next and how far this collection of references and musings will take him.
Sulyiman Stokes has crowd-funded a project with 3AP
$3,405 raised of $4,000 goal
11 Days 10:04:01 LEFT

3Arts matched
85% funded
15% to go

As a culmination of various musical and liberational ideas I've been tapping into for the last decade, Underground Railroad to 79th will be a new full-length recording of original compositions that traces the rich lineage of great Black music from …

Contribute