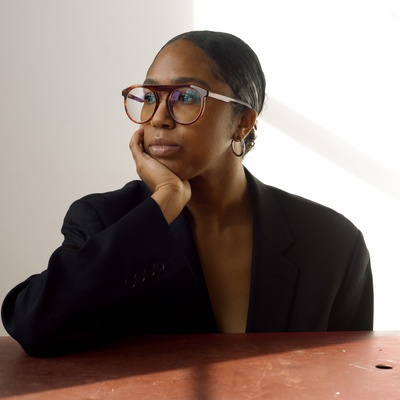 zakkiyyah najeebah dumas-o'neal
Multidisciplinary Artist
3Arts / Gary & Denise Gardner Fund Awardee
zakkiyyah najeebah dumas-o'neal's work is most often initiated by personal and social histories related to family, queer identities, self interiority, and belonging. Within her projects there's an overlying theme of trying to make sense of, and complicating, what and who she belongs to across time, location, and space.
"Desire, self-realization, and longing are foundational to my practice and show up through photographic images, video assemblage, and works on paper as a means to process my relationship to history, queerness, family, interiority, and belonging. I love the freedom and autonomy I have within my art practice to situate myself, my environments, and others within a specific gaze that honors Black interiority. I alternate between presenting my work as a singular image and overlaying images (moving and still) to present non-linear formations of time and memory that are emotive and deeply personal. I make work to further understand how the specificity of my own lived experiences are connected to historical and contemporary movements that involve embodied knowledge production. In addition to my own experiences regarding belonging and emotional states of being, I'm always thinking about what it means to create work that reaches spaces beyond representation, but into a space of "elsewhere," to imagine ways of being beyond the systems we inhabit."
zakkiyyah has been included in numerous group exhibitions and has had solo exhibitions at Mana Contemporary, Blanc Gallery, Indiana University, and South Bend Museum of Art. Her work has been presented in various forms at Museum of Contemporary Art Chicago, NADA, The Art Institute of Chicago, The August Wilson African American Cultural Center, Chicago Humanities Festival, DePaul University, and Harvard Graduate School of Design, to name a few. She has also curated exhibitions at spaces such as Chicago Art Department, Blanc Gallery, and Washington Park Arts Incubator at the University of Chicago. She was recently a 2021 Artist in Residence at Arts + Public Life at University of Chicago and a 2021 Artist in Residence at Indiana University in Bloomington, Indiana.
zakkiyyah is a co-founder and organizer of CBIM (Concerned Black Image Makers), a collective of Black artists, thinkers, and curators that prioritize shared experiences and concerns by lens-based artists of the Black diaspora.
Featured Artworks
Krystal and Ruth

Chelsea

Hey, I've been concerned

entry #4

entry #7