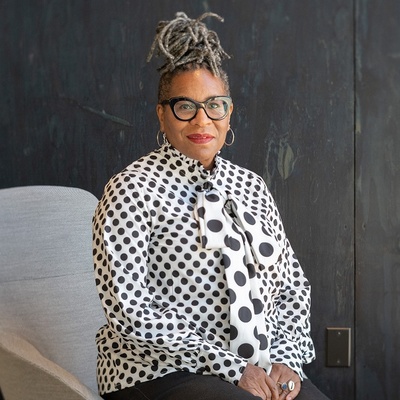 Folayemi Wilson
Multidisciplinary Artist
3Arts / Next Level Spare Room & Allstate Awardee
Folayemi Wilson is an object and image maker whose work celebrates the Black imagination as a technology of resistance and self-determination. Her work explores the Black Atlantic experience though sculptural and multimedia installations presenting speculative fictions that reference history, integrating inspiration from American vernacular architecture, literature, and science fiction. Using original sculpture, found objects, archival media, sound and video, her process utilizes training in art history and critical theory employing the archive and other research methodologies to mine history for use as material in her creative practice.
Wilson earned a MFA in Furniture Design from the Rhode Island School of Design with a concentration in Art History, Theory & Criticism and holds a MBA from New York University's Stern School of Business. Wilson is a co-founder and principal of blkHaUS studios, a socially focused design studio founded in Chicago, now based in Philadelphia. Earlier in her career she worked as a graphic designer and art director in New York, founding Studio W, Inc., working for clients such as Condé Nast Publications, Time Warner, The New York Times, Black Entertainment Television (BET), and Williams Sonoma. She has been a grant recipient of the National Endowment for the Arts, the Propeller Fund, and a two-time recipient of an individual artist grant from the Graham Foundation for the Advanced Studies of the Fine Arts. Her writing and reviews have appeared in NKA, Journal of Contemporary African Art, among other publications.
Wilson has been awarded residencies or fellowships at ACRE, Anderson Ranch Arts Center, Djerassi Artist Residency, Kohler Arts/Industry program, Haystack, MacDowell, and Purchase College/SUNY Purchase, New York. She is Professor of Art and Associate Dean in the College of Arts & Architecture at Penn State, and Wilson's design work is included in the collection of the Cooper Hewitt National Museum of Design. She was honored as a 3Arts awardee in 2015 and a 3Arts Next Level /Spare Room awardee in 2020.
Profile image by: Nathan Keay
Featured Artworks
Dark Matter: Celestial Objects as Messengers of Love, 2019

photo: Tran Tran

Dark Matter: Celestial Objects as Messengers of Love, 2019

photo: Tom Van Eynde

Dark Matter: Celestial Objects as Messengers of Love, 2019

photo: Tom Van Eynde

blkHaUS MCA Commons Artist project, 2019

blkHaUS MCA Commons Artist project, 2019

photo: courtesy of the artist

blkHaUS MCA Commons Artist project, 2019

photo:courtesy of the artist

Eliza's Peculiar Cabinet of Curiosities, 2016 (ongoing)

photo: courtesy of the artist

Eliza's Peculiar Cabinet of Curiosities, 2016 (ongoing)

photo: courtesy of the artist

Eliza's Peculiar Cabinet of Curiosities, 2016 (ongoing)

photo: Clarissa Bonet & Luis Bueno

Sounding Bronzeville, 2016

photo: courtesy Naureen Rana/Chicago Park District