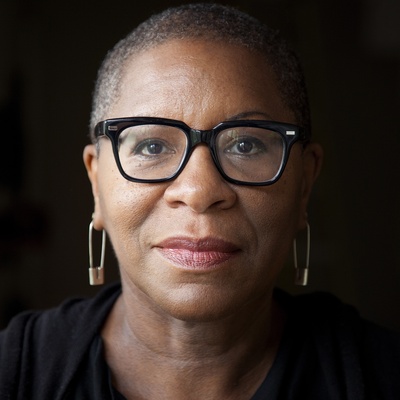 Folayemi Wilson
Multidisciplinary Artist
3Arts / Next Level Spare Room & Allstate Awardee
2020 Next Level / Spare Room Awards / 2015 3Arts Awards / 2018 Djerassi Resident Artists Program Fellow
Visual Arts
Folayemi (Fo) Wilson is an object and image maker whose work celebrates the Black imagination as a technology of resistance and self-determination. Her work explores the Black Atlantic experience though sculptural and multimedia installations presenting speculative fictions that reference history, integrating inspiration from American vernacular architecture, literature and science fiction, using original sculpture, found objects, archival media, sound, and video. Her process utilizes training in art history and critical theory, employing the archive and other research methodologies to mine history for use as material in her creative practice.
Wilson earned a MFA in Furniture Design from the Rhode Island School of Design with a concentration in Art History, Theory & Criticism. She is also co-founder and principal of blkHaUS studios, a socially-focused design studio based in Chicago. She has been a grant recipient of the National Endowment for the Arts, the Propeller Fund, and a two-time recipient of an individual artist grant from the Graham Foundation for the Advanced Studies of the Fine Arts. Wilson, an educator, is Professor of Art & Art History at Columbia College Chicago where she was the 2013-14 Inaugural Faculty Fellow at the Center for Black Music Research (CBMR). She has been awarded residencies or fellowships at ACRE, Anderson Ranch Arts Center, Djerassi Artist Resident program, Kohler Arts/Industry program, Haystack Mountain School of Craft, the MacDowell Colony, Oxbow, and Purchase College/SUNY Purchase New York. Wilson's design work is included in the collection of the Cooper Hewitt National Museum of Design and she was honored as a 3Arts awardee in 2015.
She is also an independent curator and writer, and curated the traveling exhibition The New Materiality: Digital Dialogues at the Boundaries of Contemporary Craft (2010-12), Bodies of Evidence: Contemporary Perspectives (2005), and co-curated Ekphest: The Festival of Art + Word (2015). She lectures to international audiences, and her writing and reviews have appeared in NKA, Journal of Contemporary African Art, the International Review of African American Art (IRAAA), and Communication Arts, among other publications. Her books include The Baartman Diaries (2014), and the chapter "Seeing Black and the Color of Form and Domestic Bodies," in Diasporic Women's Writings of the Black Atlantic: (En) Gendering Literature and Performance edited by Emilia Maria Duran-Almarza and Esther Alvazez-Lopez (2013). Her recent writing includes "Architectures of Space and Spirit: Expanding the Spatial Contract Within the White Cube," an essay in Expansions, a forthcoming publication of the 17th Venice Biennale Architecttura, 2020.
Wilson's recent solo exhibitions include Dark Matter: Celestial Objects as Messengers of Love in These Troubled Times (2019) at the Hyde Park Art Center–a multi-sensory exhibition of sculpture, architectural references, archival video from NASA, and original audio (by Joelle Mercedes) that offered space for meditation, healing, and reflection. A unique catalog is being produced for the exhibition by Candor Arts as a limited-edition artist book and includes a recorded 12-inch LP from a performance by poet and artist Krista Franklin and musician Ben LaMar Gay as a response and closing event for the exhibition. Her 2019 project in collaboration with fellow 3Arts awardee Norman Teague used an open research model in an invitation from the Museum of Contemporary Art Chicago to use their Commons Artist Project to engage community dialogue around ideas of collecting and institutional responsibility. Wilson's ongoing installation Eliza's Peculiar Cabinet of Curiosities (2016), is open seasonally at the Lynden Sculpture Garden in Milwaukee, Wisconsin and has inspired an ongoing, multi-year program of Call and Response, where invited artists offer rich, interdisciplinary responses to the work. Recent commissions include public art for the new CTA Green Line Subway station at Damon & Lake in Chicago that is scheduled to open in 2021.
Profile image by: photo: Kevin J. Miyazaki
Featured Artworks
Dark Matter: Celestial Objects as Messengers of Love, 2019

photo: Tran Tran

Dark Matter: Celestial Objects as Messengers of Love, 2019

photo: Tom Van Eynde

Dark Matter: Celestial Objects as Messengers of Love, 2019

photo: Tom Van Eynde

blkHaUS MCA Commons Artist project, 2019

blkHaUS MCA Commons Artist project, 2019

photo: courtesy of the artist

blkHaUS MCA Commons Artist project, 2019

photo:courtesy of the artist

Eliza's Peculiar Cabinet of Curiosities, 2016 (ongoing)

photo: courtesy of the artist

Eliza's Peculiar Cabinet of Curiosities, 2016 (ongoing)

photo: courtesy of the artist

Eliza's Peculiar Cabinet of Curiosities, 2016 (ongoing)

photo: Clarissa Bonet & Luis Bueno

Sounding Bronzeville, 2016

photo: courtesy Naureen Rana/Chicago Park District