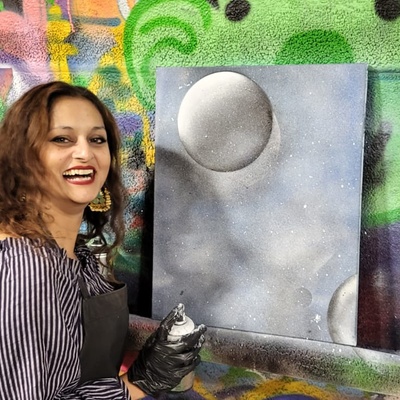 Grishma Shah
Grishma Shah, feminist right out of the womb and an amputee at the age of eighteen. With a Doctorate in Community Psychology and a Master's degree in Public Health, Grishma would like to be known for being an ARTIST. Click here to read and click here to hear about her journey.
Even at an early age, Grishma understood the power of storytelling. From the moment she awoke to the time she lay in bed waiting to enter a world of dreams, she was surrounded by stories. Every dance, painting, spice, emotion carried with it a story yearning to be shared with the world. But to her surprise, some stories ended up in a story graveyard while others found loving homes in Hollywood and Bollywood, or high end restaurants, galleries and museums. To build a bridge between storytelling and community awareness, Grishma decided to become an ARTIST. She believes through this platform, she can help stories reached their full potential and evoke cultural change so new narratives about beauty can be accepted.
As an ARTIST, Grishma paints to share her experiences of South Asian heritage. When observed from a different angle, some of her paintings can evoke conflicting feelings allowing audiences to reflect deeper about traditional standards of beauty and the human experience of disability. Her paintings have been exhibited at The Harold Washington Library, The Skokie Public Library, The Chicago Symphony Center, DuPage Symphony Orchestra, The Chicago Cultural Center and Navy Pier, to name a few. As an Entertainment Psychologist, Grishma focuses on the impact of cultural messaging. She consults with organizations in Hollywood and champions for underrepresented stories and storytellers. With ten years of experience in the film festival circuit as Co-director and Film Programming Manager, Grishma also help filmmakers and film festivals attract wider audiences through DEIA initatives.
In 2021 while completing her PhD, Grishma advocated for accessible dissertations as traditionally they are reserved for academics. Her dissertation titled "The South Asian Perspective(s): Desi & Disabled" is first of its kind in the field of Community Psychology to be in the form of an audio story/podcast (and screen reader accessible). Later that year, Grishma received a 3Arts Residency Fellowship at the University of Illinois Chicago where she explored "Life After Death," legacies people with and without disabilities want to remembered for. In 2022, the 3Arts Disability Culture Leadership Initiative series invited Grishma for a talk. Grishma talks about how beauty and power in feminism can be a form of activism that dismantles harmful outdated narratives, which can be instructive of collective action and healing.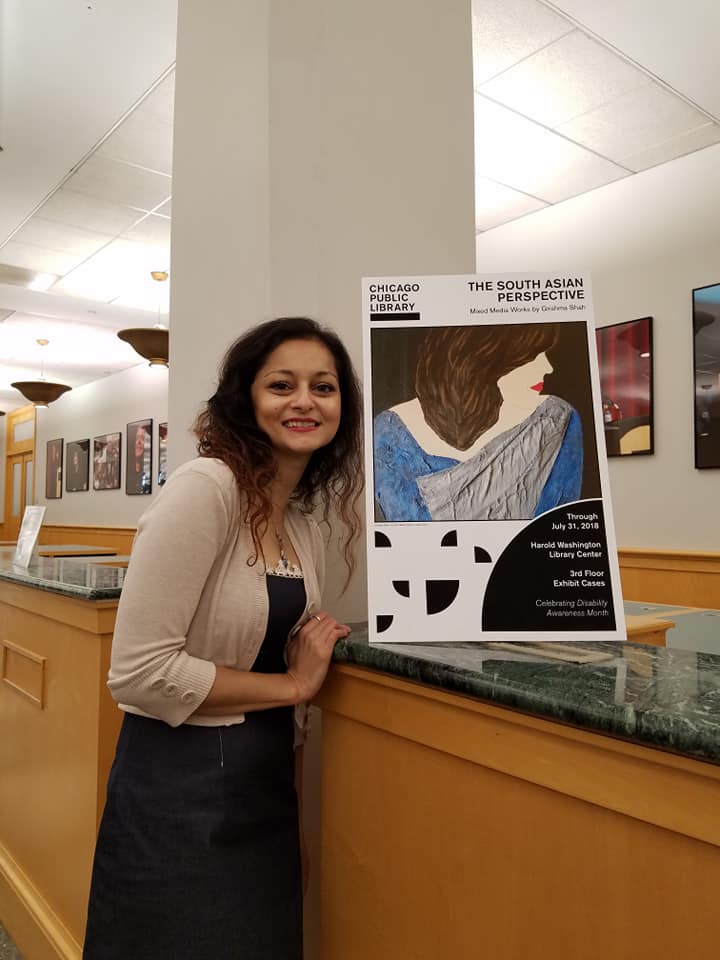 Featured Artworks
A collage of mixed media paintings focusing on different parts of a body.

Exhibit of "A South Asian Perspective"

Multiple artwork from "A South Asian Perspective" decorate a gallery wall.

Exhibit of "BAD(A$$) Identities"

An exhibit exploring how some identities are considered Bad while others are considered BadA$$ - The above painting is of a goddess with 3 arms. The same painting slightly angled suggests the goddess originally had 4 arms. This artwork asks us to explore our relationship with Disability. Does an amputation make the goddess (or a person) less attractive?

Bad(A$$) Identities

A Flyer of a Virtual Event called "Legacy & Lasting Impressions".

As a 3Arts/Bodies of Work fellow, Grishma invites the community to converse with her about Legacies & Lasting Impressions. What society will remember us for and how we would like to be remembered.

"Desi & Disabled" Podcast Dissertation

Twelve storytellers explore how South Asian culture impacts their sense of worth and belonging.