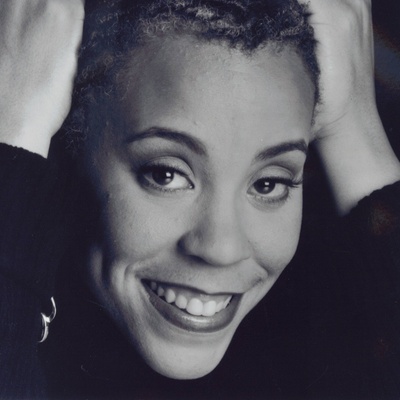 Maggie Brown
Singer, songwriter, actress, producer, and director Maggie Brown is said to be "one of the most fiercely committed artists in Chicago" by Chicago Tribune's Howard Reich. Maggie grew up tuning into her father's methods on stage, at the typewriter and in the director's chair. One of seven children of singer, songwriter, and playwright Oscar Brown, Jr., Maggie started acting professionally at age 15, performing in the musical IN DE BEGINNIN at Body Politic Theater. In 1983 she played all female roles as an understudy in the Chicago Parkway Theater musical PO. Around that time, Maggie gained director's experience working with her father on the musical GREAT NITTY GRITTY, assisting as vocal director and performing in the production staged at McCormick Place Playhouse Theater.
Formative years in theater then shifted to performing as vocalist, band leader, recording artist, and songwriter. In 1995 Maggie launched her independent label MagPie Records and released her first solo project FROM MY WINDOW. Before her father's passing, Maggie produced a live concert recording with her father called WE'RE LIVE.
Maggie has recorded with Abbey Lincoln, Jonathan Butler, Ramsey Lewis, Stevie Wonder, and her father. In her hometown of Chicago, Maggie is called on to bring authenticity and integrity to whatever the job calls for and has worked with a diverse list of band leaders including: Tom Washington (South Side Big Band), Joan Collaso (11 Jazzy Divas), Douglas Ewart (AACM Inventions Ensemble), and Orbert Davis (Chicago Jazz Philharmonic). With an upbringing rooted in jazz, she is comfortable singing blues, gospel, pop, and even rapping—with impressive conviction and flow. Maggie's distinctive voice can be heard providing tour guide voiceover on the Detour.com App.
In Spring 2017 Maggie provided new poetry for and was a featured vocalist with a stellar ensemble brought to Poznan, Poland for a re-imagined live performance of the historic jazz recording, WE INSIST: Freedom Now Suite, a groundbreaking 60's collaboration involving Max Roach, Abbey Lincoln, and Oscar Brown, Jr. Over the summer Maggie enjoyed the performance spotlight at such venues as: Polyrhythms Jazz & Heritage Fest, Quad-Cities Iowa; Chicago Jazz Philharmonic "Best Of" concert at Pritzker Pavilion in Millennium Park; Tuesdays on the Terrace at MCA Chicago; and mainstage at Hyde Park Jazz Festival. Maggie has organized and collaborated on several tribute performances highlighting the work of her late father.
This year, added to her many activities, Maggie answered the call to mentor young musicians, rehearsing and hiring teen proteges to provide backup in performances for social justice and non-profit organizations. Maggie's work includes collaborating in classrooms, afterschool programs and on campuses, consulting on her own live performance practices, entrepreneurship, musicology, and conducting songwriting sessions. She has provided master classes, workshops, and artist-In-residencies in Illinois and Iowa. Presently, she serves on the Board of Directors for Blue Gargoyle Youth Services Organization, co-directs a youth repertory theatre company, and is an artist in residence at the Rebuild Foundation. As a result of a collaboration with acclaimed string ensemble Spektral Quartet, Maggie will be in residence at Kenwood Academy in Spring 2018.
Maggie Brown has crowd-funded a project with 3AP
$6,435 raised of $5,000 goal
0 Days 0:00:00 LEFT

3Arts matched
129% funded

With this campaign, I am breathing new life into an original music composition I wrote that reflects on the history and impact of the Great Migration in Chicago neighborhoods. As a performing artist, educator, and poet, I've always been passionate …

Read more about What Makes It a Great Migration