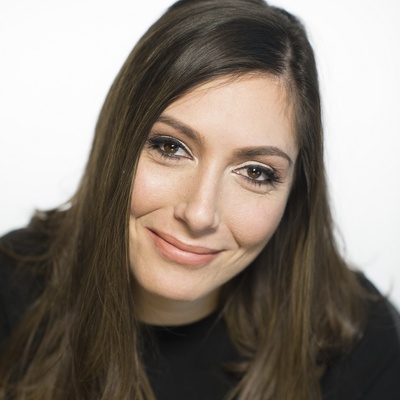 Mariam Paré
Mariam Paré is a visual artist and mouth-painter. She became a quadriplegic after surviving an act of gun violence when she was a college student. After re-training herself to paint by holding the brushes in her mouth, she returned to complete degrees in Visual Art and Multimedia Design and continued to develop herself as a visual artist and "mouth-painter."
Today, Mariam is a prolific artist celebrated for her mouth-painted portraits and multimedia works. In addition to painting, she makes diverse and inclusive artwork, illustrations, and installation art, often touching on motifs based on the disability experience. She is co-creator of Tres Fridas Project, a highly reviewed exhibition that "re-imagines art through the disability lens." Paré generates provocative images, using her own life to reflect the challenges and ambitions of the larger disabled community. Her goal is to make art that embraces a sense of beauty while simultaneously affirms disability identity.
Her major commissions include projects for Craig H. Nielsen Foundation, Pepsi Co., Omorose Cosmetics, and LifeWTR. Paré is a 3Arts/Bodies of Work Fellow, and active member of the disability arts community in Chicago. She is a member of the association of Mouth and Foot Painting Artists (MFPA) worldwide, and volunteers with the Associate Board at the Shirley Ryan Ability Lab, helping to coordinate art exhibits for artists with disabilities.
Mariam states: "I make art to better understand myself and the world around me. I make art to call attention to things I think are meaningful. The driving force behind my portraits is an enduring interest in people. ...Through art I have immense freedom."