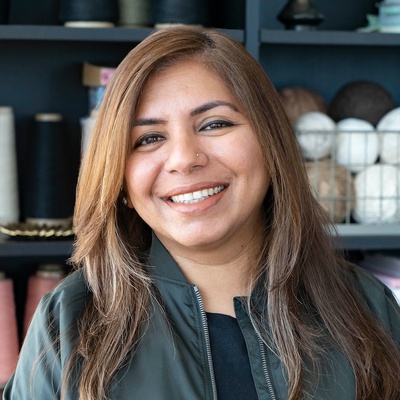 Pooja Pittie
Born and raised in India, Pooja Pittie trained as an accountant and moved to the U.S. in 1999. She earned an MBA from the University of Chicago Booth School of Business, which led her to a career in finance and entrepreneurship. A long held practice and self-study in painting was always apparent, and, in 2016, she decided to pursue her passion and shifted her focus to painting full-time.
Pooja has an incurable and progressive form of muscular dystrophy and her painting process explores the constantly changing relationship between an often slow body and an active mind.
Pooja is an alumna of the HATCH residency at Chicago Artists' Coalition and the Center Program at Hyde Park Art Center. As a Board member of Hyde Park Art Center, she is an advocate for equity and accessibility in the Arts. Pooja was awarded the 2020 3Arts Bodies of Work Fellowship at UIC, and was nominated for the 3Arts Visual Art Award and the Joan Mitchell Foundation Painters & Sculptors Grant. She has recently been commissioned by the Illinois Capital Development Board and the University of Chicago Pritzker School of Molecular Engineering, among others, and her work is in numerous private collections across the country. Pooja is represented by the McCormick Gallery in Chicago.
Profile image by: Abbi Chase
Featured Artworks
Nothing Gold Can Stay

Image: Robert Chase Heishman and Robert Salazar

If I Could Tell You I Would Let You Know

Image: Robert Chase Heishman

Nothing Gold Can Stay

Image: Robert Chase Heishman

Holding Home

3 pieces from ongoing series: Yarn, paper, thread, watercolor, various sizes

Borrowed Splendor

Image: McCormick Gallery

Time Spirit

Image: McCormick Gallery
Next Level / Spare Room Award
A unique concept in the grantmaking field in which a second award at a higher level is distributed to a past recipient, the 3Arts Next Level/Spare Room Awards reflect our belief that once is not enough and that artists thrive with continued investment at critical junctures.
With a third year of support from an Anonymous Donor at the Chicago Community Foundation, 3Arts provides unrestricted cash grants of $50,000 to three women visual artists who are past 3Arts awardees practicing in the Chicago metropolitan area.
Selection Process
3Arts awardees who meet the eligibility requirements are invited to submit an online application. A panel of three distinguished judges convene to review the applications and select the recipients. Recipients are artists who are actively making distinctive and compelling work; have plans to advance their next creative leap and/or project; and are at a critical juncture when an award of this size and nature could have a significant impact. Meet the 2022 judging panel.
Read our press release about the recipients of 2022 3Arts Next Level/Spare Room Awards here.
Pooja Pittie has crowd-funded a project with 3AP
$5,662 raised of $5,000 goal
0 Days 0:00:00 LEFT

3Arts matched
113% funded