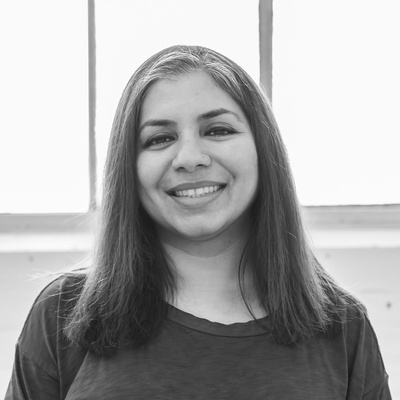 Pooja Pittie
2020 Bodies of Work Fellow
Visual Arts
Born and raised in India, Pooja Pittie trained as an accountant and moved to the U.S. in 1999. She earned an MBA from the University of Chicago Booth School of Business, which led her to a career in finance and entrepreneurship. A long held practice and self-study in painting was always apparent, and, in 2016, she decided to pursue her passion and shifted her focus to painting full-time.
Pooja has an incurable and progressive form of muscular dystrophy and her painting process explores the constantly changing relationship between an often slow body and an active mind.
Pooja is an alumna of the HATCH residency at Chicago Artists' Coalition and the Center Program at Hyde Park Art Center. As a Board member of Hyde Park Art Center, she is an advocate for equity and accessibility in the Arts. Pooja was awarded the 2020 3Arts Bodies of Work Fellowship at UIC, and was nominated for the 3Arts Visual Art Award and the Joan Mitchell Foundation Painters & Sculptors Grant. She has recently been commissioned by the Illinois Capital Development Board and the University of Chicago Pritzker School of Molecular Engineering, among others, and her work is in numerous private collections across the country. Pooja is represented by the McCormick Gallery in Chicago.
Featured Artworks
Borrowed Splendor

48x36 in, acrylic on linen, 2021

Time Spirit

50x40 in, acrylic on canvas, 2021

Let Me Begin Again

60x60 in, acrylic on canvas, 2021

Fields of Consciousness

40x30 in, acrylic on linen, 2021
Pooja Pittie has crowd-funded a project with 3AP
$5,662 raised of $5,000 goal
0 Days 0:00:00 LEFT

3Arts matched
113% funded