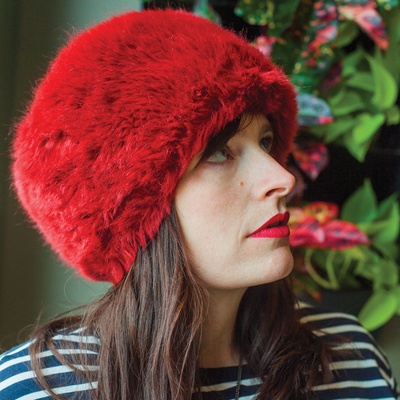 Rachel Ries
Singer/Songwriter
Rachel Ries, hailing from the prairies of middle America, crafts sly and compassionate songs for the crooked-hearted. With an electric guitar and piano, a clear voice and steady hand, she deftly pulls listeners in with disarming candor and holds them there with smart and tender poetry.
Not one to shy away from risk, in 2017 Rachel transitioned into making music under the name Her Crooked Heart. The new name serves to better capture the quality of her songwriting as well as allow for the ever-changing and expanding sound of her band configurations and collaborations. Her debut EP as Her Crooked Heart is called To Gentlemen and it was recorded with members of Bon Iver and Field Report and released on 7" vinyl and CD. An album, from the same Midwest sessions, is due out later in 2017/early 2018. Neither want for piano ballads and heavy bass lines.
In 2016, Ries released Cardinal, a handcrafted EP of songs written while on residency in Rouen, France. For Rachel, each of the songs is a direction, a key, a red-blooded essential for living—be it bravery, belief in one's path or the bonds of family and blood. Each Cardinal includes a limited edition linoleum block art print handmade by Rachel herself.
Recorded by the inimitable Jeremy Messersmith in Minneapolis, Cardinal is Rachel's 2nd handcrafted EP and follows in the wake of Ghost of a Gardener (2014). A well-lauded, ambitious album, Ghost features a duet with Gregory Alan Isakov, members of Cuddle Magic and cameos by Devon Sproule, Carrie Elkin, and Danny Schmidt. Many may know Rachel by her longstanding collaborations with BBC Radio 2 Folk awardee Anaïs Mitchell and their country ep (2008).
Proudly carrying the torch of her love for the domestic arts, Rachel's homemade preserves and hand-stitched notebooks can often be found at shows, nestled amid the 180 gram vinyl, CDs, and t-shirts. If you need comparisons, think Joni Mitchell, Carole King, Jeff Buckley. If you don't—just listen.
Assorted Discography & Projects
To Love To Leave To Live // 4th album anticipated in 2018
2017-18 3Arts/Rauschenberg Residency Fellow
To Gentlemen EP // vinyl, CD, digital, limited edition pencil & ink drawings (2017 SoDak Records)
Covers on the Covers // video series of cover songs in beds with friends (Ongoing)
Touring member of Jayme Stone's Lomax Project // lead vocals, accordion, guitar (2016-2017)
Cardinal (The Rouen EP) // 4 song release + linoleum block art prints (2016 SoDak Records)
Writing residency in Rouen, France (June 2015)
Ghost of a Gardener // full-length album, out on vinyl, cd, digital (2014 SoDak Records)
Touring member of Anaïs Mitchell's Young Man Band // vocals, electric guitar, keys, drums (2010 - 2012)
Laurel Lake EP // 6 song release, packaged in sewn fabric sleeves (2012 SoDak Records)
Writing residency in Laurel Lake, TN (February 2012)
Recipient of 3Arts Artist Award (2010)
The Country EP // vinyl release of country duets with Anaïs Mitchell (2008 Righteous Babe Records)
Without a Bird // full-length album, released on vinyl, cd, digital (2007 SoDak Records)
For You Only // full-length album, released on cd (2005 Waterbug)
Rachel Ries has crowd-funded a project with 3AP
$11,370 raised of $5,000 goal
0 Days 0:00:00 LEFT

3Arts matched
227% funded

I'm a musician, songwriter, and singer and over the past decade+ I've made my way throughout the western world as an independent, grassroots troubadour. To help promote my eighth release and fourth full-length album, To Love To Leave To Live …

Read more about To Love To Leave To Live