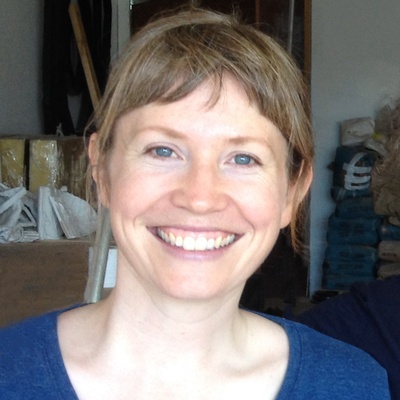 Sara Black
Installation Artist
3Arts / Chandler Family Awardee
2009 3Arts Awards / 2022 The Camargo Foundation Fellow / 2015 Virginia Center for the Creative Arts Fellow
Visual Arts
Statement and Bio:
In my work, I use durational processes of building, craft and material transformation as a time-based method and diseased wood, ecosystem-specific trees, inherited building materials or other exhausted objects as material. I create works that expose the complex ways in which things and people are suspended in worlds together, often generating forms that push beyond human frames of reference. The work begins when an object changes just enough that it crosses a culturally inscribed threshold or category. I am interested in highlighting the mutability of objects in this way, and drawing out material-through-lines that press outward, or perhaps cut across, the conceptual boundedness of objects. Through this, I hope to demonstrate a material-centered perspective of reality over an object-centered one. A material-centered view is one that assumes something is always enroute to becoming something else or that recognizes material constancy even when an object's status changes. For example, I use the process of wood carbonization to reveal the elemental existence of carbon in lumber. Lumber is a material named and utilized by humans for human consumption and is thus a cultural form. Carbonization points to the constituent material's presence as existing long-prior-to and well beyond any human scale timeframe. It is my belief that a material-centered perspective works against our tendency to reduce things to signifiers, lived experiences, concepts, sensations or hunches. In this, no matter how defined things seem to be, they always hold the hope of being other than that. For me, this perspective engenders hope for transformation or adaptation on many levels, so that all things seemingly bounded may challenge the networks of power aiming to hold them there.
As an appropriate extension of the above-mentioned concepts and processes I have been consistently drawn to collaborative relationships where ecologies of practice are revealed, made visible and durational. In other words, collaboration highlights inter-subjectivity, the awareness of others, both human and other-than-human, which results in a deep engagement with context. Object, material, event, tool, time, self and other are all subjects and are all becoming. I am currently collaborating with Chicago-based artist Amber Ginsburg. I am is also a member of Deep Time Chicago, an art, research, and activism initiative whose goal is to explore one core idea: humanity as a geological agent, capable of disrupting the earth system and inscribing present modes of existence into deep time. The collective knits together group readings, guided walks, lectures, panels, screenings, performances, publications and exhibitions. Additionally, I am a founder of the teacher's collective Project Fielding, an organization that empowers women and gender variant people of all ages through skill-camps and design/build workshops that teach hand and power tool use and context-responsive design.
I received my MFA from the Department of Visual Arts at the University of Chicago in 2006, acted as the director of the arts division at Antioch College from 2010 to 2014 and am currently assistant professor of sculpture at the School of the Art Institute of Chicago. I have given talks and presented workshops at the Massachusetts College of Art and Design, Harvard University, SAIC, DePaul University, Columbia College, and more. My work has been exhibited nationally and internationally in a variety of spaces including Chicago's Museum of Contemporary Art, The Smart Museum of Art, Gallery 400, Hyde Park Art Center, ThreewallsSOLO; Portland's Museum of Contemporary Craft; New York's Park Avenue Armory, and Eyebeam; Boston's Tuft University Gallery; Minneapolis' Soap Factory, and more. My collaborators and I recently presented work in the Thailand Biennial and will present work at the HKW in Berlin this fall.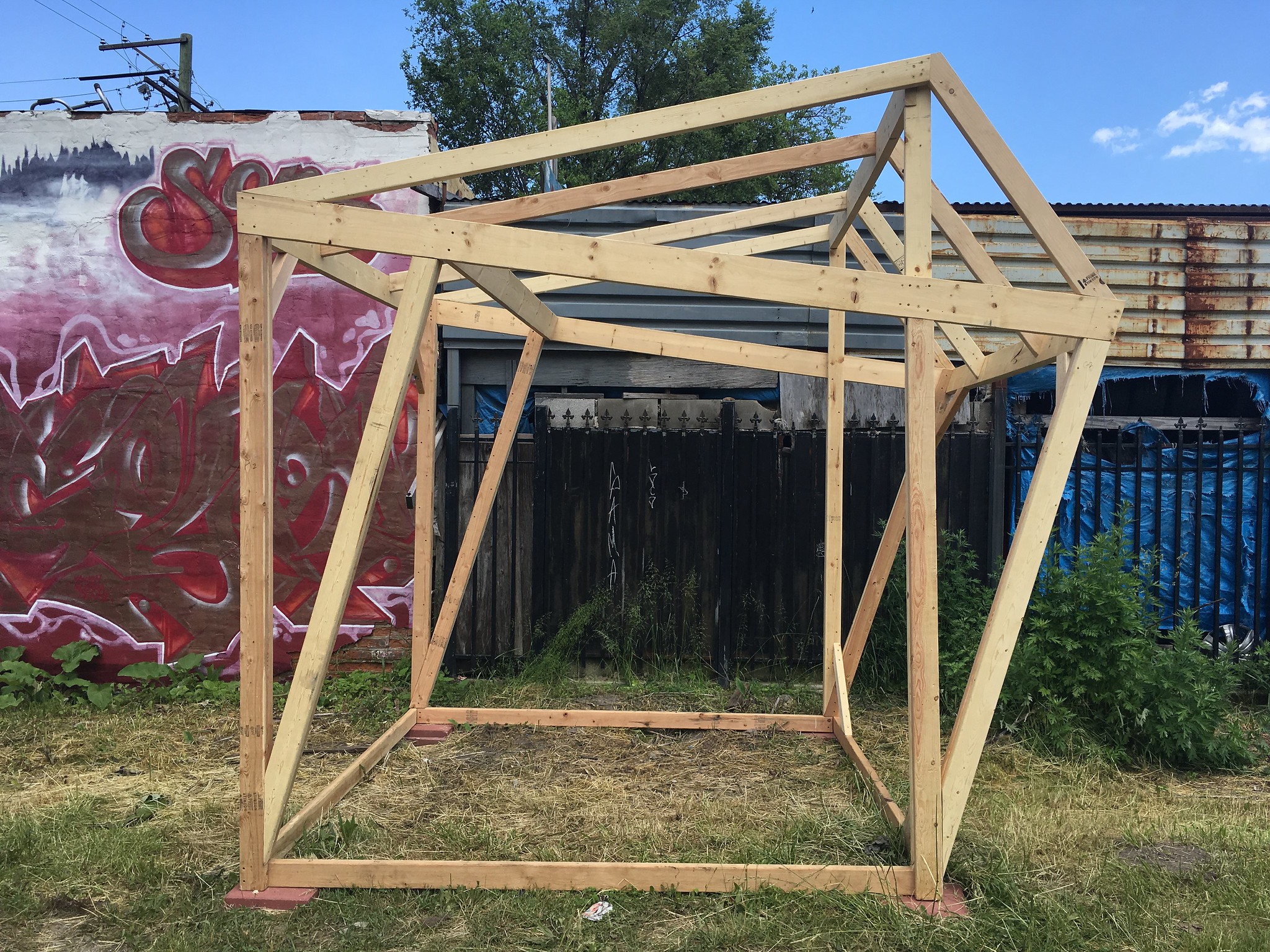 Featured Artworks
Inheritance, 2019 Confluence Ecologies exhibition, Southern Illinois University, 2019

Beneath the rolling hills of Southern Illinois lies a fossilized section of a vast forest swamp that thrived 300 million years ago. Stretching for 100 miles along both sides of the ancient river as wide as the Mississippi, this fossil forest cuts across the heart of the Illinois Basin coal seam, forged from peat soils where ferns and giant trees (Arborescent Lycopods) once anchored their roots. It took over 300 million years to sequester the carbon that lies under Southern Illinois in the form of coal. It has taken a mere 200 years, and the labor of thousands of coal miners, to extract that carbon destined to fuel the lifestyle that defines our inheritance. Miners are on the front lines. Many of them have seen the remnants of the fossil forest that remains hidden to those above ground. Coal miners are also the first to personally experience the costs of the industry. We are grateful to those we have met for generously sharing their knowledge, experience and voice: Paula Borgra, Molly Brayfield, Tim Burris, Kate Heist, Melissa Shelton, Chuck Wilson. We also thank geologists Scott Elrick and Joe Devera for their clarity and enthusiasm. The installation was comprised of two rooms, the first a lightless room where the audience would hear a 24-minute audio work presenting the voices of local miners and geologists, and the second a sculptural installation and text work.

Carboniferous Walk-About-It, 2019 Ferne Clyffe State Park, Goreville, IL Field Station 4: Mississippi. An Anthropocene River

As part of Field Station 4, the Carboniferous Walk-About-It, was an example of one of Deep Time Chicago's regular strategies, acknowledging that the Anthropocene calls for first person science, where we may derive abstract theorems from lived experience. On the second day of the three-day Field Station gathering, forty plus people filed out of an iconic yellow school bus, a mobile steel-body made ambulant through the combustion of fossilized plants and animals (oil and gas) that lived and died between 10 and 180 million years ago. We stepped onto ground that was located just south of the equator 300 million years ago during the geologic epoch referred to as the Carboniferous. The five members of Deep Time Chicago who organized this walk, Amber Ginsburg, Claire Pentecost, Kayla Anderson, Sara Black and Sarah Lewison, did so with the intention of creating a provocative and exploratory juxtaposition to their sound and sculptural installation titled Inheritance, presented to the public for the first time the night prior at the Southern Illinois University Museum, part of the Confluence Ecologies exhibition. On the walk we learned from Scott Elrick and Jeremy Breeden, two geologists with the Illinois State Geologic Survey. The fossil forest system that is the subject of Inheritance straddled an ancient river basin that meandered across these lands 300 million years ago. The swampy peat soils from which the now-fossilized forest grew, became the coal seams that have fueled the coal industry of southern Illinois and neighboring states. The fossil forest, a rare picture of a complex ecosystem, was rather rapidly covered over by fluvial sediments during a warming period not fully dissimilar to the one we are experiencing now, this time fueled by anthropogenic intervention. The geology of Ferne Clyffe demonstrates this fluvial geology and locks in stone this 300 million year old story.

Le Musée du Grand Dehors (The Museum of the Great Outdoors), 2018-19 พิพิธภัณฑ์แห่งโลกภายนอก, 2561

Carbon (Parkia timoriana, Diospyros buxifolia (Blume) Hiern); Museum: various construction materials Le Museé du Grand Dehors (The Museum of the Great Outdoors) is a sculptural work that uses a tree as the conceptual lens through which we critically examine and expand our experience of western, human-centered notions of 'nature' and environment. The title is drawn from the philosopher Quentin Meillassoux of the speculative realism movement, who refers to le grand dehors as that which reaches outside of possible human perception or knowledge. Many continental philosophers, particularly in the lineage of Kant, argue that human knowledge systems are the center of what is knowable or real, because humans are the only beings capable of dimensional perception/consciousness. It is our interest to generate a work that glimpses the edges of our knowledge by expanding a single form into deep time. In this case, a tree is charcoalized into pure carbon, holding it for 2000 years. Le Museé du Grand Dehors is a museum located in Than Bok Koranee national park in Krabi, Thailand that reveals the way humans inscribe meaning onto the nonhuman world through the conventions of museums and park systems. Walking toward the museum structure, visitors will encounter numerous signs that visually mimic the existing national park signage, but suggest the possibility of le grand dehors – the great outdoors. First approaching the root structure, visitors will travel the length of the once living tree's trunk, fully charcoalised. They will then enter the museum, where a section of the tree is housed and protected. A fully carbon-covered interior, lit solely from the ambient light directed through the architecture, highlights the transformation of this living being into ancient and elemental carbon. Carbon is outer, carbon is other.

Forest University, 2019-ongoing

An ongoing interview series and audio archive created at various forest sites, the Forest University project is one that addresses the complexity of the land acknowledgement in human and often colonially affected forests, aims to draw urgent attention to the way forests impact the lives of communities who live near or within them, and recognizes the forest as a teacher. Forests are complex systems with a deep history of human intervention and interspecies dynamics. They are spaces that connect us to ideas of trial, transformation and growth. Forest University brings together forest inhabitants, art historians, forest and environmental activists, indigenous leaders, religious leaders, paleontologists, foresters, biologists and more for conversations sited in the forest. The interviews are both live, but will be released as a series of audio interviews presented in podcast form. The first four episodes (in post-production) were recorded in Than Bok Korani National Park in Krabi, Thailand, and were hosted next to a large sculpture created by Amber Ginsburg, Charlie Vinz and I for the Thailand Biennial in January 2019.

Resistance Architecture, The Breathing Room, 2019-ongoing

The Free Town Field Build was a design-build workshop organized by the teachers' collective Project Fielding to create Resistance Architecture with and for members of the #LetUsBreathe Collective, an alliance of artists and activists who organize to imagine a world without prisons and police. Project Fielding defines Resistance Architecture as a series of structures designed and built to uplift the work of social justice organizations engaged in long term political protest or encampment. Resistance Architecture is built by workshop participants and is designed in consultation with partner organizations including the International Indigenous Youth Council, STOP (Southside Together Organizing for Power), Sweetwater Foundation, and for this build, the #LetUsBreath Collective. This iteration of Resistance Architecture is a new imagining of the Freedom Square occupation held in the summer of 2016 which will be used for a longer occupation called Free Town that will begin in the summer of 2020. At Freedom Square, the #LetUsBreathe Collective launched a 41-day overnight encampment to protest Homan Square, the CPD "black site" where thousands of Chicagoans have been illegally detained and tortured. As described by the Collective, the occupation "grew into a community laboratory for police abolition and divestment, providing free clothes, free books, free meals, free arts programming for the children of North Lawndale, and free sleeping tents for community members, protestors and neighborhood residents experiencing homelessness."

Resistance Architecture, Southside Together Organizing for Power (STOP) and the Healing Village, 2018

Project Fielding was so honored to have Resistance Architecture present at the Healing Village, an encampment on 63rd and Woodlawn in Chicago organized by STOP (Southside Together Organizing for Power) between July and October of 2018. The village was a community building space that addressed safety and mental health through a variety of events and programming for healing practices such as: restorative justice peace circles, gardening, tai chi, yoga, meditation, traditional talk and group therapy, comedy, storytelling, art therapy, etc. Members of the Mental Health Movement led community discussions on the ongoing trauma of racism and how we find healing. The Healing Village challenged the notion of what quality mental health care could and should look like. Resistance Architecture, designed and built by Project Fielding teachers and students – is an adaptable structure intended for political encampment that was designed to fulfill the needs of long-term protesters. In recognition of a political climate which demands sustained resistance, Project Fielding led a design build workshop in February 2017 to create these two structures. This physically adaptive structure functions in two positions: open and in lockdown. When in lockdown, the structure serves as a locker or a safe. When open, the structure is a spacious and ready to use shelter.

Edward Hines National Forest, 2017-18

Sara Black and Raewyn Martyn collaborate to create the Edward Hines National Forest, an immersive built landscape that traces a material from plant to lumber and cellulose to produce hybrid forms that expose relationships between humans, the human-made and the larger ecosystem. Hines Lumber Company was one of the world's largest lumber suppliers, founded in 1892, when the Chicago cityscape was under rapid expansion. Edward Hines National Forest responds to this far-reaching industry that grew out of the south branch of the Chicago River. In adaptation of the values and functions of a National Forest System, visitors are able to move through a series of trellis-like structures that mimic timber-era architecture used to transport timber to Chicago. The construction uses lumber and cellulose a substance extracted from the tree to create a biopolymer paint. These materials are derived from Diplodia pinea-exposed red pine trees grown in Hayward, Wisconsin. Skins of cellulose film are grafted into this architecture, transforming it into a hybrid forest system.The structures and materials are exposed from inside and outside, above and below, in an attempt to collapse conventional figure and ground relationships. Within this experience, visitors are drawn into coextensive relationships between surface, structure, skin and bones, human, non-human, inside and outside.

Chicago River & Canal Walking Tour: History of Timber Extraction, 2017

Canal Origins Park, 2701 S. Ashland Ave, Chicago, IL In conjunction with the exhibition Edward Hines National Forest and a Walk About It project of Deep Time Chicago Sara Black, Raewyn Martyn and Brian Holmes took visitors to the convergence of the Chicago River's south branch and the I and M Shipping Canal, including the Canal Origins Park. This convergence of canal and river is adjacent to the former site of Edward Hines Lumber Company lumberyard, the largest of its kind at the turn of the 20th Century. The walk included a reading, discussion, reflection on Chicago's timber extraction history and the imagining of forest futures.

Witness Tree, 2017

Witness Tree, a collaborative work with Amber Ginsburg, is a marker in both space and time. The title phrase is drawn from the colonial land survey practice used to grid the landscape into plots for private and government ownership. The bark of a witness tree was scarred for identification, and the property lines were drawn in relation to its placement. This Witness Tree is an entire young oak that has been transformed into pure carbon through charcoalization. Its position, in the corner of the gallery and of a city block, marks our relation to colonial attitudes of land use and resources. Its material – carbon now sequestered for up to 2000 years – allows us to glimpse beyond those attitudes into deep time.

7000 Marks, 2017-ongoing

In March 2016, on the first rainy day in California in two years, we felled a tanoak tree infected with Sudden Oak Death (SOD) on the Big Creek Reserve. The pathogen Phytophthora ramorum has traveled on the global nursery trade to the US. Trees infected with SOD are quarantined inside the boundary of their county line until processed into lumber and kiln dried. This tightening of boundaries is a move toward environmental conservation, but echoes a rising tide of nationalism, xenophobia and boundary reinforcement on a global scale. Working with scientist and sawyers, we milled and kiln dried the tree so the the wood to lumber, could be shipped to Chicago where we made it into 7,000 pencils. And this is the real beginning of the project, which will continue until the pencils are fully used, perhaps beyond our lifetimes. 7000 Marks reflects on Joseph Beuys' 7000 Oaks, the planting of oak trees in Kassel Germany in 1982, but this time with new questions. The project brings people together to ask, what does it mean to be native to a place, whether human, plant, animal or fungus? The boundaries that we draw on multiple scales (on a cellular level, an object level, to societal and global levels) are in some ways fictions, but our beliefs and rhetoric around them do have real political, social and ecological consequences. How can questions around boundaries reframe our thinking about human migration, globalization, its effects on ecosystem stability and our fear or embrace of the Other?
Sara Black has crowd-funded a project with 3AP
$3,187 raised of $3,000 goal
0 Days 0:00:00 LEFT

3Arts matched
106% funded

Commissioned by Harold Arts Residency, "Voyagers" will be a new large-scale sculpture involving the conversion and relocation of a 28-foot boat into an artist space and living quarters set amongst the towering trees of the residency property.

Read more about Voyagers

$8,050 raised of $5,000 goal
0 Days 0:00:00 LEFT

3Arts matched
161% funded

Fielding is an educational program geared to empowering young women and gender variant youth (ages 14-18) with design and build skills. Working in collaboration with a team of other skilled artists, I am raising funds to organize two week long …

Read more about Fielding