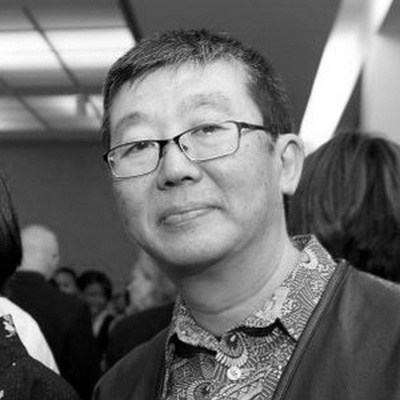 Tatsu Aoki
Bassist
Tatsu Aoki is a prolific artist, composer, musician, educator and a consummate bassist and Shamisen Lute player. Based in Chicago, Aoki works in a wide range of musical genres, ranging from traditional Japanese music, jazz, experimental and creative music.

Aoki was born in 1957 in Tokyo, Japan into an artisan family called TOYOAKI MOTO, traditionally categorized as OKIYA, meaning a booking and training agent for Geisha ladies in downtown Tokyo's designated area. While the economy and social environment forced many of those traditional artisan family business to close down in the 60's, Aoki was luckily able to receive some of the important essence of traditional Tokyo Geisha cultural training and studies at age 4, and became a part of the performing crew in early childhood. After his grandmother passed away, he had kept the Tokyo music training until early teen, and shifted his musical focus to American pop music and experimental music. Since his biological father was a movie producer at Shin Toho Studio, he had also began working in small gage films and started to produce experimental films.
Aoki was an active performer during the early 70's in the mist of Tokyo Underground Arts movement. Became a member of Japanese Experimental Music ensemble, GINTENKAI presenting mixture of traditional music and new western music. After coming to U.S. in 1977, Aoki studied experimental filmmaking at the School of the Art Institute of Chicago. He is currently an adjunct Full Professor at the Film, Video and New Media Department, and teaches film production and history courses.
For Aoki, one of the most important goals is to preserve the original essence of fluidity and flexibility and perform rawness of REAL sound. He has adopted this idea to newer works as well. To this date, Aoki has produced and appears in more than 90 recording projects and over 30 experimental films and working internationally. He is one of the most recorded artists in Chicago music scene. Among many of recordings, he has worked with musical masters and legends and produced remarkable duets works with bassist, Malachi Favors, multi instrumentalists such as Roscoe Mitchell, Don Moye and world renowned Pipa virtuoso, Wu Man and another Chicago legend, late Fred Anderson.

Aoki's one of the most important ensemble works, ROOTED: Origins of Now, a 50 minute 4 movement suite, was performed at the Chicago Jazz Festival in September 2001. Because of this work, the Chicago Tribute recognized Tatsu Aoki as "Chicagoans of the Year.", one of the group of Chicagoans who has contributed to the vitality and culture of Chicago by the Chicago Tribune or the City. The Chicago Tribune stated that Rooted had "come into its own as an eloquent, often dramatic merger of ancient Japanese music and experimental American jazz." JAZZIZ, magazine, recognized Aoki one of one of many artists who has changed jazz since 1980." For his contribution to Chicago area arts, Asian American Institute has given Mile Stone Award in 2007, and Japan America Society of Chicago has given Cultural Achievement Award for his cultural activities in arts in Chicago land in 2010. He is also a recipient of 2010 3Arts Artist Award.

As an Executive Director of AIRMW, Aoki has initiated and managed several programs to advance the understanding of Asian American culture and community through the arts, including the Annual Chicago Asian American Jazz Festival and the Tsukasa Taiko Legacy arts residency project. His work as an artist and educator in the cultural arts and as a leader in the Asian American community address as well as define the issues facing the community, including the need for quality artistic programs that reflect the Asian American experience.
Tatsu Aoki has crowd-funded a project with 3AP
$6,030 raised of $5,000 goal
0 Days 0:00:00 LEFT

3Arts matched
121% funded